Trump Is 'Using the Power of the Presidency to Conceal' Russia's 2020 Scheme to Re-elect Him, Says Former Acting AG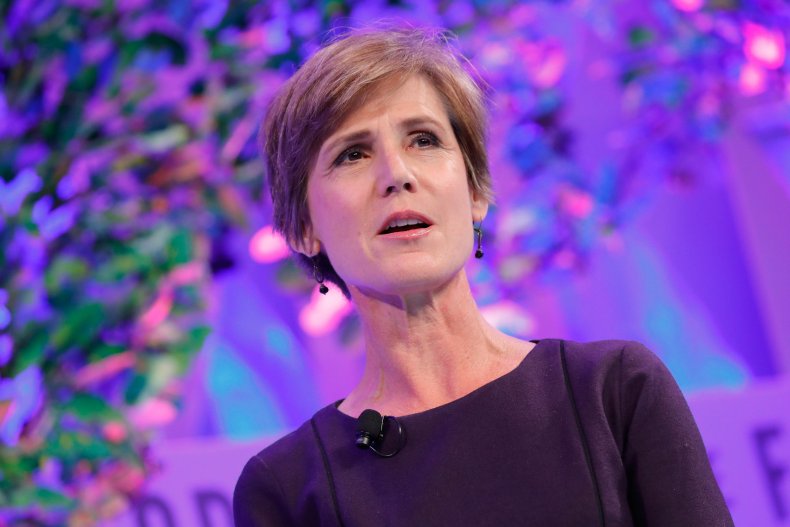 Former acting Attorney General Sally Yates accused President Donald Trump of "using the power of his presidency to conceal" Russia's influence on the 2020 election.
"This is a screaming red siren, but in the daily barrage of crazy, can we hear it? Trump is not only trying to rewrite history of Russia's intervention in 2016, he is now using the power of the presidency to conceal their 2020 scheme to re-elect him. Dangerous," Yates--who had previously served as deputy attorney general under President Barack Obama beginning in 2015, and then as acting attorney general briefly for Trump--wrote on Twitter Friday.
Yates' comments on Trump and Russia's potential intervention in the upcoming U.S. presidential election stem from recent reports from NBC News and The New York Times in which Trump became angry at his then-acting Director of National Intelligence, Joseph Maguire, for briefing lawmakers on Russia's plan to interfere with the 2020 election to re-elect Trump. Former intelligence officials told NBC News that "Trump's anger over the briefing led him to push Maguire out."
This is also not the first time Yates has been publicly critical of Trump and Russia's election interference. After Trump took office in January 2017, she criticized him and questioned the legality of his immigration ban, which temporarily banned nationals from seven different Muslim-majority countries to enter the U.S.
"As long as I am the acting attorney general, the Department of Justice will not present arguments in defense of the executive order," Yates wrote in a letter.
Following her criticism, Yates was fired by by Trump on January 30, 2017. A statement from the White House accused her of "betraying" the Justice Department as well as being "weak on borders."
She then criticized Trump once again in 2017, citing his "inexplicable refusal" to confirm Russia's interference in the 2016 election.
"POTUS' inexplicable refusal to confirm Russian election interference insults career intel pros and hinders our ability to prevent in future," the former acting attorney general wrote in a 2017 tweet.
In 2018, Yates attacked Trump for his decision to ask for U.S. Attorney General Jeff Sessions' resignation.
"We should not lose sight of why POTUS fired the AG – because he wants a political crony to protect him from the investigation of his own campaign. The rule of law is disappearing before our eyes," Yates wrote on Twitter.