Trump's 'Working Vacation' Cost Taxpayers $185,000, Report Says
President Donald Trump's "working vacation" at his posh Bedminster, New Jersey golf club in August racked up a $185,000 bill to American taxpayers, according to internal government documents.
The Republican's 17-day jaunt to the club that bears his name included nearly $119,000 in flight costs, as well as more than $46,000 in lodging for the Secret Service, with another $13,600 for the Secret Service to rent golf carts, USA Today reported Tuesday citing Secret Service and Air Force documents.
Overall, Trump went to one of his signature properties over 38 out of 52 weekends in 2017, according to the report. The president has received criticism for his trips away from Washington and to his clubs or Mar-a-Lago estate throughout his tenure in office.
However, the report noted that former President Barack Obama's final trip in office also had high costs. Obama flew to Martha's Vineyard in Massachusetts in August 2016, at the cost of $450,000 to taxpayers. The difference in Obama and Trump's trip was the distance and time traveled by aircraft, which are quite costly to keep in the air.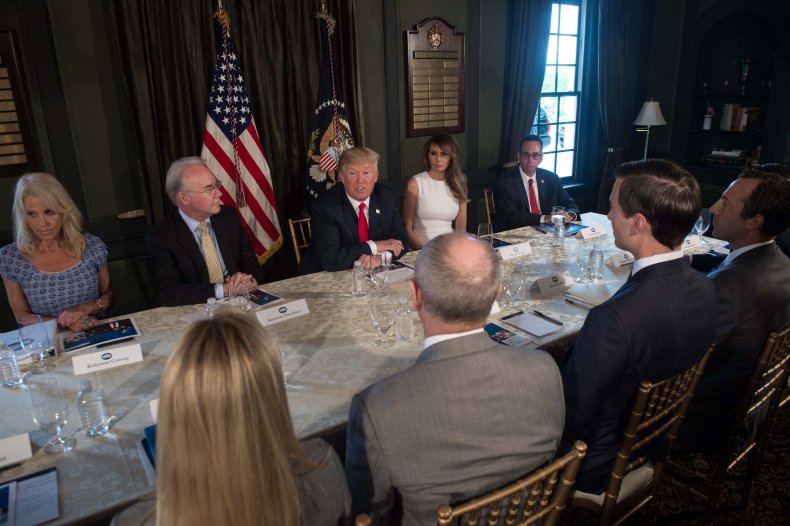 Trump's air travel during the Bedminster trip padded the bill. He flew six times and logged 7.4 hours of travel time on Boeing C-32s, not Air Force One, during the trip. That type of plane is normally used by vice presidents.
The president's security detail was the second-highest expenditure during the trip. Thirty-eight Secret Service agents were on a rotation and stayed at a local Courtyard Marriott hotel at the average cost of $1,776 per night, for a grand total of $46,188.56 for their lodging over the course of the trip.
Trump was critical of Obama's recreational activities while on the campaign trail. He stated he would never have time to play golf if he were president and fulfilling his "Make America Great Again" promise.
But the president hit the links roughly 90 times in 2017, according to NBC News's estimate, though, the report notes it's difficult to conclusively tally exactly how many times Trump played a round.