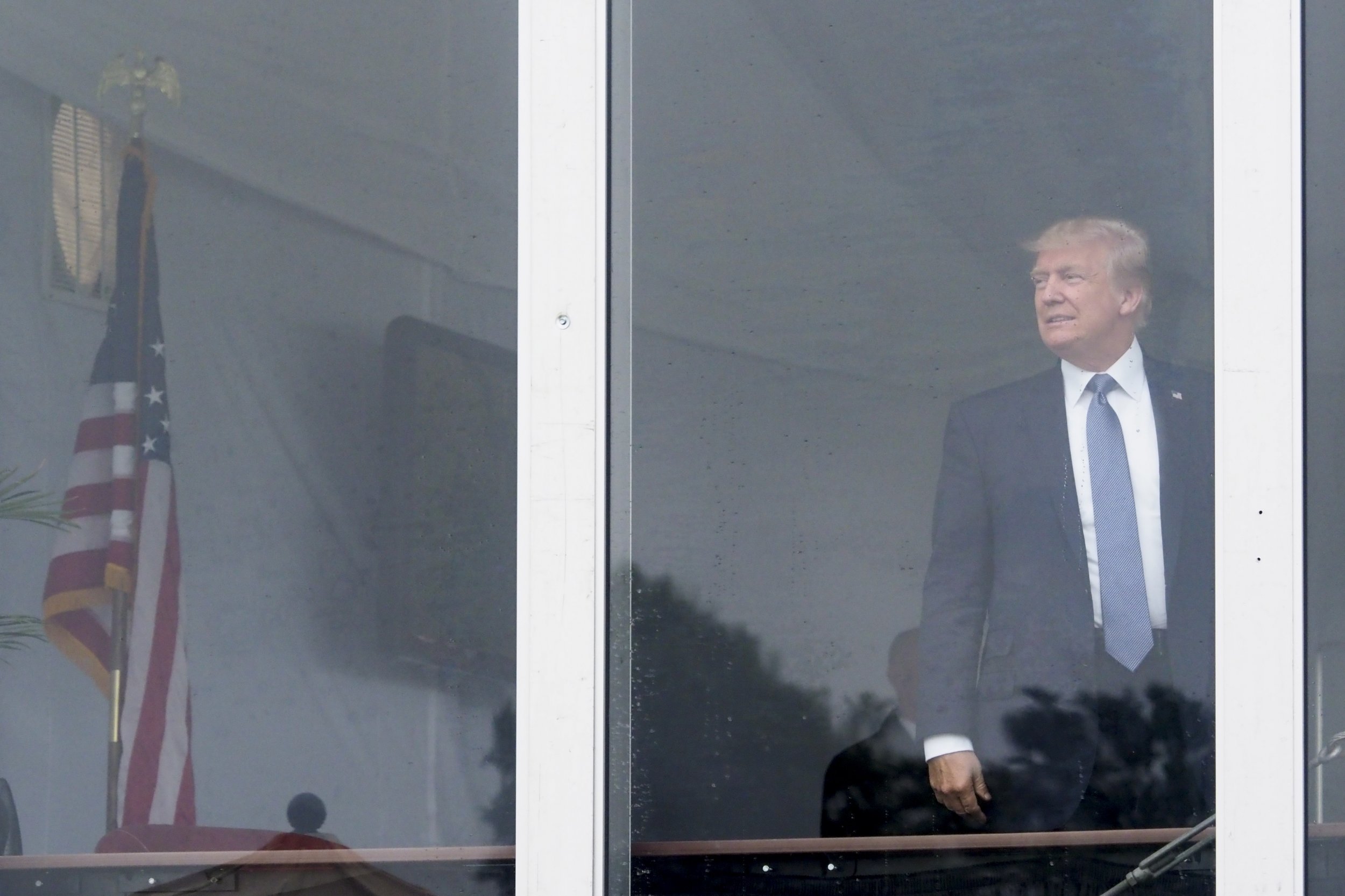 President Donald Trump's announced 17-day "working" vacation was met with guffaws, surprise and both tongue-in-cheek and direct quips about the amount of work he's done in nearly seven months in office.
"You've got to give it to him—he's there to relax after months of grueling golf at Mar-a-Lago," host Stephen Colbert said during his monologue Monday on The Late Show. NBC's Late Night host, Seth Meyers, took aim at Trump's repeated blasting of President Barack Obama's vacation time: "To be clear, I'm not criticizing Trump for taking vacations," Meyers said. "I'm criticizing him for being a lying hypocrite."
The ongoing jokes and commentary, depending on your comedic taste and point of view, are justified, but they fail to recognize what human resource experts tell Newsweek: Everyone needs a vacation, and managers, even one of the world's most powerful leaders—one who happens to call the Oval Office his office—can get work done while away from home.
Along the campaign trail and well before he declared his candidacy, Trump opened himself up to criticism for taking any time away from work. He roasted Obama for playing golf, and yet he's not only taking more than two and a half weeks off for vacation. He's doing so at a golf country club in Bedminster, New Jersey, that bears the Trump name.
After completing the vacation, Trump will have spent 53 "leisure" days through his first seven months in office, 20 more than Obama in the same time span, but also 26 less than President George W. Bush in 2001, CNN reports.
When one thinks of the daunting task of serving as president of the United States, the words golf, sun and fun typically do not come to mind. Usually, thoughts are about quite the opposite, including 20-hour days, late-night phone calls, meetings upon meetings and receiving the latest intelligence reports on foreign adversaries.
It's such imagery that likely leads a majority of Americans to disapprove of Trump's decision to get out of Washington for a couple of weeks. An AOL News survey released Wednesday found that 53 percent of those polled believed the president should not be taking a "working vacation," while 43 percent said he should and 4 percent were unsure.
Add that number to Trump's increasingly poor approval ratings, even among Republicans, and the criticism for taking any time off would be understandable if not at least excusable.
However, Michael Koch, a lecturer in human resource management and organizational behavior at the University of Kent, says longer vacations have proved to be invigorating. Koch even said President William Taft in 1910 lobbied for three months of vacation for Americans.
Trump may be better off taking shorter trips, as he has to his Mar-a-Lago club in Palm Beach, Florida, according to studies.
"Current research shows some evidence that longer vacations are generally better in terms of improving well-being, and some researchers found evidence that it takes at least one week to wind down and get into vacation mode," Koch tells Newsweek in an email. "However, there is no optimum length of vacation, and benefits also depend on the perceived quality of the vacation. Some researchers hold that numerous short vacations (just a few days) are as good as one long vacation (two weeks or longer)."
Koch also notes that for some, a vacation offers the "chance to tackle issues that have been neglected during regular working hours."
He adds: "Free from getting bogged down by day-to-day activities, and with reduced pressure, vacations are often a good time to reflect and think about more strategic decisions which can have an impact in the long run."
Indeed, companies around the country have found that vacation, or paid leave, can have strong effects on employees and their productivity, according to a 2013 survey conducted by the Society for Human Resource Management and the U.S. Travel Association.
Drawing results from HR professionals, the survey found 94 percent believed vacation was important for employee performance, with 92 percent saying the same for morale, 90 percent for a positive work culture and productivity and even 88 percent for retention.
And although Trump has heaped criticism on European leaders, it's possible he's adhering to a more Eurocentric model of vacation vs. work. Economic and labor research company Glassdoor found in 2016 that Denmark, France and Sweden offered 25 paid leave days a year at minimum, ranking highest among 14 European countries studied.
In contrast, between 2000 and 2013 Americans actually began to take fewer vacation days. In 2000, the average was 20.3 days, and in 2013 it was 16 days a year, according to Forbes.
Still, taking a prolonged amount of time off could have ramifications, in particular on how colleagues or managers are perceived in the office. For example, the perception could be negative if someone heads off to Hawaii but leaves a ton of work for fellow employees to handle. The key to combating that problem is planning, and for the manager to actually stay away in order for the staff to also get some relief, says Valerie Keels, head of office services for the Gavi, the Vaccine Alliance's Washington hub and a 25-year HR professional.
Keels describes two different managers: one who would take off the entire month of August and truly refrain from work, and another who would still remain in close contact with the team. The former manager's planned vacation was known well ahead of time and the team hummed along, and when he returned the "high-intensity" manager was relaxed. The second manager would take two or three weeks off but would still be in constant contact with the team, and this affected the staff negatively.
Keels adds that a company's culture plays a significant role in how paid leave is managed, and she endorses the European model.
"I think Americans can learn a lot from the Europeans in terms of unplugging and rejuvenating and take that time, because you're a much better person, you're a happier person and you're more productive at work," she says.
"There are no absolutes," Keels adds. "Some people just thrive on that constant, constant, constant."
Bottom line: It is possible Americans are in for some sunnier tweets when Trump returns to the Oval Office later this month.