As Trump Touts E-Cigarette Flavors Ban, Vaping Lobby Warns of Hidden Issue 'That Is Extremely Dangerous' to Industry
A vaping industry association warned that it faces an "extremely dangerous" issue as President Donald Trump touted an imminent ban on some e-cigarette flavors to discourage their use by young people.
"We're going to protect our families, we're going to protect our children, and we're going to protect the industry," Trump told reporters at his Mar-a-Lago resort on New Year's Eve, according to Associated Press.
The president also said that "certain flavors" of the juice used in cartridges for e-cigarettes would be removed from the market "for a period of time" though he gave no details.
A New York Times report said the Food and Drug Administration will shortly announce a ban on most e-cigarette cartridge flavors except menthol and tobacco—which are commonly used by adults—as part of an effort to reduce the growing number of teens who are vaping.
But a lobby group representing the vaping industry warned that the focus on flavor bans is distracting from a major regulatory issue that could amount to an effective "nationwide ban" on the use of e-cigarettes.
"It is extremely important to emphasize an issue that is extremely dangerous to the industry, but has been hidden behind the shadow of flavor ban threats," said a statement by the U.S. Vaping Association, which operates out of Austin, Texas.
"The issue is the Pre-Market Tobacco Application deadline, which states that all vaping products must be submitted for the approval process by May 22, 2020. This applies to all vaping products and any product not submitted for approval by the deadline cannot be sold legally.
"We have been fighting the PMTA deadline for months, but the issue has been ignored by the vaping community because of the emphasis on the flavor ban threats. If the deadline is reached, the PMTA will effectively produce a vaping ban nationwide.
"To avoid this outcome, it is imperative that the industry come together to push for a deadline extension or to completely end the PMTA requirement for vaping products."
Travis Pinkerton, president of the USVA, told Newsweek that the industry welcomes efforts to reduce the number of children vaping. But he said the PMTA will mean "virtually all of our members and other small businesses in this industry will face elimination in May 2020."
"The PMTA process is an unrealistic, financially crippling, regulatory pathway that small businesses cannot afford," Pinkerton told Newsweek.
"A single product application will cost the applicant at least hundreds of thousands of dollars, based on the most optimistic estimates. Many of our members have hundreds even thousands of products that would have to go through a PMTA.
"It only takes simple math to understand the PMTA is impossible to achieve for any small business in the United States."
Pinkerton said he believes Congress has acted unconstitutionally "by delegating its legislative responsibility vested exclusively in Congress under Article I, Section One of the U.S. Constitution to the FDA to regulate our industry as it sees fit."
He told Newsweek: "The PMTA requirements were written by Congress in 2009 for cigarette products, not with the particular circumstances of the vaping industry in mind."
The USVA said the second important issue is the difference between close and open pod vaping systems. The closed pod systems use pre-filled disposable cartridges for e-cigarettes and are highly popular among young consumers. Open systems allow users to insert vaping liquid themselves with refillable cartridges.
"Open systems and closed systems are completely different, and they need to be treated as such," the USVA said. "Out of all the issues the vaping industry faces, the two most vital issues that we need to address are regarding the PMTA deadline and closed pod systems.
"If these are not addressed and corrected, they will continue to cripple the industry and put over 150,000 jobs and thousands of small businesses at risk."
Pinkerton told Newsweek: "President Trump stated he was going to protect businesses and if he follows through this policy targeting the pod-based systems attractive to children it will be a positive outcome for the industry, compared to the initial plan to target even open-tank systems."
Newsweek has asked the FDA for comment by email and will update this story if any is provided.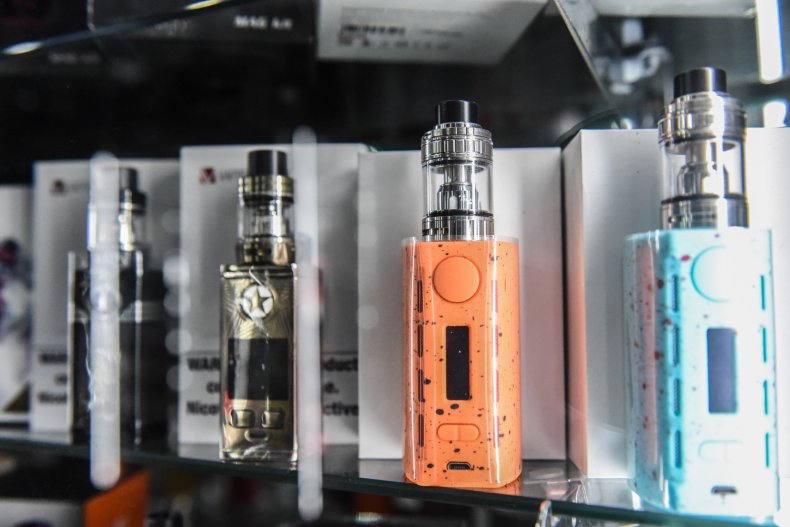 This article was updated with comments by Travis Pinkerton.