Donald Trump Was 'Very Wrong' to Publish Call Transcript, Ukraine's Volodymyr Zelensky Says
The Ukrainian President Volodymyr Zelensky said former President Donald Trump's administration was wrong to publish a transcript of their first official phone call when he faced the threat of impeachment in late 2019.
Speaking to Axios on HBO on Sunday, Zelensky said he would "never let that happen" when asked about the release of the transcript, and added that neither he nor Trump had "the right" to make details of the July, 2019 phone call public.
The Ukrainian president also hinted that he had been angered by the former president's move to publish a rough transcript of the conversation as he faced allegations of offering Zelensky a White House meeting in exchange for an investigation into a Ukrainian gas company where Hunter Biden was a board member as part of a "quid pro quo" deal.
"There was one unpleasant thing. Until now, I have not spoken about this. The publishing of our conversation, I think this is very wrong," Zelensky told Axios. "And it was not Ukraine who made it public. I would never let that happen."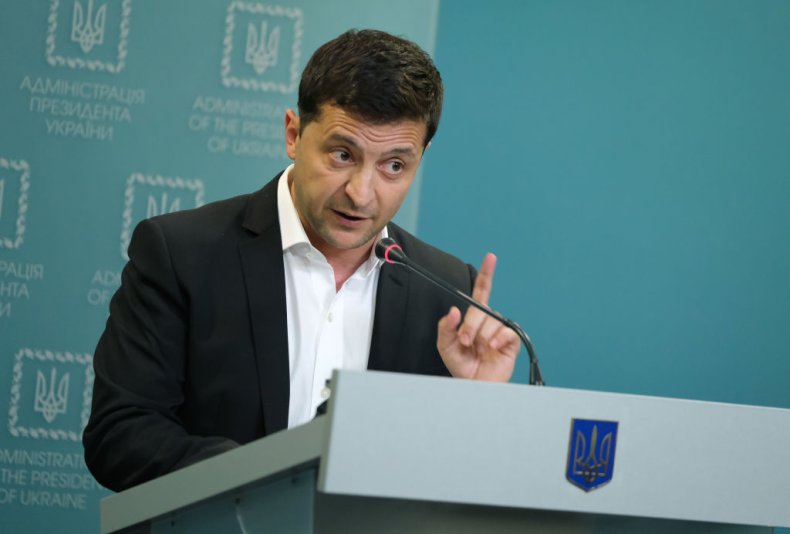 The Ukrainian president later added: "I think no matter what we talked about, this conversation was the first serious conversation between two presidents, between strategic partners, and in any case, neither of us had the right to make such things public."
When the Axios reporter Jonathan Swan asked Zelensky if he was a "little bit" angry with Trump over the decision to release the call transcript, the Ukrainian president replied: "A little bit."
The Trump administration declassified the transcript of the July phone call between the former commander-in-chief and his Ukrainian counterpart on September 24, 2019—roughly three months before the House of Representatives first voted to impeach him.
During the conversation, Trump pressed Zelensky to investigate then-Democratic primary candidate Joe Biden's actions in Ukraine, as well as those of his son, Hunter. "I will have Mr. [Rudy] Giuliani give you a call and I am also going to have Attorney General [William] Barr call and we will get to the bottom of it," Trump said. "I'm sure you will figure it out."
In November, 2019, Trump's team also published a rough transcript of a phone call between the then-president and Zelensky on April 21, 2019, the date of the Ukrainian's election victory, but before he was officially inaugurated as president.
Over the course of the brief phone call, the pair exchanged pleasantries and congratulations, and later extended offers of state visits without strings attached.
Trump became the third president to be impeached by the House in December, 2019, after he was charged with abuse of power and the obstruction of Congress in two separate articles of impeachment.
His phone calls with Zelensky, along with other documents and witness testimony, were central pieces of evidence in the cases brought forward by House impeachment managers.