Veterans Group Hits Back at Boos for 'Fake News' Media Incited by Trump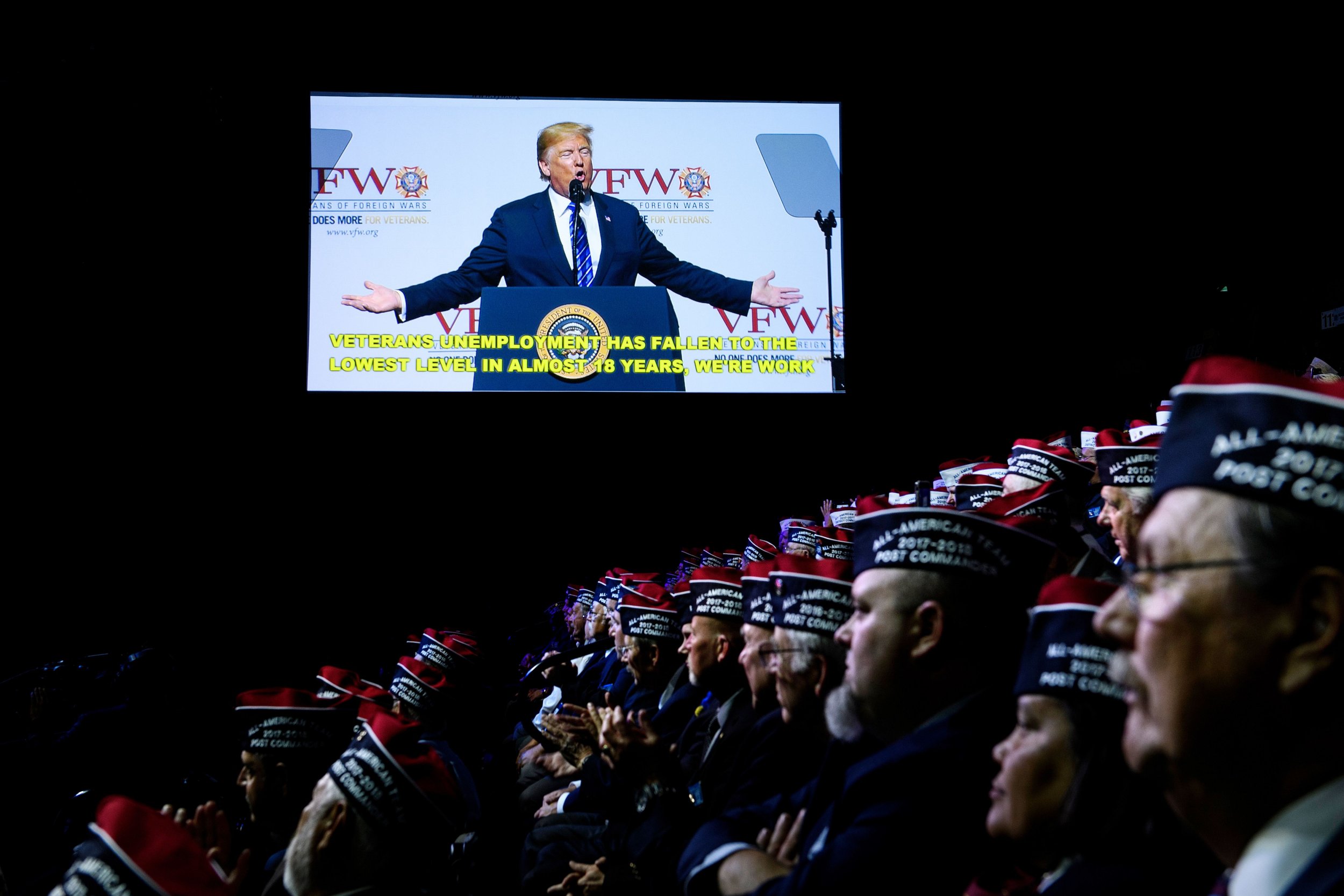 Speaking in front of U.S. military veterans before the 119th Veterans of Foreign Wars National Convention on Tuesday in Kansas City, Missouri, President Donald Trump made disparaging remarks when he called out "fake news" coverage of his trade agenda.
"Stick with us. Don't believe the crap you see from these people—the fake news," President Trump said. Several audience members turned towards the press pen, lobbing boos and hisses at members of the media as the remarks drew some of the biggest ovations during the president's speech, according to media reports.
"Just remember what you're seeing and what you're reading is not what's happening," Trump continued.
U.S. military veterans-turned-journalists took to Twitter to point out that some reporters were formerly U.S. service members with deployments to both Iraq and Afghanistan, while their colleagues have gone on to cover the Pentagon or be killed covering U.S. conflicts.
Philip Rucker, the White House bureau chief for The Washington Post, wrote on Twitter that one veteran came up to him after the commander-in-chief's speech to thank him for his reporting. "How do you put up with this bullshit every day?" he whispered.
Late Tuesday, the VFW released a statement condemning the outburst. "We were disappointed to hear some of our members boo the press," the statement said. "The reporters onsite today were our invited guests and we rely on them to help spread the VFW's message."
Before Trump took the stage, a man in the audience earned a round of applause when he held up a black t-shirt with a cartoon depicting a man resembling President Trump urinating on a CNN logo, according to White House press pool reports.
Just before the president stepped before VFW members, the White House released a fact sheet for the Trump administration's efforts to reform the Department of Veterans' Affairs, with Trump praising the VA Accountability and Whistleblower Protection Act passed last year intended to remove federal barriers to fire inadequate performing employees. But as Newsweek reported last week, lawmakers from both sides of the aisle suggested that the laws were being used to create a two-tier system within the VA that unfairly punishes rank-and-file employees while protecting senior leadership.
The president's newly minted cabinet member, VA Secretary Robert Wilkie, was also present at Tuesday's speech. He was confirmed by the U.S. Senate on Monday, 86 to 9.
Wilkie, 55, will be taking the reins of the second-largest agency in the federal government, overseeing roughly 360,000 employees who serve more than nine million veterans each year.
"He's going to be fantastic," President Trump said about Wilkie, "Who was just confirmed by the Senate last night with an overwhelmingly vote, they only ones that actually voted against him were all of the peoples, super lefts, that are running against me in two and a half years. Every one of them."
Wilkie will be taking over at a tumultuous time as the agency has historically struggled to provide timely and efficient care to military veterans. Despite the agency lacking a permanent VA secretary for more than 110 days, Wilkie faces senior leadership turmoil, substantial job vacancies and a workforce that fears unwarranted termination for frivolous causes and retaliation if someone blows the whistle on the 88-year-old federal department.
For service members currently serving in uniform, Trump mentioned the robust Pentagon spending bill and the new military hardware being manufactured as the president continues to build-up the Defense Department's capabilities. This seems to be aligned with Defense Secretary Jim Mattis's aim of increasing the lethality of the armed forces.
"We're ordering 147 new F-35 Lightning fighters. This is an incredible plane. It's stealth; you can't see it," Trump said. We're ordering 239 Apache and Black Hawk helicopters...19 major naval vessels, and nearly 8,000 Humvees," Trump said. "And these will be Humvees that are used by our great soldiers, not handed out to everybody like you've been reading about in the past...and we're adding nearly 30,000 new soldiers, sailors, airmen, and Marines. And I've directed the Pentagon to begin the process of creating the sixth branch of our military. It's called the Space Force."
President Trump said he has brought the "largest pay raise in almost a decade," to U.S. service members, previously claiming in May, that it was the first raise in 10 years. While basic pay did increase by 2.4 percent in January, representing the largest growth in eight years, basic pay is actually determined by a statutory formula, with Defense Department salaries increasing every year since 2007.