What Mark Ruffalo, Kathy Griffin And Other Celebrities Said After Trump's Premature Election Victory Claim
America—and the rest of the world—are currently on tenterhooks waiting for the U.S. election count to be finalized.
The race is tight, with Joe Biden and Donald Trump needing 270 electoral college votes to take the White House.
Biden was defeated in the key state of Florida but did manage to flip Arizona blue.
Millions of mail-in ballots are yet to be tallied in states like Pennsylvania however, which many predict will be skewed in favor of Biden.
The nature of the race has led to uncertainty over a clear frontrunner due to the increased number of mail-in and absentee ballots cast this year.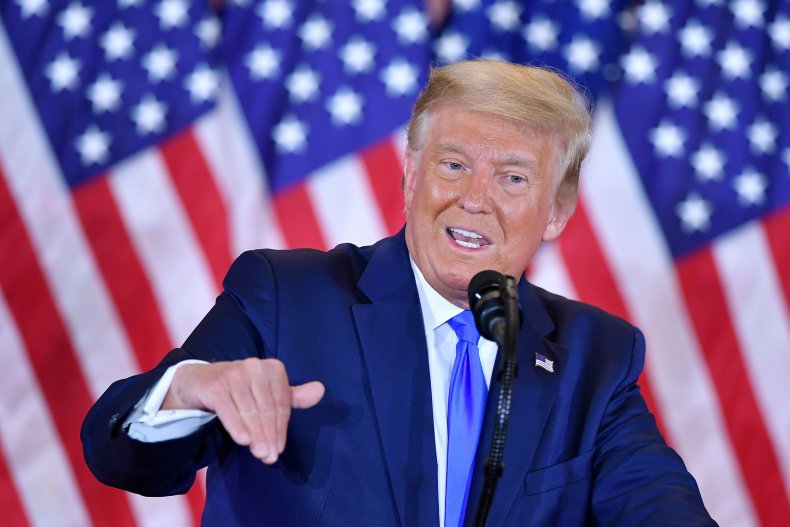 Trump prematurely declared victory already in the early hours of Wednesday morning despite the vote count being unfinished in a number of states.
These factors combined with typical election anxiety have seen endless reactions from politically vocal celebrities on Twitter.
Charmed actress and vocal Democrat Alyssa Milano urged her followers to remember that every vote counts despite Trump's early assertions.
"Trump might claim that he won," she tweeted. "If he does that, please remind yourself and others that politicians can say anything they want. It doesn't make it true. #CountEveryVote #EveryVoteCounts."
Fervent anti-Trump actress Bette Midler tweeted the president's The Apprentice catchphrase "you're fired" back at him.
"Make America Great Again? what a joke. He turned the greatest nation on earth into a s***hole country," she wrote. "And Drain the Swamp? He added a whole new bog, a marshland, quicksand and a sump! and filled it with the lowest lowlife ever seen in DC. #YOUREFIRED."
Meanwhile, comedian Sarah Silverman complained about Mitch McConnell's re-election in Kentucky.
"Kentucky, I may never understand you," she said.
Stand up Jim Gaffigan shared a relatable post about stress eating through the night.
"About to start eating my third dinner entree," he shared. "Not dealing with any stress at all. #ElectionNight."
Trump supporter Ben Shapiro pushed back against the president's early victory declaration, tweeting: "No, Trump has not already won the election, and it is deeply irresponsible for him to say he has."
Avengers actor Mark Ruffalo encouraged his followers to hang in there, tweeting: "Hang tough all! This is the #RedMirage it's about to "turn the corner" into a #BlueWall. Take a breath and get centered in yourself for the next coming days. #CountEveryVote."
Kathy Griffin reshared the controversial Trump severed head photo in a stunt that famously saw her fired from CNN.
Another comedian Sarah Cooper added: "He spent 4 years golfing. And people are still voting for him. I will never understand it."
"Biden's got this and Trump knows it. He would rather burn the whole country down though then except the results," Josh Gad said. "And that's the way it was always going to be. But we don't have to let him. #CountEveryVote."
He added in another tweet: "Trump is scared. He knows he is going to lose. If he even dares try to steal this election before every vote is counted, we take to the streets in numbers never witnessed before. #CountEveryVote."
Complaining about Trump's early victory speech, singer Janelle Monae tweeted: "He is a f****** spin doctor, the LIES."
Musician John Legend made fun of Trump's premature victor speech, writing: "This "speech" is just a random airing of grievances. Happy Festivus."