Trump Supporters Push Back Against Premature Victory Statement, Pence Says Votes Still to Count
President Donald Trump's premature claims of victory ahead of the final tally were a step too far even for those who favor him winning a second term, with supporters pushing back against his controversial statement.
The Republican incumbent vowed a legal battle over the counting of ballots, falsely claiming victory before the election results were clear. "We will win this. As far as I'm concerned, we already have," Trump said.
In contrast, Vice President Mike Pence appeared to immediately temper the president's comments. Speaking directly after Trump, Pence suggested they were on "the road to victory," though it was not a foregone conclusion as ballots are still being tallied.
"While the votes continue to be counted, we're gonna remain vigilant, as the president said," Pence told an election night crowd at the White House.
"The right to vote has been at the center of our democracy since the founding of this nation, we're gonna protect the integrity of the vote.
"But I really believe with all my heart, with the extraordinary margins Mr. President that you've inspired in the states that you just described. And the way that you've launched this movement across the country to make America great again.
"I truly do believe, as you do, that we are on the road to victory, and we will make America great again."
Trump's comments sparked a swift backlash from his opponents. But some of his high-profile supporters also questioned the president's claim to victory.
"I talk tonight now not as a former governor but as a former U.S. attorney," Chris Christie, the former Republican governor of New Jersey who voted early for Trump, said on ABC News.
"There's just no basis to make that argument tonight, there just isn't. All these votes have to be counted that are in now. I disagree with what he did tonight.
"I think by prematurely doing this, if there is a flaw in it later, he has undercut his own credibility in calling attention to that flaw."
Conservative commentator Ben Shapiro, who has been critical of Trump in the past but said he was voting for him this time out, also joined the push back against the commander-in-chief's comments.
"No, Trump has not already won the election, and it is deeply irresponsible for him to say he has," Shapiro tweeted.
Rick Santorum, a former Republican presidential hopeful who also served as a senator for Pennsylvania, has previously defended Trump from criticism, but spoke out about his latest comments.
"I was very distressed by what I heard the president say," he said on CNN. "The idea of saying, using the word fraud, by people counting votes is wrong."
He defended stopping the counts in some areas, referencing Pennsylvania, due to it rolling into the early hours, so those involved will be tired.
"I understand the president feels like it's a grievance against him and somehow or another this is another example of the media not treating him fairly, I would just say I could not disagree more in this case," he said.
Actor James Woods, a vocal Trump supporter, also appeared to question the remarks after the president spoke of an end to votes being counted.
He tweeted: "Since when do they just stop counting votes on election day in America?"
Newsweek has contacted the Trump campaign for further comment.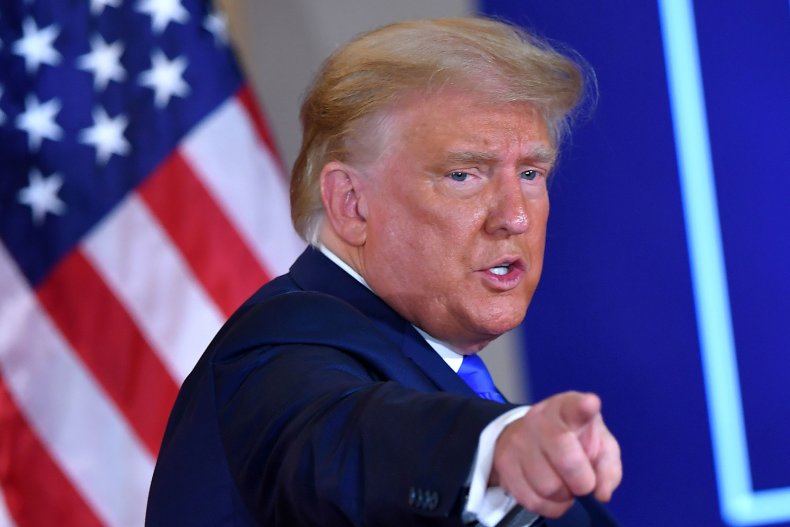 Update 11/04/2020: This page has been updated to include further comments from Rick Santorum and James Woods.