Trump Vindicated in Fight With Piers Morgan Over Interview
Former President Donald Trump's interview with conservative personality Piers Morgan ended with his vindication following a week-long back-and-forth about whether or not he stormed out.
Morgan released a promotional video last week of the tense interview for his show Piers Morgan Uncensored. The video paired clips of the two arguing about the results of the 2020 presidential election and appeared to show Trump getting angry and leaving the interview.
The interview concluded Tuesday afternoon, putting an end to speculation about how it would end. Ultimately, Trump only left after Morgan concluded the interview.
Still, Morgan defended the promotional video, arguing that it was not misleading because Trump still appeared "angry" when he left just minutes after Morgan and Trump's communication director Taylor Budowich got into a spat about the length of the interview.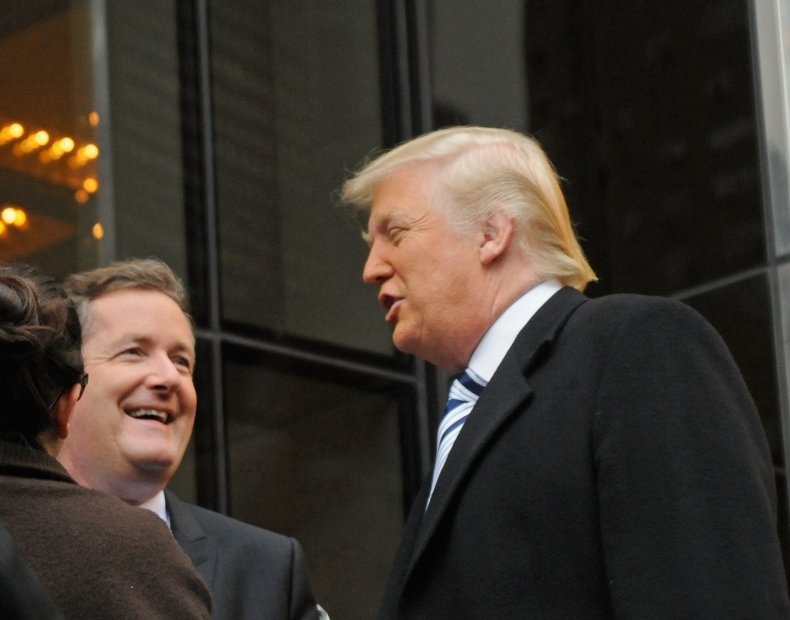 "You did leave, pretty angrily. It certainly wasn't a happy ending," Morgan said in defense of the clip.
The trailer appeared to show the two get into a testy exchange about the results of the 2020 presidential election, which Trump has repeatedly claimed was stolen from him, though Morgan disagrees.
It featured a clip of Trump calling Morgan a "fool" for believing that he lost the "free and fair" 2020 presidential election.
The promotional video then jumped to Trump appearing to get up and walk out of the interview, demanding producers turn off the cameras while calling Morgan "very deceptive." However, it came to be revealed Trump did not leave until the interview had concluded.
Trump's camp denied that the former president stormed off, accusing Morgan of "unlawfully and deceptively" editing the interview. They also released audio footage to NBC News and right-wing media outlet Breitbart that appeared to tell a different story about how the interview ended.
In the audio, the only point of contention came when Trump's team expressed annoyance with Morgan for saying several times he was asking the former president one "last question."
"You've done 'last question' four times now," said Budowich. "I feel like you're lying at this point." Meanwhile, Trump made a comment saying it was "very deceptive."
Still, Morgan got in his final question: inquiring abut Trump's hole-in-one [more], which two discussed amicably before concluding.
"That was a great interview," Morgan said.
Trump agreed with a "yeah," and only after the interview was over did he tell producers to turn off the cameras. The footage appeared to be in line with how the interview aired Tuesday evening.
In a statement released last Wednesday, Trump blasted the promotional video.
"For those who want to make Piers look bad, compare his video promo and how it was doctored to the real thing," he wrote. "Hopefully they will now be doing some big changes to their final product."
Morgan, meanwhile, defended the promo clip in an opinion piece for the New York Post. He accused Trump's statement of being "misleading." He has also said he and Trump had an argument before the interview.
"You said all the things we see you saying in that promo, and they are an accurate representation of the most contentious part of our interview," he wrote, adding that he remembers "similar dramatic promos" being produced about him during his time on "Celebrity Apprentice."