Trump Will Vist Kenosha, Meet Police and Survey Damage Caused During Protests
President Donald Trump will travel to Kenosha, Wisconsin, the city that has been rocked by unrest over the police shooting of Jacob Blake for a week.
Blake, a 29-year-old Black man, is paralyzed from the waist down after a white Kenosha police officer fired seven bullets into his back on August 23.
Trump will head to Kenosha on Tuesday, White House spokesman Judd Deere told reporters aboard Air Force One on Saturday. The president spent the day touring damage caused by Hurricane Laura in Louisiana.
According to The Associated Press, the president will be meeting with law enforcement officers and "surveying" some of the damage caused during recent protests. The White House has been contacted for comment.
It's not clear if Trump will meet with Blake's family during the trip. But the visit is likely to inflame tensions in Kenosha, where protesters have been marching on a nightly basis since Blake's shooting—and some of those demonstrations descending into violence.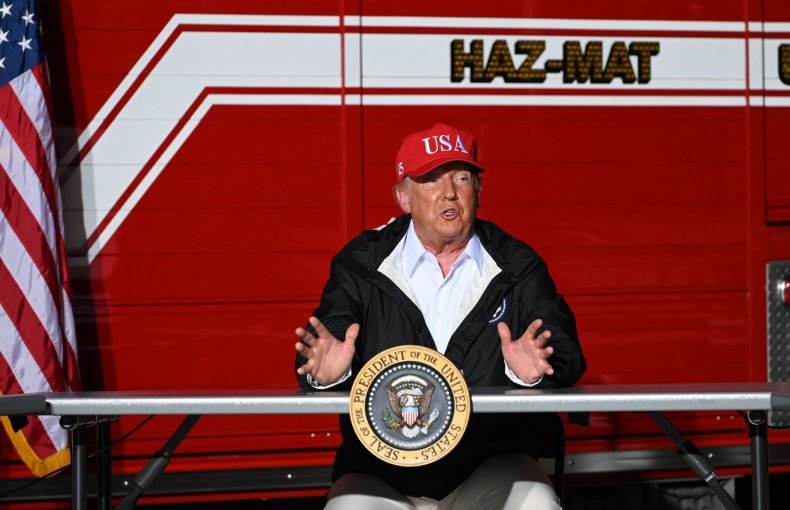 Kyle Rittenhouse, a white 17-year-old from Illinois, has been charged with murdering two protesters and wounding a third.
Asked about the Tuesday night shooting, Trump demurred, only saying that "it's under investigation" and that "we are looking at it very, very carefully."
Authorities said Kenosha Police Officer Rusten Sheskey and two other officers were responding to a domestic incident call when Sheskey shot Blake in the back seven times. The Wisconsin Department of Justice is investigating.
Cellphone video that captured the shooting circulated widely online, sparking fresh protests against police brutality and racial injustice—three months after the killing of George Floyd after a white Minneapolis police officer kneeled on his neck for several minutes.
In a recent interview, Trump stopped short of saying whether or not Sheskey should be charged.
"Well I'm looking into it very strongly. I'll be getting reports, and I'll certainly let you know pretty soon," he told WMUR. He added that Blake's shooting "was not a good sight."
But while Trump has said little about the shooting directly, he has regularly vowed on Twitter to step in to quell violent protests taking place in Wisconsin and elsewhere.
In his acceptance speech at the Republican National Convention on Thursday, Trump—who has made law and order a key part of his re-election platform—condemned the "rioting, looting, arson and violence we have seen in Democrat-run cities," citing Kenosha, Minneapolis, Portland and others.
Former Vice President Joe Biden, who is running against Trump in November's election, and his running mate, California Sen. Kamala Harris, have accused the president of rooting for more violence amid the unrest in Kenosha.
"He views this as a political benefit," Biden said on MSNBC. "He's rooting for more violence, not less. And it's clear about that."