Facing 'Danger,' Trump Visits U.S.-Mexico Border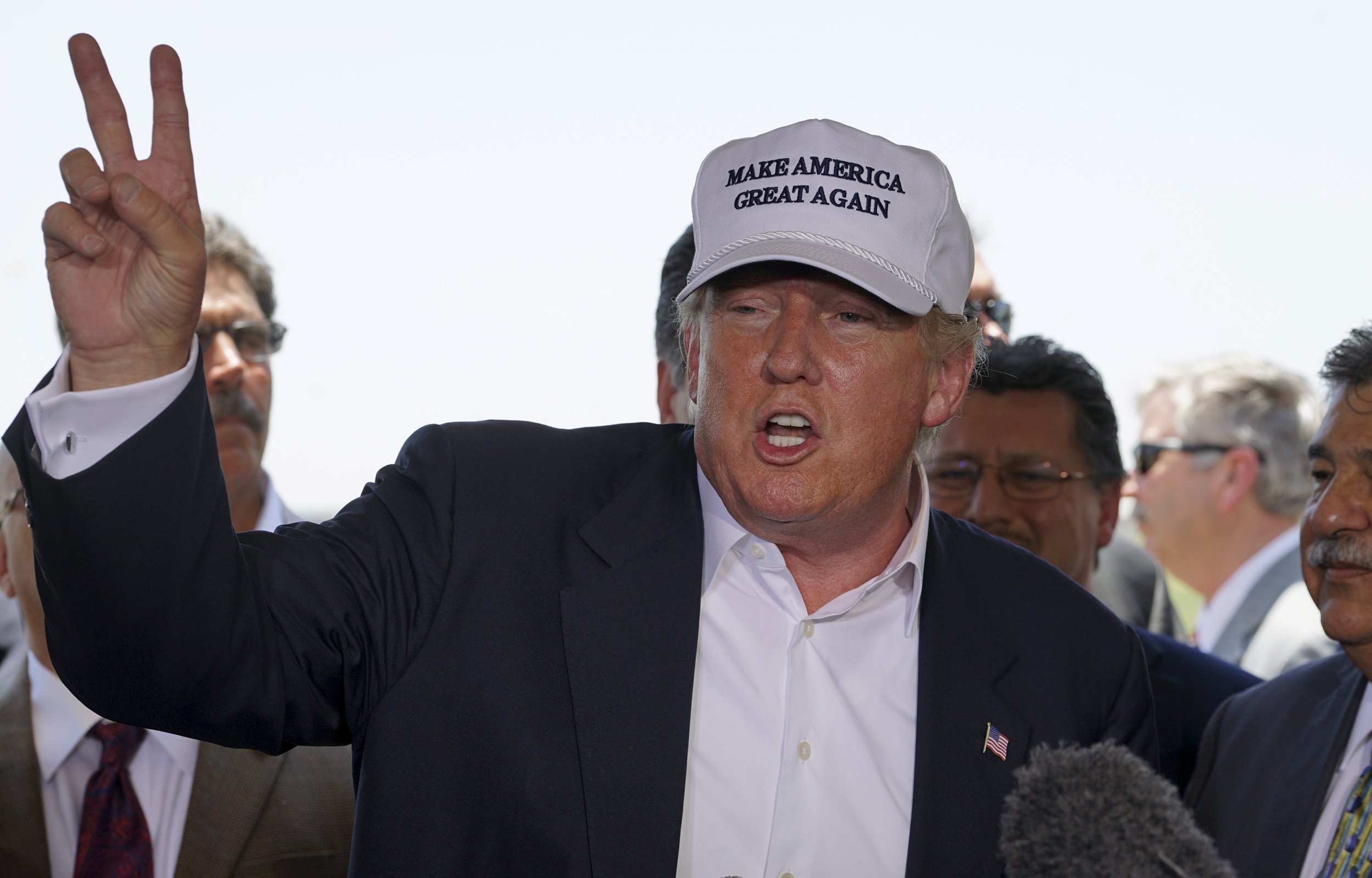 Donald Trump, who is polling in first place in the Republican race for president and who has vowed to stop illegal immigration, arrived in Laredo, Texas, where he received a warm welcome on Thursday from the mayor and the city manager, giving the real estate magnate a perfect opportunity to make his case. The officials in no way endorsed Trump or his policies, but their embrace of the controversial visitor, who donned a cap reading "Make America Great Again," didn't hurt a candidate who has come under fire for claiming that Mexico is sending illegal immigrants, including rapists and murderers, to the U.S.
Trump cited the dangers he faced in going to the U.S.-Mexico border. "I have to do it. I love my country," he said en route to the border. Laredo's crime rate is actually lower than those of many American cities, and Trump was surrounded by private security and members of the Border Patrol as well as local police. But the Mexican side of the area has been marked by enormous violence, including in Nuevo Laredo, just over the border. In May, the State Department warned Americans about Mexican travel in general and in particular said they should "defer non-essential" travel to the province where Nuevo Laredo is located because of robberies, kidnappings and murder.
After Trump toured the border, he addressed reporters and was introduced by the mayor of Laredo, Pete Saenz, who said he was delighted that Trump was in town. He also bragged that his city was the No. 1 land port in the U.S. and said "NAFTA has been very good to us." Trump has been a fierce critic of the North American Free Trade Agreement and other trade agreements forged over the last quarter century.
In one of the lighter moments, Trump praised the mayor as well as Jesus Olivares, Laredo's city manager. "I'm going to steal him to run something for me. He's fantastic," Trump said with his arm around the shorter, mustachioed Mr. Olivares--who smiled but seemed to distance himself from Trump's oft-touted idea of building a wall at the Mexican border. "We don't think that's necessary at this time," said Olivares, while noting that it's a federal and not a local issue. Indeed, Trump seemed to qualify his claim that a giant wall was needed. It was widely assumed when Trump touted erecting a wall--and making the Mexican government pay for it--that he meant along the entire border. On Thursday, he seemed to allow that it might not cover the entire 1,933-mile border. "In certain sections you have to have a wall," said Trump.
The New Yorker was supposed to meet with representatives of the union representing Border Patrol agents. But the union pulled out, saying it was underscoring that it was not endorsing any candidate. Trump didn't insult the local leaders but blamed their "superiors from Washington" for withdrawing their invitation. He also lamented that the agents were not being allowed to do their jobs, though did not elaborate about what he meant.
Asked if he might pursue a third-party bid for the White House if he fails to get the Republican nomination, Trump didn't reject the idea but said that he expected to get the nomination. He touted what he said was his support among Hispanics who back his ability to return jobs to the U.S.: "The Hispanics are going to get those jobs and they're going to love Trump," he added.