Trump Visits Dallas to Talk Policing and Race Relations, But Excludes Top Black Law Enforcement Officials
Three top black law enforcement officials were left off the guest list at President Donald Trump's Thursday discussion of police actions and race in Dallas, Texas.
Dallas County District Attorney John Creuzot, Dallas County Sheriff Marian Brown and Dallas Police Chief U. Renee Hall did not attend the event.
Widespread protests against racism and police brutality occurred in U.S. cities following the May death of George Floyd while in the custody of Minneapolis police officers. House Democrats have proposed police reform legislation, including the banning of chokeholds. Others have called for the federal funds to be shifted away from police departments and into minority communities. In Minneapolis, city council members said Sunday they would disband the city's police department.
Trump spoke highly of law enforcement Thursday, but noted that "you always have a bad apple no matter where you go."
"And there are not too many of them," Trump continued, "and I can tell you there are not too many of them in the police department."
A White House spokesperson sent Newsweek a listing of diverse members of the law enforcement community who attended the roundtable, including Glenn Heights, Texas police chief Vernell Dooley and Fort Worth Police Officers Association President Manny Ramirez.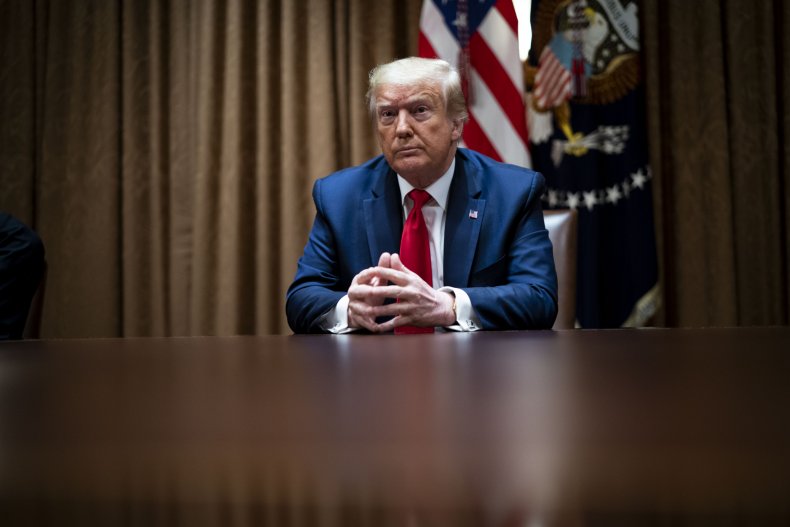 Dallas County DA Cruezot told Newsweek Friday that he didn't know why he wasn't invited to the roundtable discussion. "I don't know who plans that or who decides that," Cruezot said, adding that "it seems to me a wasted opportunity to come here and not talk to the chief law enforcement officer."
Cruezot said Dallas County has "all the same problems" as other metro areas in regards to policing and that by not being asked to take part in the discussion, Trump was "missing out on a big part of what goes on."
Prejudiced behavior exhibited by some officers toward communities of color can create a "feeling of distrust between police and the community," Cruezot said. "If you're not thinking through that and understanding the history of what you're doing, you keep making those mistakes."
House Democrats unveiled a police reform bill on Monday. Under the proposed legislation, the use of chokeholds by police officers would be banned. The bill also calls for the creation of a national database to track officers accused of misconduct.
"Police brutality is a heartbreaking reflection of an entrenched system of racial injustice in America," House Speaker Nancy Pelosi said Monday while introducing the bill. "This is a first step. There is more to come."
Trump said his administration was working on an executive order "that will encourage police departments nationwide to meet the most current professional standards for the use of force, including tactics of de-escalation."
"We're not defunding police," Trump said. "If anything, we're going to go the other route. We're going to make sure our police are well trained, perfectly trained."
Plans for defunding the police, Trump said, were "radical efforts" brought about by individuals attempting to "stoke division" and "push an extreme agenda."
Defunding the police means taking funds away from local law enforcement and diverting those monies into other areas, such as minority community efforts, education and public health.
Los Angeles Mayor Eric Garcetti said Friday that he would cut the budget of the LA Police Department by $150 million. Those funds, Garcetti said would be reinvested into "black communities and communities of color." Garcetti's budget is expected to be reviewed for approval by the end of June.
Updated 9:43 p.m. EST 06/12/2020: This story has been updated with quotes from Dallas County District Attorney John Cruezot.