Trump and Putin Meet in Paris, After Exchanging Smiles and Gestures, Despite Promise to Stay Apart
President Donald Trump and Russian President Vladimir Putin met briefly on Sunday in Paris despite France's request that the two not hold official meetings that could "disrupt" the World War I commemorations.
The star-crossed politicians were seen in several wire service photos and handouts from the German Government Press Office (BPA) sitting opposite each other during a Sunday lunch at the Élysée Palace in Paris. The two leaders are in France this weekend to commemorate 100 years since the end of World War I. Russian news outlets reported Putin describing the interaction between the two as "fine," but Putin said French leaders requested they hold "no meetings."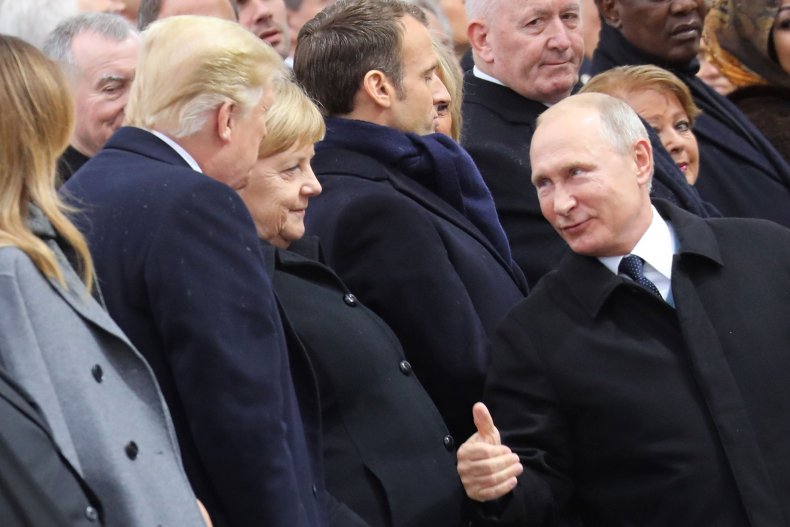 Trump, Putin, First Lady Melania, German Chancellor Angela Merkel, French President Emmanuel Macron and his wife Brigitte all stood together and exchanged pleasantries during ceremonies near the Arch de Triomphe Sunday. Putin could be seen shaking hands with Trump and Melania and flashing a "thumbs up" sign and smiles in several wire images.
A Special Counsel investigation led by Robert Mueller is actively investigating if any foreign government, but particularly Russia, attempted to interfere in the 2016 presidential election. Both Putin and Trump have repeatedly denied colluding.
The RIA reported Putin saying the French government specifically asked Trump and Putin not to hold an official meeting in their country so as not to "disrupt the schedule" of events. "At their request, we're not holding any meetings here," Putin reportedly said. In late October, Trump said he would "probably" meet with Putin during the Paris commemorations, potentially to discuss Trump pulling out of the1987 Intermediate-Range Nuclear Forces Treaty.
The first full meeting of Putin and Trump took place on July 16 at the Presidential Palace in Finland, Helsinki, during a summit.
Kremlin Press Secretary Dmitry Peskov told Russian news outlets Putin also spoke on the side of the Élysée Palace with Israeli Prime Minister Benjamin Netanyahu.