Trump Adviser Roger Stone Promises Not to Harass Voters, as Parties Battle Over Poll Watchers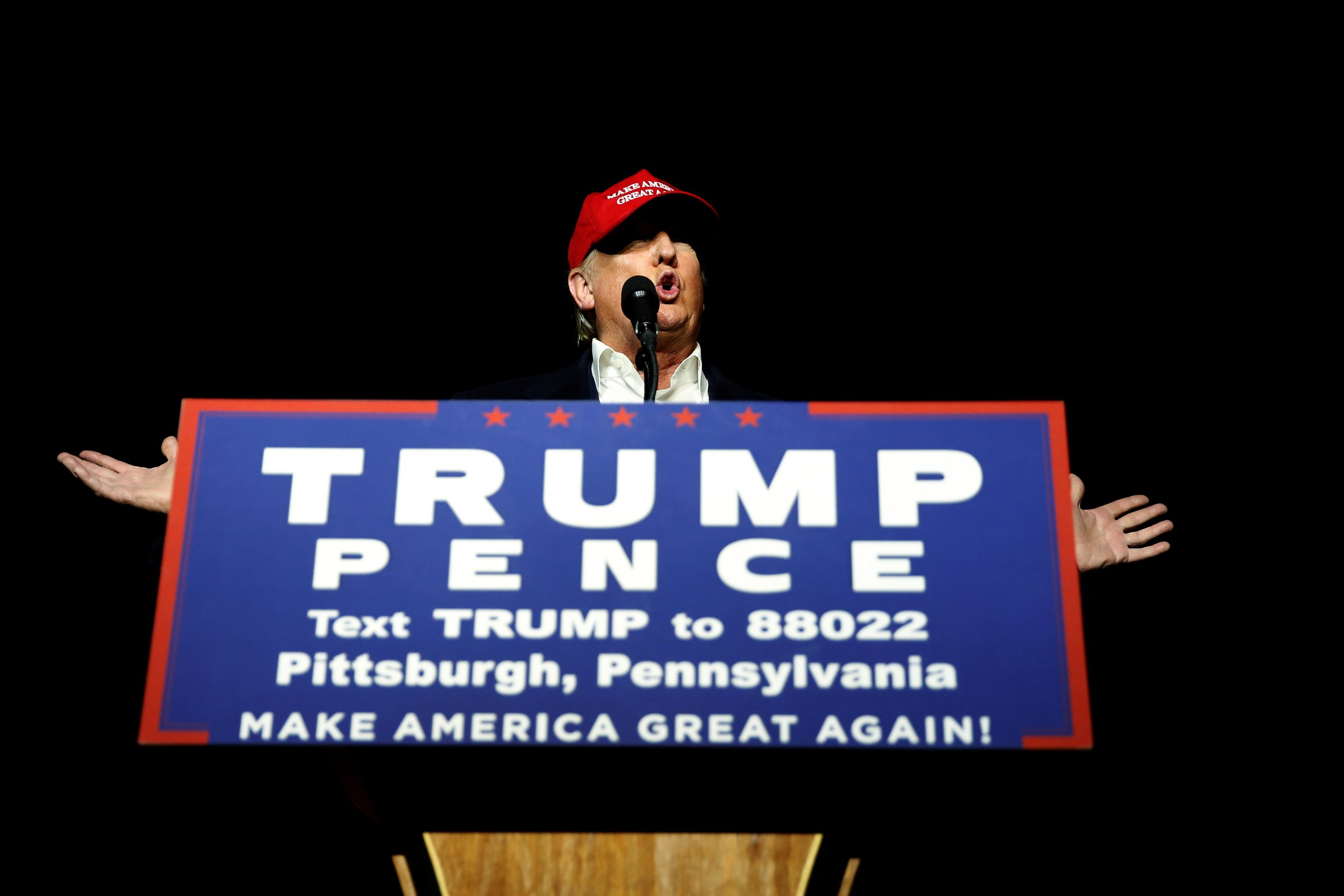 A website allied with the Donald Trump presidential campaign over the weekend added a warning to volunteers who have signed up to monitor Democratic-heavy polling locations across the country. Below StoptheSteal.org's entreaty that the volunteers "help us prevent the THEFT of the 2016 Presidential election...from Donald Trump," the warning reads:
You must not:
- Speak (or encourage anyone else to speak) to any voter before he goes into a polling place, about ANYTHING, or who appears to be in line to vote or headed into a polling place
- Speak to ANYONE within 100 feet of the entrance to any polling place
- Go inside a polling location for any reason other than to vote yourself, and when voting yourself and inside a polling place say or do anything not directly related to casting your own vote
- Record by audio or video or any other method of sound or video reproduction the comments of anyone who has voted without that person's permission
- Wear or display any badge, button, or clothing that promotes any political candidate or party
- Photograph the conduct of voting at a polling place or record the conduct of voting, or of any voter in line to vote (no matter how far distant from a polling place) or who appears to be headed into a polling place to vote or who is within 100 feet of a polling place even if that person has already voted
- Without regard to distance from a polling place, ask any person who has not yet voted their name, address or political affiliation or how that voter plans to mark his or her ballot
The detailed directions were prompted by a Democratic Party lawsuit against Stop the Steal and its leader, longtime Trump confidante Roger Stone. The party claimed in Nevada District Court that Stone's group, along with the Trump campaign and the Republican National Committee, intended to intimidate voters on Election Day under the guise of preventing election fraud (a phenomenon that has proved to be extremely rare). Other language on Stop the Steal's website makes Trump's declarations on the campaign trail (he has called for followers to "watch other communities" on Election Day in places like Philadelphia, Chicago and St. Louis—all cities with large African American populations) sound subtle, by comparison. "They intend to flood the polls with illegals," the website claims. "Liberal enclaves already let illegals vote in their local and state elections and now they want them to vote in the Presidential election."
Thus far, more than 3,000 volunteers have signed up to help with the group's Election Day "exit poll"—65 in Nevada—Stone revealed in a Saturday filing to the Nevada court. The longtime Republican operative insisted the point of the exit poll is only "to determine what, if any, deviation there is between the actual vote and the exit poll vote and whether there is a pattern between all of those polling places targeted."
He added further down in the court filing: "I will under no circumstances be part of any effort, now or at any time in the future, to violate the civil rights of any voter. I will not target voters based on their race."
The District Court in Nevada is still considering the Democrats' request for an injunction against Stone, but it's a long shot. In the last few days, the New Jersey District Court slapped down the national Democratic Party's suit against its Republican counterparts on similar grounds, while the Arizona District Court and the Sixth Circuit Court of Appeals rejected similar suits brought by Democrats in Arizona and Ohio against Republicans there. Ohio Democrats appealed the latter decision to the Supreme Court on Sunday evening.
The party has argued in these lawsuits filed over the past week that the Republican National Committee is violating a 1982 legal settlement under which it is barred from conducting voter fraud prevention activities. At the time, the court found those activities were thinly veiled efforts to disenfranchise voters of color. The courts were not convinced, however, by the Democrats' arguments that Republicans are working hand-in-hand with the Trump campaign, state parties, Stone and others to conduct such activities in 2016.
Even if the Democrats lose all these cases in the courts, they are forcing the Republicans to release details of their poll watching plans, says Rick Hasen, a University of California at Irvine law professor. The campaigns "don't want to tell you what they're doing," said Hasen, who runs a popular blog on election law. "That's actually one of the advantages of these filings: They are providing information to us and the Democrats."
The Trump campaign, for example, submitted evidence to the court that included a slide deck of the training presentation it is giving to volunteer poll watchers in Nevada. "We do not and will not tolerate any voter intimidation or suppression," one slide reads. It's unclear just how many poll watchers the Trump campaign plans to field on Election Day. For weeks, the home page of the Trump-Pence website has featured a form for volunteers to sign up to be poll watchers. And on a Republican National Committee conference call on early voting Friday evening, Trump's deputy campaign manager, David Bossie, told reporters, "We have our Election Day operations team putting together a plan that consists of volunteers in all the battleground states as well as the legal teams." He was then cut off by an RNC official, who told Bossie he couldn't discuss those plans on such a call (given the legal restrictions on the RNC). A Trump campaign spokesman did not respond to requests for more details.
It's normal for the presidential candidates to send volunteer observers to monitor the polls. Democrat Hillary Clinton's campaign is fielding its own army of volunteers on Election Day, and, like the Trump campaign, her team has provided few details. However, Trump's campaign trail rhetoric about the election being "rigged" and his repeated suggestions, sans evidence, that vote stealing is happening in minority communities have put voting rights advocates and election officials on edge. "Trump's words are an unmistakable incitement to voter vigilantism and a deliberate attempt to undermine public confidence in the most vital cog in our democracy," a new report from the advocacy group Common Cause warns. Add to those concerns the fact that this is the first presidential election since the Supreme Court struck down a key section of the Voting Rights Act, and voting rights proponents are worried that minorities could be more vulnerable on Election Day than they've been in decades.
In response, a coalition of voting rights and progressive groups that includes Common Cause, the NAACP, the ACLU, labor unions and the League of Women Voters are teaming with state-based groups to conduct their own poll watching to make sure no one has trouble voting. They are stationing volunteers and legal teams outside voting sites in Ohio, Pennsylvania, Florida, Nevada, North Carolina and in other battleground states to ask voters if they've encountered any problems voting, and are operating hotline numbers in an array of different languages to allow for reporting on any issues that do arise.
Another member of that coalition, New York University School of Law's Brennan Center for Justice, has been working with election officials in nearly a dozen states to issue explicit language to clarify what constitutes voter intimidation, says Adam Gitlin, counsel for the Brennan Center. Pennsylvania, for example, issued a memo last month with a "non-exhaustive list of examples of voter intimidation and discriminatory conduct" that included things like, "direct confrontation or questioning of voters" and "ostentatious showing of weapons."
The laws, however, vary state by state. In Virginia, for example, a man was handing out Republican sample ballots and asking people who they were going to vote for while he had a gun holstered to his waist, the Huffington Post reported Friday. Officials from Loudoun County, Virginia responded by saying he wasn't violating any laws, though one woman told a reporter she felt intimidated. Voting rights groups in North Carolina have reported other isolated incidents of voter intimidation during early voting, including someone who videotaped voters as they exited church van at a polling site in Durham County and a Trump supporter who was driving around in a vehicle labeled a "hate-mobile," displaying signs and yelling through a bullhorn.
Such types of individual incidents remain the biggest risk for conflict on Election Day. If Trump and his allies weren't already aware, the recent set of lawsuits just reinforced that they will face intense scrutiny on Election Day for any signs they are conducting organized intimidation. And while they appear to be toeing the line, rogue supporters may well heed Trump's calls to interfere in "certain areas," as he put it in August. Such people will be much harder to deter.
Trump Adviser Roger Stone Promises Not to Harass Voters, as Parties Battle Over Poll Watchers | U.S.