Poll, Trump Backers Show Support for Immigration Ban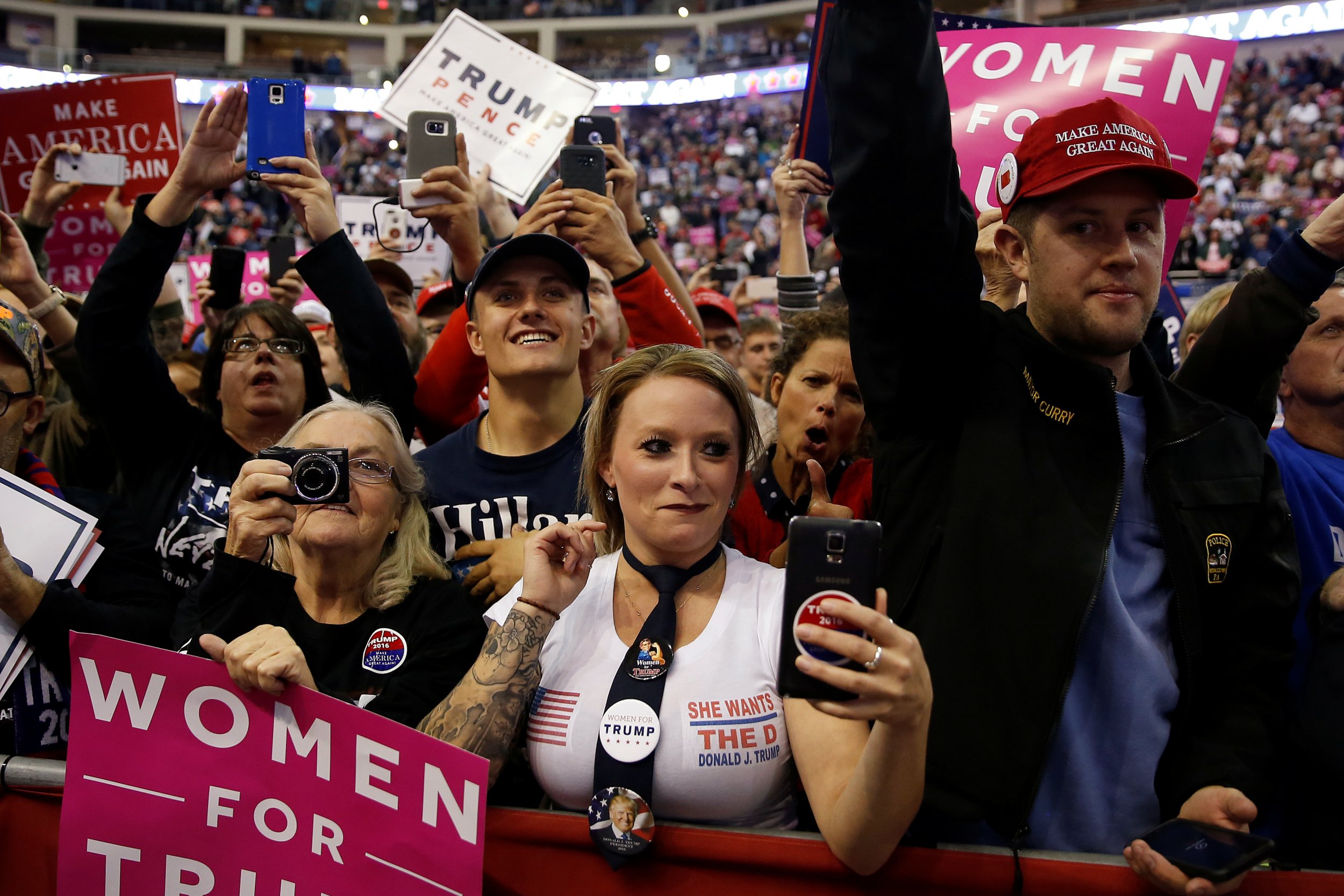 While President Donald Trump's executive order blocking immigration from seven Muslim-majority nations sparked protests and confusion across the U.S., almost half of American voters are in favor of blocking immigration from "terror prone" countries, according to a newly released poll. "American voters support 48 – 42 percent suspending immigration from 'terror prone' regions, even if it means turning away refugees from those regions," states a press release from Quinnipiac University, which questioned 899 people by calling their landline and cell phones in early January.
The poll reflected the strong anti-immigration and anti-refugee views held by Trump supporters in Northeastern Pennsylvania, a region that was crucial in the president's surprise victory last year.
"Our first priority should be the safety of Americans," says Tino Altavilla, a freshman at King's College in northeast Pennsylvania. Asked his opinion of the executive order Trump signed Friday afternoon, the physics major said he doesn't believe every Muslim is a terrorist but that the vetting system needs to be improved before any more people from Middle Eastern countries are allowed into the U.S. "Imagine Syria. There are very few records on some of the people because it's a war zone."
Altavilla voted for Trump in November, just like almost 60 percent of voters in Luzerne County, which flipped from supporting Obama by 5 points in 2012 to a 20-point victory for Trump. A third-generation Italian-American, Altavilla tells Newsweek that he thinks Trump should have presented the executive order as a "hold" instead of a "ban," but that he agrees with Trump's order. "I'm not sure if his handling was correct, but what he did was correct."
RELATED: Why did Trump win? Visit Luzerne County, Pa.
Most Trump voters from this mountainous county, a two-hour drive west of New York City, were quick to voice their support for the executive order that blocks citizens of seven mostly-Muslim countries from coming to the U.S. for at least three months, bans all refugees for four months and bars Syrian refugees indefinitely. They saw the ban as a smart way to protect the country from terrorist attacks, and they dismissed arguments that the order amounted to a religious ban or comparisons between the order and America's rejection of Jews fleeing Nazi Germany.
"I don't think he's picked out a religion, he's picked out countries that need more vetting," retired Army lieutenant colonel Stephen Urban, a Democrat who supported Bernie Sanders in the primary and Trump in the general, tells Newsweek. Urban thinks it's important to view the immigration order in the context of Trump's recent directive to hire 5,000 more Border Patrol agents. "I support his policy 100 percent," Urban says. "He just wants to have [agents] in place to process people and make sure they're vetted."
Even a Trump voter whose father immigrated from the Middle East called the motive behind the order "understandable" and says it doesn't lessen his support for Trump, though he does think it incorrectly paints too many people as potential enemies. "I don't agree with it, but I'm not on the protest bandwagon," says Mark Rabo, 40, a heavy equipment operator in Luzerne County whose father was an immigrant from Jordan. (His mom immigrated from what is now the Czech Republic and voted for Hillary Clinton in November.) "What needs to happen is there needs to be legislation to screen out and vet people who are on a watchlist or part of a known terrorist group."
While Republican U.S. senators John McCain and Lindsey Graham criticized the order on Sunday and said it may be a "self-inflicted wound in the fight against terrorism," other conservative leaders from the U.S. and Europe praised Trump's move. Sarah Palin said Trump was "exercising common-sense compassion to keep human beings safe," and Dutch far-right leader Geert Wilders tweeted, "Well done @POTUS it's the only way to stay safe + free. I would do the same. Hope you'll add more Islamic countries like Saudi Arabia soon."
Other Luzerne County residents recounted their positive relationship with the area's Syrian population and one noted that the mayor of Wilkes-Barre, the county's largest city, was of Middle Eastern descent. "We grew up with Syrians in our town but they're the good ones, they're not the terrorists," says Richard Sorokas, who has his MBA and retired from research and development at Procter & Gamble. But there was no softening of support for Trump among the voters who helped him land Luzerne County and Pennsylvania with its crucial 20 electoral votes.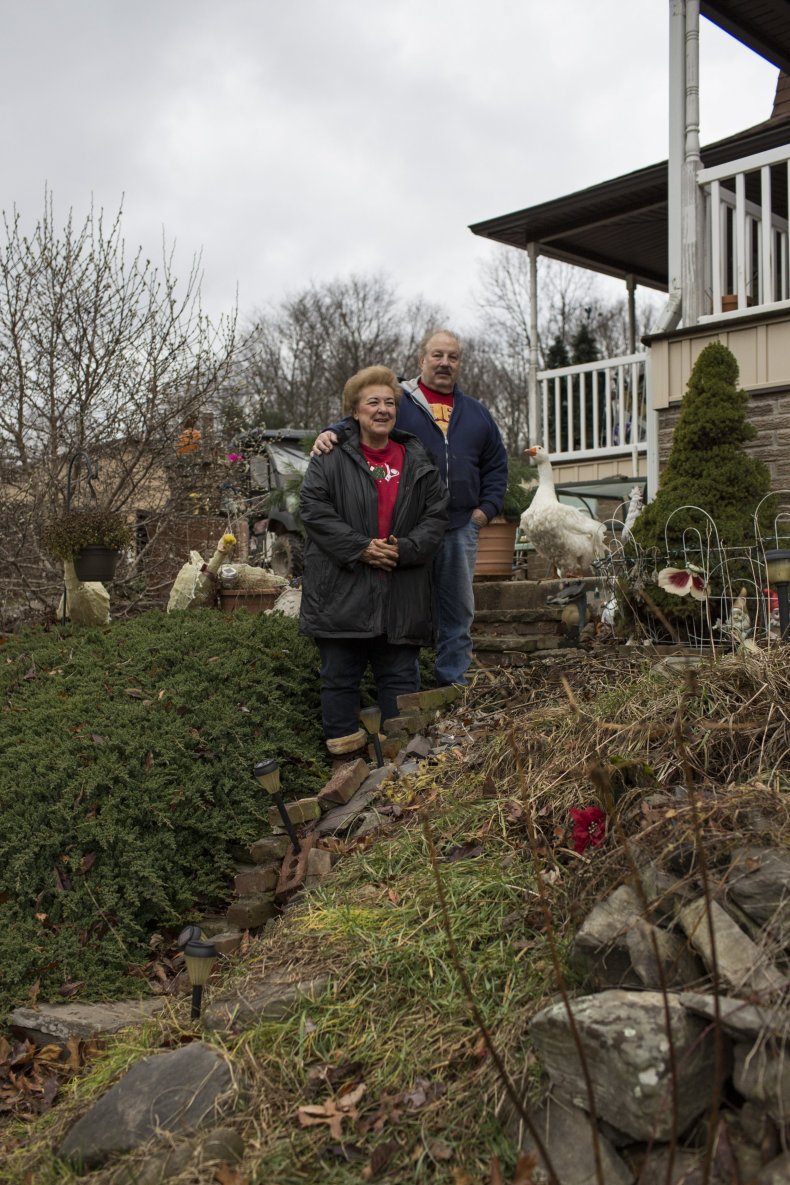 "Under the last presidency, I never felt that our backs were covered," says Kathy Dobash, a retired art teacher and a member of the Luzerne County Council who voted for Trump and praised the order. "When you look at the list of countries, isn't it a list of countries where terrorists are from?"
Asked what she thought of criticism that Egypt and Saudi Arabia weren't included on the list even though there were 9/11 attackers from each, Dobash said she didn't know but hoped that Trump would hear that criticism and adjust the order to include those countries. "We need to be safe. We need to feel safe and get control over the terroristic threats," Dobash said. "Our president is trying to do that."