Trump Voters Hesitant About COVID Vaccine Won't Be Swayed by Former President
When trying to convince former President Donald Trump's supporters to get vaccinated against COVID-19, officials should look to hammering home facts about those who have been vaccinated and not rely on the former president's persuasion, a recent focus group indicates.
In an effort to reduce opposition and help America reach herd immunity, Dr. Anthony Fauci, director of the National Institute of Allergy and Infectious Diseases, advised Trump to tell people to get vaccinated. However, the focus group found that people don't respond to politicians or anyone perceived to be partisan because they don't trust them.
"I was surprised in how not influential Trump was, how irrelevant he had become," Frank Luntz, a GOP pollster who conducted the focus group, told Newsweek. "I assumed weeks ago that Trump was needed to reconsider their hesitancy. Now, I realize the facts are much more important and Trump is much less important."
When presented with the idea of Trump doing a vaccine public service announcement, members of the focus group said hearing from their spouse or doctor would influence them more than the former president, according to The Washington Post.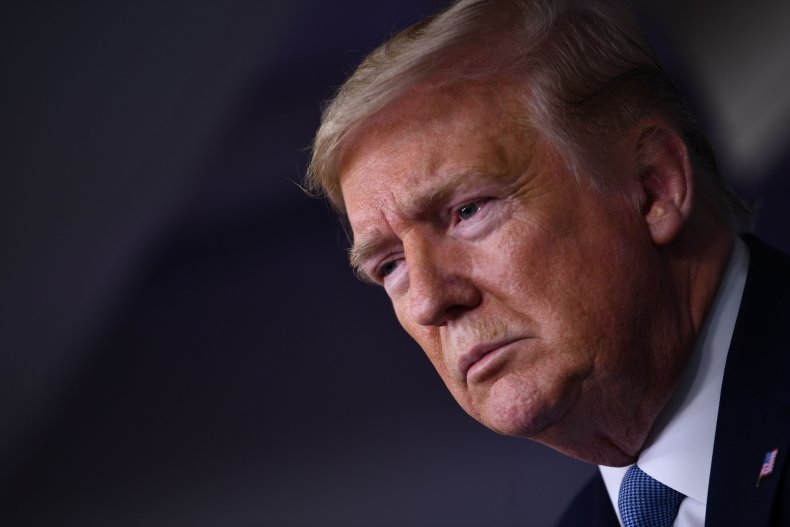 During the focus group, participants heard from a number of people, including House Minority Leader Kevin McCarthy, Senator Bill Cassidy and Representative Brad Wenstrup, all Republicans. McCarthy acknowledged that people may be hesitant because companies waited to announce their vaccine's results until after the election.
"It was political stunts like that that leave doubt in our minds," a man identified as David from Texas said.
Along with Republican politicians' messaging falling flat or even inspiring more doubts, participants rejected a proposed PSA from four former presidents as "propaganda." It showed Luntz that the messaging around the vaccine rollout can't have any politics "whatsoever" involved in it, he said.
Republicans are less willing to get the COVID-19 vaccine than Democrats are, and 47 percent of Trump's supporters said they wouldn't get it, an NPR poll found. With at least 70 percent of the population needing to be vaccinated to reach herd immunity, according to Fauci, an estimated 33 million people—about 47 percent of Trump's 2020 voters—refusing the vaccine could put the country at risk.
By the end of the focus group, all 19 participants who remained said they were more likely to be vaccinated than when the discussion began. Brian Castrucci, CEO and president of the de Beaumont Foundation, told Newsweek he was confident he could get 16 of the participants vaccinated, which he attributed to a "public health victory."
Participants attributed their hesitation to concerns about the long-term effects of the vaccine and distrust in politicians. Castrucci acknowledged that we don't really know the long-term side effects of the shot, although there are theories. He added it's important to communicate that transparently to people while contrasting it with the information officials know about how many people have had long-term effects after getting COVID-19.
The group found that the most powerful messaging was from a health expert.
They heard Tom Frieden, a former director of the Centers for Disease Control and Prevention (CDC), stress that getting COVID-19 was more dangerous than the vaccine. They also learned doctors are getting the vaccine as soon as they could, as well as other facts about vaccination. It was a compelling message to the majority of participants, and the most powerful fact Frieden had was the percentage of doctors who chose to get vaccinated, Luntz told Newsweek.
"I think the way you worded it does kind of paint the whole idea of getting the vaccination in a little more of a positive light," Jen from Iowa said.
Chad from Minnesota characterized Frieden, an appointee of former President Barack Obama, as being "honest" when telling them, "Nothing is 100 percent here, people."
The greatest challenge for the vaccination effort, according to Luntz, is convincing people that COVID-19 is more dangerous than the vaccination.
Frieden told The Washington Post he didn't realize the "depth of the feeling that the vaccine has been weaponized and politicized." He called it "quite striking" and added that he's going to emphasize the messages that resonated with people in an effort to increase willingness among those who are hesitant to get vaccinated.
Castrucci told Newsweek he thought participants forgot Frieden was a former CDC director and viewed him as a physician from whom they'd get medical care. He called the findings from Saturday a reminder of "public health communications 101," where people learn that "good stories and good data make behavior change."
"I think what Republican voters are looking for is not to be talked down to, to get the facts and get them very clearly," Castrucci said. "The focus group folks lit up when they heard there were tens of thousands of people in the vaccine trial."
While Frieden was more compelling than some of the other speakers, being a health expert isn't enough, because the group's participants largely rejected Fauci. They saw him as a liar or a person who flip-flops, something Luntz said hurts someone's credibility with those who are hesitant to get vaccinated.
"The messenger is just as important as the message. The person has to have credibility. If you're seen...being partisan in any way, you won't be heard," Luntz said.
Newsweek, in partnership with NewsGuard, is dedicated to providing accurate and verifiable vaccine and health information. With NewsGuard's HealthGuard browser extension, users can verify if a website is a trustworthy source of health information. Visit the Newsweek VaxFacts website to learn more and to download the HealthGuard browser extension.