Trump Voters Want GOP to Be 'More Loyal to Trump' Even if It Costs Republican Support
Donald Trump may have left the White House, but he still maintains a strong hold on his supporters. When asked to pick between establishment Republicans and the former president, a majority want the GOP to stick with Trump.
The GOP is going through a post-Trump reckoning period, a divisive transition that was made worse with the Capitol riot and his historic second impeachment. It has caused a major rift between Trump and a former ally, Senate Minority Leader Mitch McConnell. "When necessary," the ex-president says, he plans to back primary challengers to incumbent Republicans who don't support his America First agenda.
This week, Trump's headlining the Conservative Political Action Conference (CPAC), where he's expected to send the message that he's in control of the GOP. Polling shows he may be right.
Half of the 1,000 Trump voters polled in a USA Today/Suffolk University survey said the GOP should become "more loyal to Trump," even if it means losing the support of establishment Republicans. About 20 percent want the party to move away from Trump and align itself more with establishment Republicans.
Republican legislators started distancing themselves from Trump in the aftermath of the election, drawing the president's ire for not fighting hard enough against an election he considered, without evidence, to be fraudulent. While in office, Trump employed a "you're with me or against me" attitude, which he plans to deploy in the upcoming midterm primary elections.
Ten Republicans in the House voted to impeach Trump and seven Republican senators voted to convict, a larger number than was expected as the trial began. Although McConnell voted to acquit, he put the blame for the riot directly on Trump and kept the door open to criminal consequences for the former president.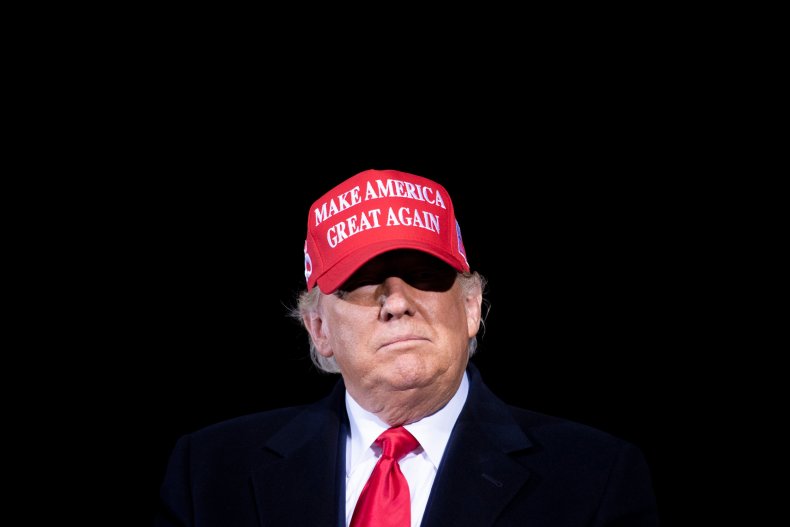 McConnell quickly went from ally to an enemy, while Trump said in a statement that the GOP won't "win again" if Republican senators stick by him. He blamed McConnell for the GOP's loss of two Georgia Senate seats in the January runoff elections and for "destroying" the Republican side of the Senate.
"This is a big moment for our country, and we cannot let it pass by using third rate 'leaders' to dictate our future!" Trump said in a statement.
Political experts have told Newsweek that Trump likely won't be able to oust McConnell from his role as the Senate's Republican leader, but he could affect his leadership by helping pro-Trump candidates win elections. Trump's endorsement carries weight, and the USA Today poll found that most voters have stronger loyalty to Trump than to the Republican Party, which could bode well for his candidates in a primary election.
About 80 percent of Trump's voters said they would be less likely to vote for a Republican who supported his impeachment or conviction. A similar percentage of Republicans thought Trump should have been acquitted ahead of the trial, and the new poll indicates the trial had little impact on Trump's support.
Trump's kept the door open to another presidential run, and his CPAC speech may signal that he's the "presumptive 2024 nominee," according to Axios. Some are skeptical that he'll do more than threaten to enter the race, but if he were to run in 2024, Brad Parscale, his former campaign manager, said he should use his second impeachment in his favor.
"I would love to be the only President to be impeached three [sic] times. Because history remembers those that didn't conform. I'm in, are you?" Pascale wrote on Twitter. "They are about to give him superpowers. They are about to make him a martyr."
Trump's supporters don't blame him for the riot, and 76 percent would support him for the GOP nomination if he ran for president again. A greater number, 85 percent, would support him in a general election.