President Donald Trump, a registered voter in Florida's Palm Beach County, participated in the state's primary election using a mail-in ballot cast on Monday, just hours after denouncing vote-by-mail procedures on social media.
A representative facilitated the process for the president and first lady Melania Trump, which allowed them to vote by mail without sending ballots to the elections office through the mail. Instead, Florida state law allows an appointed person to retrieve ballots from the elections office directly if an affidavit is presented, according to a report from the Sun-Sentinel.
A spokesperson for the Palm Beach County Elections Supervisor confirmed a representative delivered the president and first lady's ballots to their office in comments to Newsweek Monday.
News of Trump's completed ballot submission followed the president's latest string of tweets condemning vote-by-mail, a practice expected to see heightened engagement ahead of the general election in November. Before declaring the United States Postal System (USPS) "has been failing for many decades" in his final remark on the matter Monday morning, the president took aim at drop boxes, public receptacles where voters can physically submit mail-in ballots to be collected later by election officials.
"Some states use 'drop boxes' for the collection of Universal Mail-In Ballots," Trump wrote on Twitter. He uses the phrase "universal mail-in ballots" to describe an election setting where a significant number of votes are cast by mail.
"So who is going to 'collect' the Ballots, and what might be done to them prior to tabulation?" he continued. "A Rigged Election? So bad for our Country. Only Absentee Ballots acceptable!"
While the president supports voting through absentee ballots, he has repeatedly expressed his opposition to vote-by-mail. Both processes are similar. The absentee voting system requires voters to submit justification for their absence at polls alongside a ballot request in order to receive one. Fifteen U.S. states used that system prior to the novel coronavirus pandemic.
As states expand access to vote-by-mail as means to reduce transmission of the novel coronavirus at polling sites, some are also working to increase the number of drop boxes in their respective areas. Some government leaders, like those in Ohio, are opposed to installing additional drop boxes ahead of Election Day, although the option has become more popular as USPS delivery delays trigger anxieties about whether mail-in ballots will be delivered to election offices in time for counting.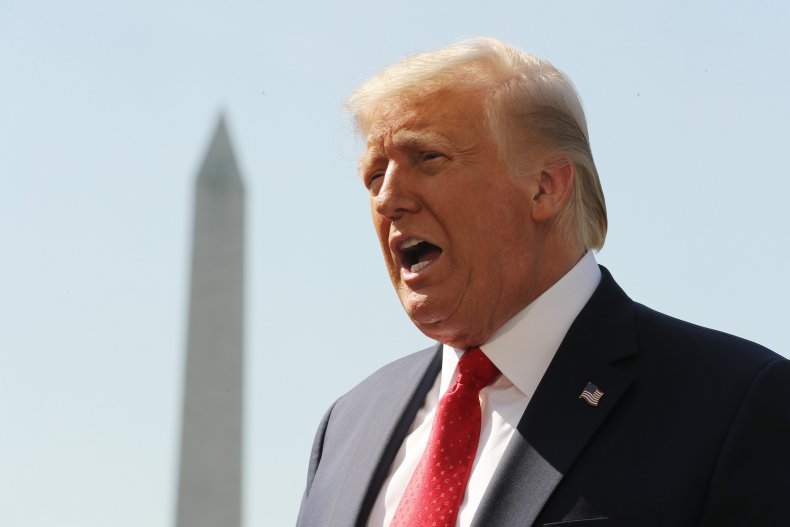 Trump also addressed mounting criticism and speculation about new changes to USPS operations on Monday.
Under the direction of Postmaster General Louis DeJoy, the national postal agency recently underwent significant alterations to scheduling, transportation and delivery costs. Suspicions that DeJoy's protocols came at the president's request, in light of his opinions about mail-in voting, grew as Trump pushed back against Democrats' proposed funding to USPS under the next stimulus package.
"The U.S. Post Office (System) has been failing for many decades. We simply want to MAKE THE POST OFFICE GREAT AGAIN, while at the same time saving billions of dollars a year for American Taxpayers," Trump tweeted. "Dems don't have a clue!"
Newsweek reached out to the White House for comment but did not receive a reply in time for publication.