Trump Vowed 100M COVID Vaccine Doses by End of 2020—Only 2.1M Have Been Administered
President Donald Trump promised to have 100 million doses of the COVID-19 vaccine prepared by the end of 2020, but only 2.1 million doses have been administered thus far. Production delays may have severely undercut the actual number of manufactured doses to about half of Trump's pledged amount.
"We will have manufactured at least 100 million vaccine doses before the end of the year, and likely much more than that," Trump said in a September 16 press briefing.
As of December 28, just over 2.1 million people in the U.S. had received a COVID-19 vaccination, according to the Centers for Disease Control and Prevention (CDC). The number of doses manufactured thus far is unclear, but likely below 100 million.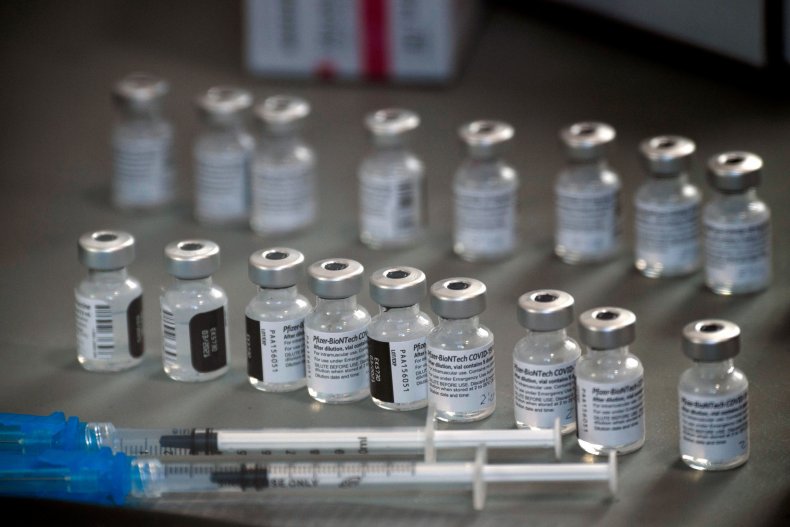 In a Monday statement, the federal government said it had delivered over 11.4 million doses to states and territories.
In a Sunday Fox News interview, Dr. Moncef Slaoui, chief adviser to Operation Warp Speed (OWS)—the U.S. government's program to quickly develop and distribute a COVID-19 vaccine and other coronavirus treatments—said he hoped to have 40 million doses distributed by the end of the year.
Slaoui also said he expected for 100 million U.S. residents to be immunized by the end of the first quarter of 2021. But he didn't specify the exact number of COVID-19 doses currently manufactured and available in the United States.
As of December 28, the U.S. Food and Drug Administration (FDA) has authorized two COVID-19 vaccines for use: the Pfizer-BioNTech COVID-19 Vaccine and the Moderna COVID-19 Vaccine.
Throughout September, Pfizer planned to have 100 million doses manufactured by the end of the year. By November, the company scaled down its prediction to 50 million, citing limited access to the raw materials needed to produce the doses, according to Time magazine.
At a Health and Human Services (HHS) briefing on December 21, OWS' Chief Operating Officer General Gustave Perna said that Moderna had distributed 5.9 million doses of COVID-19 vaccine across the country so far. By the end of the year, he said 20 million total doses will have been delivered, but he didn't say how many doses Moderna had already manufactured.
In a December 17 report, NPR said that employees of Catalent, a manufacturing facility producing millions of doses of the Moderna vaccine, had been found in a September FDA inspection to not be following rules to prevent microbial contamination, something which could delay vaccine production.
A Catalent spokesperson told the media outlet that the FDA's finding was "a repeat finding of the earlier observation, and relates to a different concern for a process in a different part of the facility."
In a Monday afternoon tweet, Washington Post fact-checker Glenn Kessler criticized Trump for the lack of prepared doses. Kessler wrote, "Trump in his campaign rallies repeatedly promised a 100 million vaccine doses by end of 2020. Three days left for 98 million doses."
Newsweek contacted the HHS for comment.