Trump Vows Iran Will Pay 'Big Price' After U.S. Embassy Attack: 'Not a Warning, It Is a Threat. Happy New Year!'
In a series of tweets on New Years Eve, President Donald Trump both wished his supporters a "Happy New Year!" and vowed that Iran "will pay a very BIG PRICE!" after protesters stormed the U.S. embassy in Baghdad and set fire inside.
Hundreds of Iraqi protesters, chanting "Death to America!" while hurling rocks, breached the outer wall of the American embassy in Baghdad on Tuesday in retaliation for the U.S. weekend airstrikes that killed two dozen pro-Iran fighters. After breaking into the heavily guarded sprawling compound, the world's biggest embassy, the protesters demanded American troops to be withdrawn from Iraq and defaced the walls with graffiti.
Hours later, Trump announced on Twitter that "many of our great Warfighters, together with the most legal military equipment in the world, was immediately rushed to the site" and confirmed that the embassy was now "SAFE!" The president also vowed that "Iran will be held fully responsible for lives lost or damage incurred" during the incident.
"They will pay a very BIG PRICE! This is not a Warning, it is a Threat. Happy New Year!," the Trump tweeted.
In a statement to Newsweek on Tuesday afternoon, a State Department spokesperson said "U.S. personnel are secure and there has been no breach. There are no plans to evacuate Embassy Baghdad."
Video footage of the demonstration showed protesters shattering windows, burning various items from the vicinity and flinging rocks over the wall. Some even reportedly threatened to camp indefinitely outside the location amid the escalating attacks.
"The U.S. Ambassador to Iraq, Matt Tueller, has been on previously scheduled personal travel for over a week and reports that he has been evacuated are false. He is returning to the Embassy," the spokesperson added. "We have made clear the United States will protect and defend its people, who are there to support a sovereign and independent Iraq. We are closely monitoring the situation in Iraq and call on the Government of Iraq to protect our diplomatic facilities per their obligations."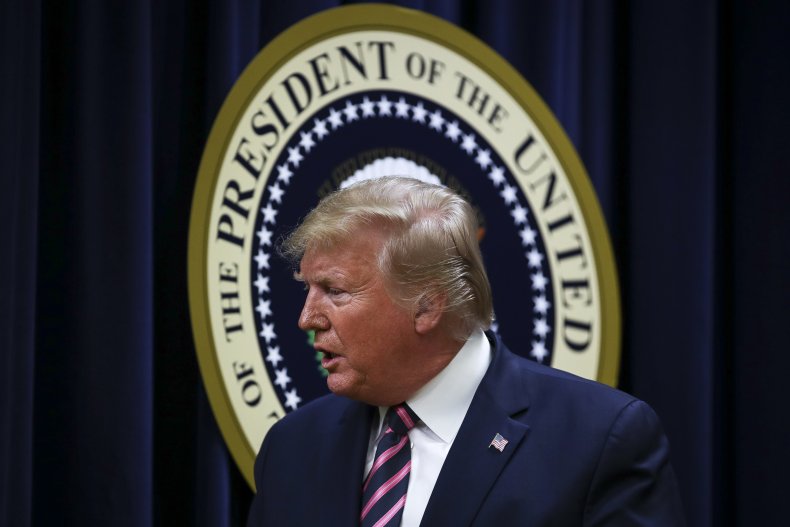 The incident is in response to U.S. airstrikes against Iran-backed Iraqi militia, Kataib Hezbollah, on Sunday, that has prompted Baghdad officials to accuse America of breaching Iraqi sovereignty by attacking without adequate evidence. The move has also fueled anti-Americanism and allowed Iran an advantage in its fight for influence in the region.
Mohamad Mouhiye, a Kataib Hezbollah spokesperson, revealed that the protests in Baghdad was merely a "first step."
"The American administration should understand the following: the first step was to protest near the American embassy, we are waiting [for] their reactions to determine the second step," he said, before demanding the U.S. withdraw military forces from Iraq.
"This protest was a stand against US political dominance," he added.
In a statement, U.S. Defense Secretary Mark Esper announced that Marines will be deployed to the area to deal with the situation and ensure the safety of those in the embassy.
"We have taken appropriate force protection actions to ensure the safety of American citizens, military personnel and diplomats in country, and to ensure our right of self-defense," he said. "As in all countries, we rely on host nation forces to assist in the protection of our personnel in country, and we call on the Government of Iraq to fulfill its international responsibilities to do so."