Trump Vows to 'Uphold the Second Amendment' During New Hampshire Rally: 'Not the Gun that Pulls the Trigger'
President Donald Trump vowed to "always uphold the Second Amendment" and blamed the rise of gun violence on the lack of mental institutions in the U.S. during his New Hampshire rally on Thursday evening
"We are working very hard to make sure we keep guns out of the hands of insane people and those that are mentally sick and should not have guns," the president declared to his supporters. "But people have to remember, however, that there is a mental illness problem that has to be dealt with."
"It's not the gun that pulls the trigger, it's the person holding the gun," he added, prompting loud applause from the crowd.
Trump went on to stress the need to keep guns away from people suffering from mental illness, before promising that his administration would tackle gun violence by "building new [mental] facilities."
"Years ago, many cities and states, I remember it so well, closed mental institutions for budgetary reasons. They let those people out onto the street... in New York, they closed so many of them and they let really seriously, mentally ill people out on the streets," the president said. "You see plenty of them today, even today. We're going to have to give major consideration to building news facilities to those in need. We have to do it."
"At the same time, we will be taking mentally deranged and dangerous people off of the streets so we won't have to worry so much about that," he continued. "We don't have those institutions anymore and people can't get proper care."
The president concluded by saying that he won't "make it harder for good, solid, law abiding citizens to protect themselves." "We will always up uphold the right to self defense and we will always uphold the Second Amendment," Trump added.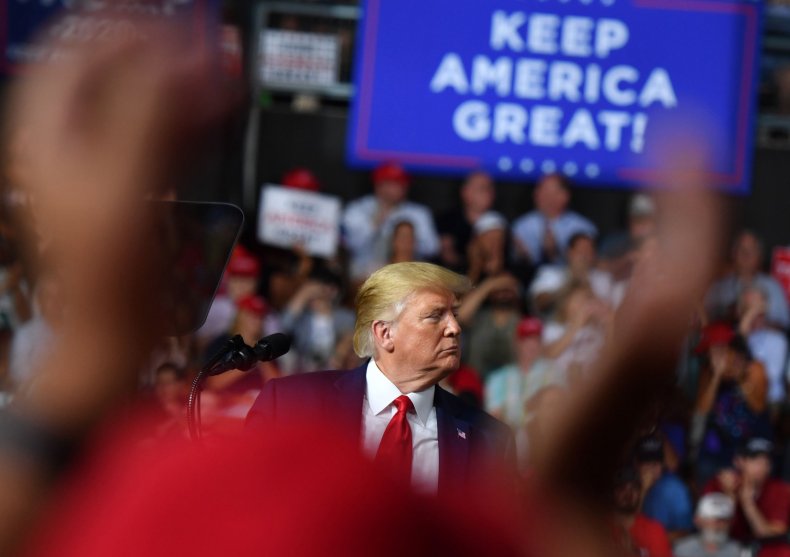 The president's remarks comes less than two weeks after a gunman, identified as 21-year-old Patrick Crusius, opened fire at a Walmart in El Paso, Texas on August 3, leaving 22 dead and dozens more injured. A day later, another unrelated shooter in Dayton, Ohio killed nine others.
While Democrats have moved to blame guns and Trump's inflammatory racial rhetoric for the attacks, some Republicans have pointed to violent video games and mental health as factors that have fuelled the rise of deadly mass shootings in the U.S.
While the Dayton shooter had no direct link to white supremacy, the El Paso shooter appears to have been motivated by anti-immigration rhetoric. Hours after the shooting, authorities revealed they were investigating a manifesto believed to have been written by Crusius that contained strong anti-immigration sentiments.
In the days after the shootings, calls for stricter gun control measures flooded Twitter, prompting #GunControlNow to trend.