Trump vs Clinton: The Rest of the World Reacts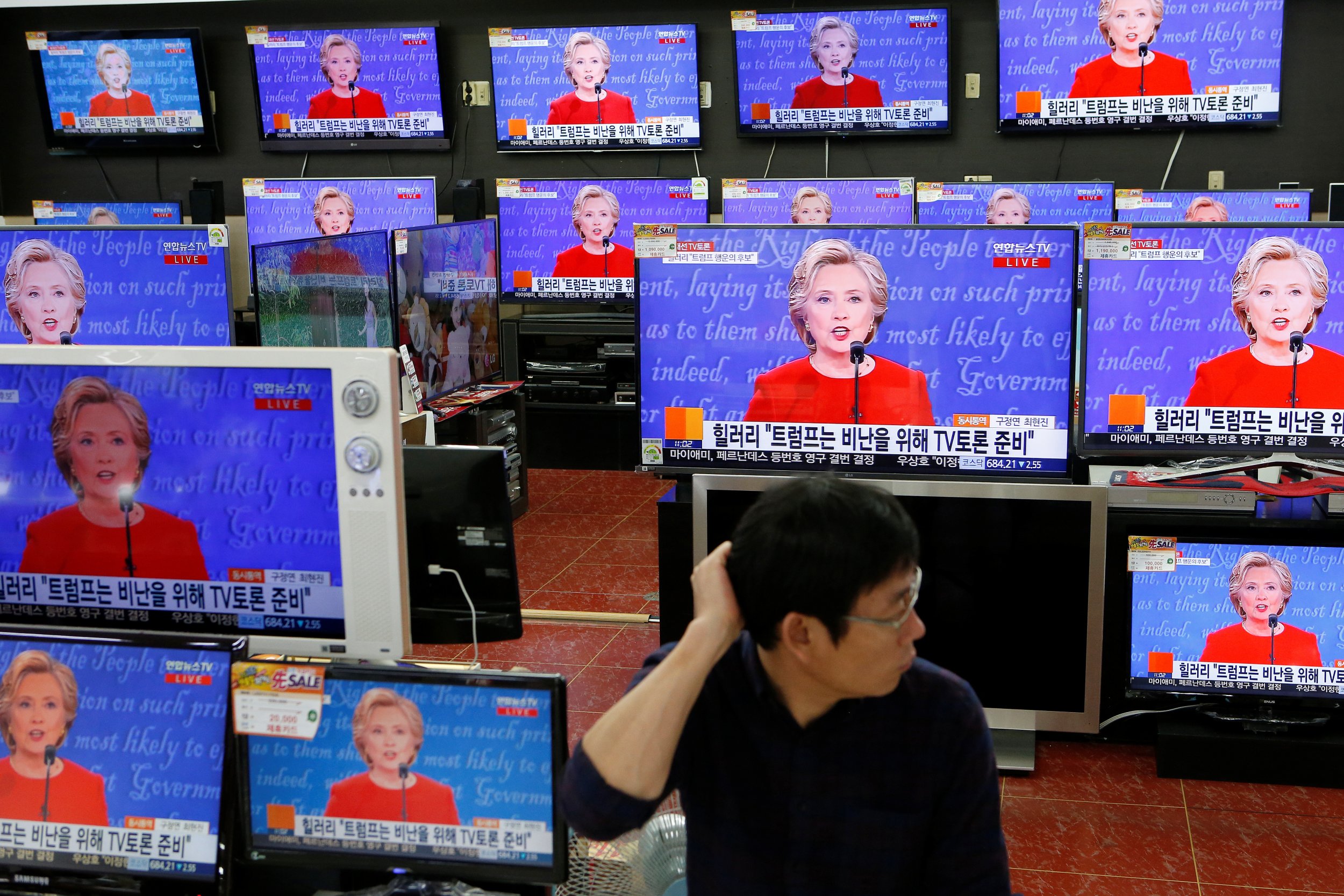 The international press handed Democratic candidate Hillary Clinton the victory in Monday night's U.S. presidential debate. But media in Russia and China, however, were less keen to declare her opponent Donald Trump the loser.
China's state Xinhua news agency did not declare a winner, reporting that the two candidates had "faced off for the first time in the chaotic 2016 election cycle," focusing on Trump's accusation that Clinton was a "traditional politician." Clinton's strong response to that criticism, that she had "prepared" for the debate and to be president, was not featured.
Russian pro-Kremlin media also did not declare a winner; however, it persisted in the Trump-centric coverage of the campaign that has resulted in Russia and Trump's ties to be placed under heavy scrutiny.
"Trump declares Russian nuclear arms superior to American ones," Russian tabloid Moskovsky Komsomolets reported, referring to Trump's claims that Russia is expanding nuclear capabilities. Meanwhile, state TV channel NTV featured Trump's criticism of Clinton's plan to combat militant group Islamic State (ISIS), but no explanation of what her plan is.
The channel noted that Clinton had won over U.S. TV viewers according to polls, but sided with Trump in taking a jab at her stamina, noting that she did not need to sit down during the debate.
Russian pro-Kremlin tabloid Komsomolskaya Pravda also sided with Trump, noting that in the U.S. "the media is openly for Clinton" though the publication also noted U.S. viewer polls showed Clinton won the debate.
In Europe, media was largely leaning towards a Clinton victory, with Trump's more fiery demeanor being the biggest downfall of his performance. France's popular conservative daily newspaper Le Figaro declared that a "dominant Clinton" had scored "significant points" while Trump had been "unable to raise the standard" from his frenetic style at his campaign rallies.
The country's major leftist newspaper Liberation also declared "advantage Clinton" and branded Trump's style "in retreat, on the defensive and unable to break from the discursive strategies of his rallies."
In the U.K., leftist newspaper The Guardian highlighted that a "calm" Clinton had "landed several big blows including on Trump's taxes and "racist behavior," while Trump was portrayed as frenzied. The paper referred to Clinton's claim that Trump was "stiffing thousands" of contractors by declaring bankruptcy as a businessman and his campaign doubting that U.S. President Barack Obama was born in the U.S.
Conservative newspaper The Daily Telegraph also appeared to give Clinton the victory, by majority verdict of its political correspondents. Trump's congested voice and "sniffy" was widely commented on on U.K. social media.
"A victory by points for Clinton, but not quite a knockout for Trump," Germany's popular Bild tabloid declared Tuesday morning, referring to Clinton's calm demeanor and the lack of huge slip ups by either candidate during the night.
Spain's national newspapers, such as El Mundo and El Pais, as well as influential Catalan newspaper La Vanguardia, hailed Clinton as the winner, also praising her demeanor.
Elsewhere, Clinton's racism accusations against Trump received attention in Mexico, a country that the Republican candidate has vowed to fence off from the U.S., should he be elected.
"Clinton sweeps Trump aside," Mexico's state Notimex news agency reported, citing a CNN poll that pointed to Clinton as the victor.