Trump vs. McCain: Maverick Senator Mocks President's War Record, Reveling in Role as Chief Trump Critic
As he battles a malignant brain tumor, Senator John McCain has found a new voice and lease of life in the Capitol—as one of the toughest critics of President Donald Trump.
The Arizona senator stepped up his war of words against Trump in an interview broadcast Sunday, seemingly mocking the president's citation of a bone spur ailment as a young man as grounds for his Vietnam War draft deferment.
"One aspect of the [Vietnam] conflict, by the way, that I will never, ever countenance is that we drafted the lowest income level of America and the highest income level found a doctor that would say that they had a bone spur," said McCain in an interview with C-SPAN3, American History TV.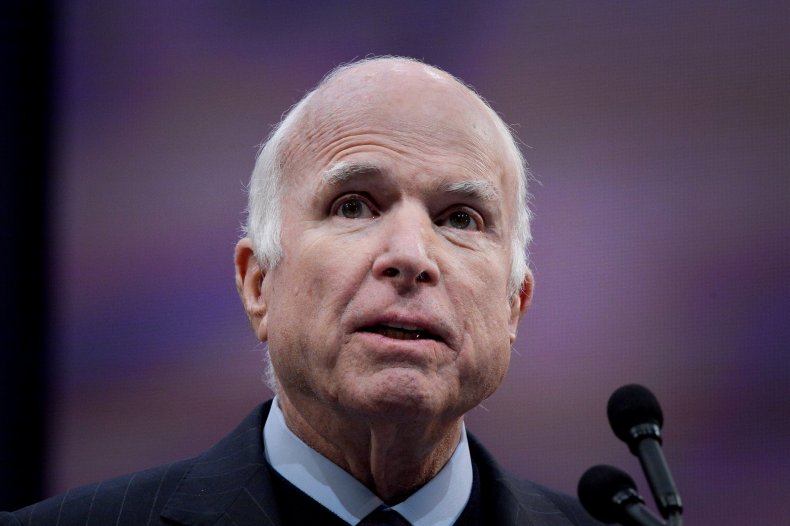 "That is wrong. That is wrong. If we are going to ask every American to serve, every American should serve," he said.
Earlier Sunday, McCain retweeted an article in The New York Times, headlined "An Unfettered Voice Against Trumpism," referring to the Arizona senator.
"I'm doing what I think is right for the country. I don't work for Donald Trump, and I don't work for his administration," McCain told the Times.
McCain and Trump have feuded since the 2015 Republican presidential primaries, when Trump disparaged McCain's war record, saying he liked "people who weren't captured," referring to McCain's five years of captivity and torture during the Vietnam War.
McCain grudgingly endorsed Trump when the former reality-TV star won the Republican candidacy but withdrew his support after the release of the Access Hollywood tapes only weeks before Election Day, in which Trump bragged of sexually assaulting women.
And in recent months he has hit back hard at Trump, thwarting key aspects of the president's agenda and firing off criticisms of his actions.
In July, McCain dramatically returned to Congress after his cancer diagnosis to vote on Trump's bid to repeal the Affordable Care Act—he dramatically gave the thumbs-down gesture, signaling his opposition and scuppering the repeal bid. In September, he refused to back a touted GOP replacement of the Affordable Care Act.
After reports circulated that Trump had taken to physically mocking McCain's thumbs-down gesture in the Obamacare repeal vote, McCain in a 60 Minutes interview spoke of the differences in their values.
"He is in the business of making money, and he has been successful…. I was raised in a military family. I was raised in the concept and belief that duty, honor, country is the lodestar for the behavior that we have to exhibit every single day," McCain told CBS.
And last week McCain launched into his harshest criticism of Trump's political vision yet.
"To refuse the obligations of international leadership…for the sake of some half-baked, spurious nationalism cooked up by people who would rather find scapegoats than solve problems is as unpatriotic as an attachment to any other tired dogma of the past that Americans consigned to the ash heap of history," said McCain, in his Liberty Medal acceptance speech at the National Constitution Center.
Trump threatened McCain in an interview the following day. "I'm being very nice. I'm being very, very nice. But at some point, I fight back, and it won't be pretty."
Responding to Trump's threat, McCain told reporters at the Capitol: "I've faced far greater challenges than this," before criticizing the administration's lack of detail in its Afghanistan policy and threatening to block key defense department appointments.
In his third decade as a senator, McCain is entering the twilight of his political career. However, he seems to be reveling in his role as political maverick and defender of America's global role.