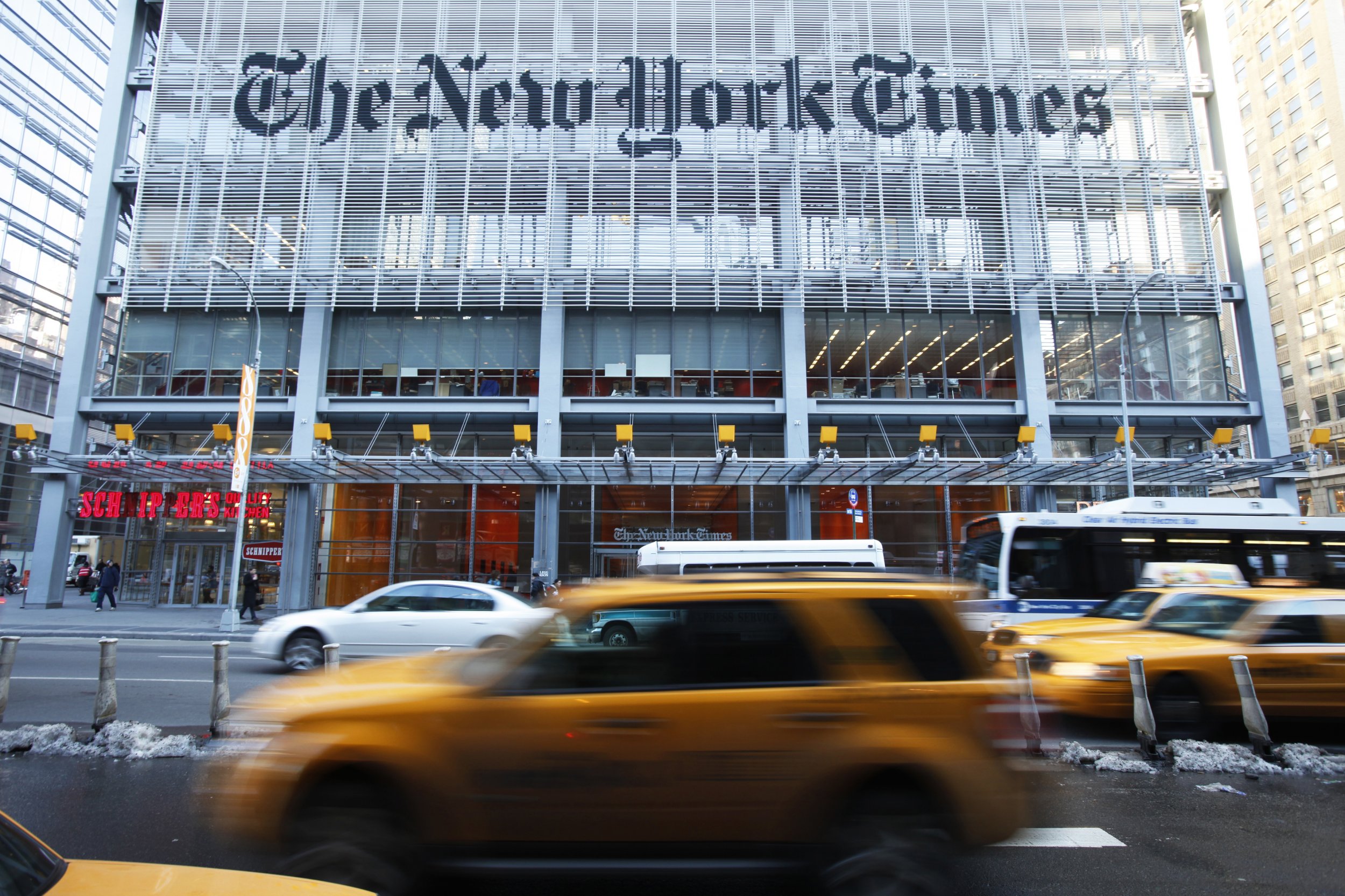 Fox News on Monday refused to apologize for a segment the New York Times said falsely accused it of foiling the assassination of Islamic State militant group (ISIS) leader Abu Bakr al-Baghdadi two years earlier.
The two media organizations are engaged in a bizarre public spat over the "Fox & Friends" segment titled "NYT foils U.S. attempt to take out al-Baghdadi," which cited the comments of a top U.S. military official in relation to the newspaper's reporting after a Special Forces raid killed ISIS's top oil chief in eastern Syria. The show's hosts called the Times "failing" and had allowed Baghdadi to "sneak away."
The segment aired on Saturday morning shortly before a tweet sent by President Donald Trump who accused the newspaper of foiling an "attempt to kill the single most wanted terrorist, Al-Baghdadi. Their sick agenda over National Security."
The comments appeared to stem from Fox News' citation of Gen. Tony Thomas, the chief of U.S. Special Operations Command, who said the military was "getting particularly close to [Baghdadi]" in mid-2015 and they had a strong lead on his whereabouts but "it was leaked in a prominent national newspaper about a week later," and the lead went dead.
The New York Times' report at the center of the spat is an Eric Schmitt article published on June 8, 2015. The report revealed new information about the raid more than three weeks earlier, such as Baghdadi's movements and tactics to evade U.S. intelligence and airstrikes.
The newspaper, in a retaliatory article published on Sunday, wrote that Trump was "wrongly" citing information from elsewhere, and its spokesperson Danielle Rhoades Ha demanded an on-air apology, as well as one in a tweet.
But that did not arrive on Monday. Instead, "Fox & Friends" co-host Steve Doocy provided an "update" to the segment.
"And now an update to a story we reported over the weekend: Gen. Tony Thomas, who leads the Special Operations command, telling our own Catherine Herridge last week that the U.S. military was close to tracking down ISIS leader Abu Bakr al-Baghdadi after a 2015 raid that extracted tons of intel, but he ended up getting away," said Doocy.
But the update was not enough for the New York Times. "It wasn't an apology," Rhoades Ha said. She said it didn't "begin to address the larger issues with the 'Fox & Friends' weekend segment, one of which was sheer hypocrisy." She was alluding to the channel's original report on the raid in 2015, in which Catherine Herridge, the journalist who interviewed Thomas, also said the intelligence gathered from the raid would lead the U.S. closer to Baghdadi's capture.
The lead Thomas was referring to included the locations Baghdadi had frequented in the weeks before a May raid on oil minister Abu Sayyaf. In that raid, two dozen Delta Force commandos flew military helicopters and aircraft into Syria from Iraq to launch the operation that was initially intended to secure Abu Sayyaf's capture.
U.S. troops killed him but captured his wife Umm Sayyaf alive. She was questioned and she "gave us a trove of information about where she had just been with Baghdadi in Raqqa within days prior," Thomas said.
But the newspaper rebutted Fox News, Trump and Thomas' accusations that it was to blame for the failure to capture or kill Baghdadi.
It said its report was not published a week after the raid, as Thomas charged, but 23 days later. It said the May 16 raid was widely reported in its immediate aftermath, even in a Pentagon press release. The paper said all of this information would have tipped off Baghdadi before the Times report three weeks later, already forcing him to rethink his tactics.
It also said the Pentagon had "raised no objection" with the newspaper's decision to publish the report, and its key information came from U.S. officials who knew it would be published.
Baghdadi remains one of the most wanted extremists in the world, with a $25 million U.S. bounty on his head. He has eluded capture by moving across the Iraqi-Syrian border, according to U.S. and Iraqi officials, as the jihadist group loses territory in northern Iraq and Syria.
The group still controls parts of the eastern Syrian city of Raqqa and all of Deir Ezzor city in the eastern Syrian province of the same name. Russia, Iran and Syrian monitoring groups claim Baghdadi has been killed, but the U.S.-led coalition and Kurdish officials say there is no evidence to suggest that he is dead.