Trump vs NFL: Stevie Wonder and MLB Baseball Player Bruce Maxwell Kneel in Solidarity With Colin Kaepernick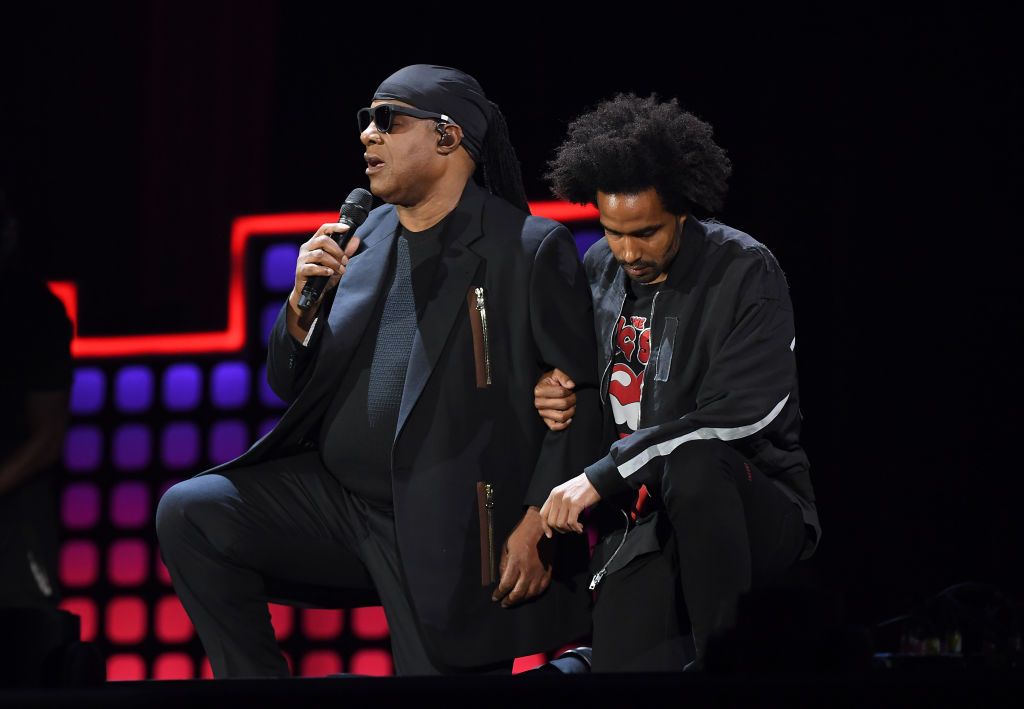 Updated | Music legend Stevie Wonder joined players from the NFL, NBA and MLB protesting against President Trump's attacks on football players who have refused to stand for the national anthem.
Stevie Wonder took to his knee at the 2017 Global Citizen Festival in New York's Central Park on Saturday, in solidarity with Colin Kaepernick and other NFL players who previously knelt during the national anthem to protest police brutality against African-Americans.
"Tonight, I'm taking a knee for America," Wonder said, reported Variety, dropping to first one knee and then the other. "Not just one knee, but both knees in prayer for our planet, our future, and leaders of our world." He added, "Our global brothers and sisters, I didn't come here to preach, but I'm telling you, our spirits must be in the right place all the time."
Wonder's comments followed an outpouring of rage from President Donald Trump who expressed his disgust at the wave of NFL national anthem protests at a rally in Alabama on Friday.
"Get that son of a bitch off the field right now, out. He's fired. He's fired!'" Trump said in reference to players who have taken part in the protests.
He followed by rescinding a White House invitation to NBA star Stephen Curry in a tweet Saturday, after the player suggested he was not sure he would attend.
And on Sunday morning the president renewed his attacks in a series of tweets, accusing NFL players of "disrespecting our Flag & Country."
Some of the biggest names in sport, including Kobe Bryant and LeBron James, as well as NFL commissioner Roger Goodell, criticized Trump for his remarks.
Wonder was one of several public figures to come out in support of Kaepernick on Saturday. That same evening, Oakland Athletics's Bruce Maxwell became the first Major League Baseball player to kneel during the anthem in a show of support for Kaepernick, ahead of a game against Texas Rangers.
Maxwell's agent told the Washington Post that his client made the gesture to also protest President Trump's attacks on NFL players.
Maxwell, who is African-American and from a military family, earlier criticized the president on Twitter.
He told a reporter in a statement he was "kneeling for people that don't have a voice."
The MLB issued a statement in support of Maxwell.
"Major League Baseball has a longstanding tradition of honoring our nation prior to the start of our games," reads the statement.
"We also respect that each of our players is an individual with his own background, perspectives and opinions. We believe that our game will continue to bring our fans, their communities and our players together."
Oakland Athletics said in a statement issued on Twitter it supported all of its players' "constitutional rights and freedom of expression."
On Saturday, the New York Yankees' CC Sabathia had suggested that if the team make it all the way this season and win the World Series he wouldn't be visiting the White House.
"I just don't believe in anything that is Trump. So there wouldn't be any reason for me to go at all," he told reporters.
At his rally Friday, Trump attacked a familiar litany of enemies, including North Korea and Hillary Clinton, and rounding on the NFL, also questioned rule changes that penalise the most damaging hits in the game, after a series of players were left with serious brain injuries. Trump had doubled down on his attacks on sports stars Saturday morning.
*This story was updated on September 24 to include new tweets by President Trump and statements in support of Bruce Maxwell.