Trump Vs. North Korea: U.S. President 'Is Not Going to Out-Crazy' Kim Jong Un, Illinois Senator Tammy Duckworth Tells Seth Meyers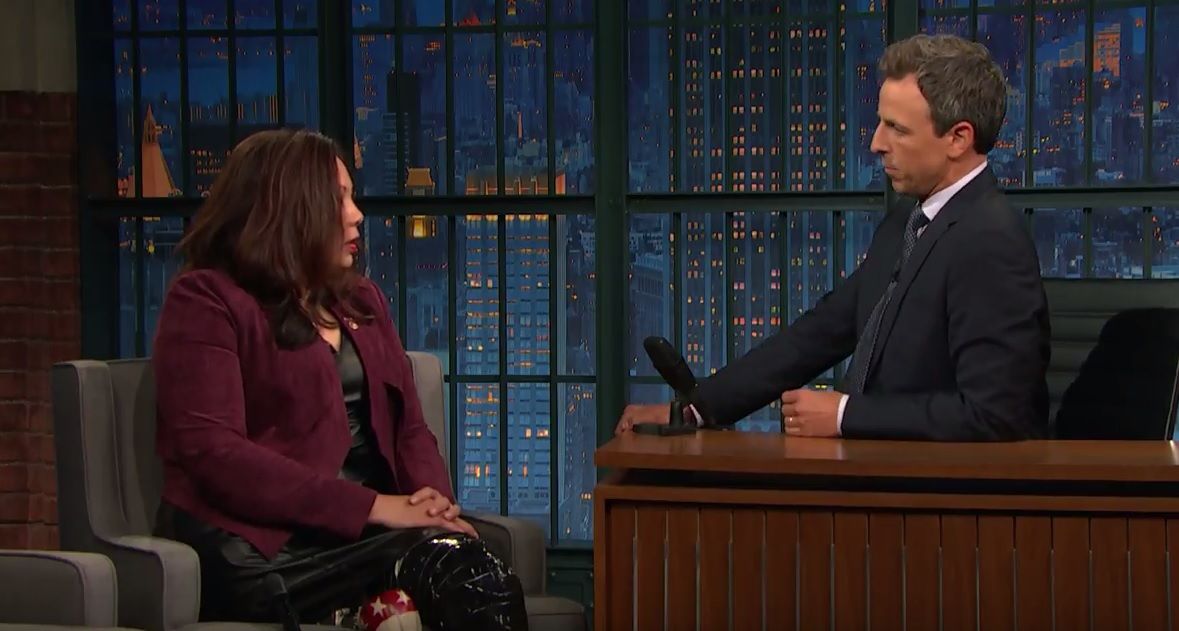 Illinois senator and war veteran Tammy Duckworth has a warning for President Donald Trump: You can't "out-crazy Kim Jong Un."
Duckworth appeared on Thursday's episode of Late Night with Seth Meyers on NBC and weighed in on Trump's threat to unleash "fire and fury" on North Korea and take out the North Korean leader.
"The toughest fighters out there, the operators out there, are the quietest and understated people you'll ever meet," Duckworth said of Trump's grandiose threats toward Kim.
"Frankly, he's not helping us by engaging in this battle of terminology. You can't out-hyperbole a dictator who's crazy."
Duckworth added that Kim was a "man who executed his own uncle with an anti-aircraft machine gun," referring to the 2013 execution of Jang Song-thaek, Kim's uncle and one-time mentor.
"Trump is not going to out-crazy Kim Jong Un. Stop it. You're the commander-in-chief of the greatest military on the face of the earth—act like it."
Related: Did God really give Trump authority to nuke North Korea? Stephen Colbert found out
While on a working vacation at his golf club in Bedminster, New Jersey, Trump told reporters Tuesday that he would unleash "fire and fury" on North Korea if Pyongyang leadership threatened the U.S.
"North Korea best not make any more threats to the United States. They will be met with fire and fury like the world has never seen. [Kim] has been very threatening beyond a normal state. They will be met with fire, fury and frankly power the likes of which this world has never seen before," Trump said.
On Thursday, he went a step further, telling reporters that his words were perhaps not "tough enough." He claimed previous presidents took opposition from Kim and North Korea too lightly and it was time that a leader "stuck up for the country," according to CNN.
Duckworth, who was elected as junior senator for Illinois in the November election, served as a helicopter pilot in the U.S. Army and served during the Iraq war.
The 49-year-old politician was the first female double amputee in the war; she lost both her legs and damaged her right arm while serving in the army.
Before running for office, she served in the U.S. Department of Veteran Affairs.