Is Trump Wagging the Dog? How Bush, Obama and Clinton Used War or Military to Distract From Problems at Home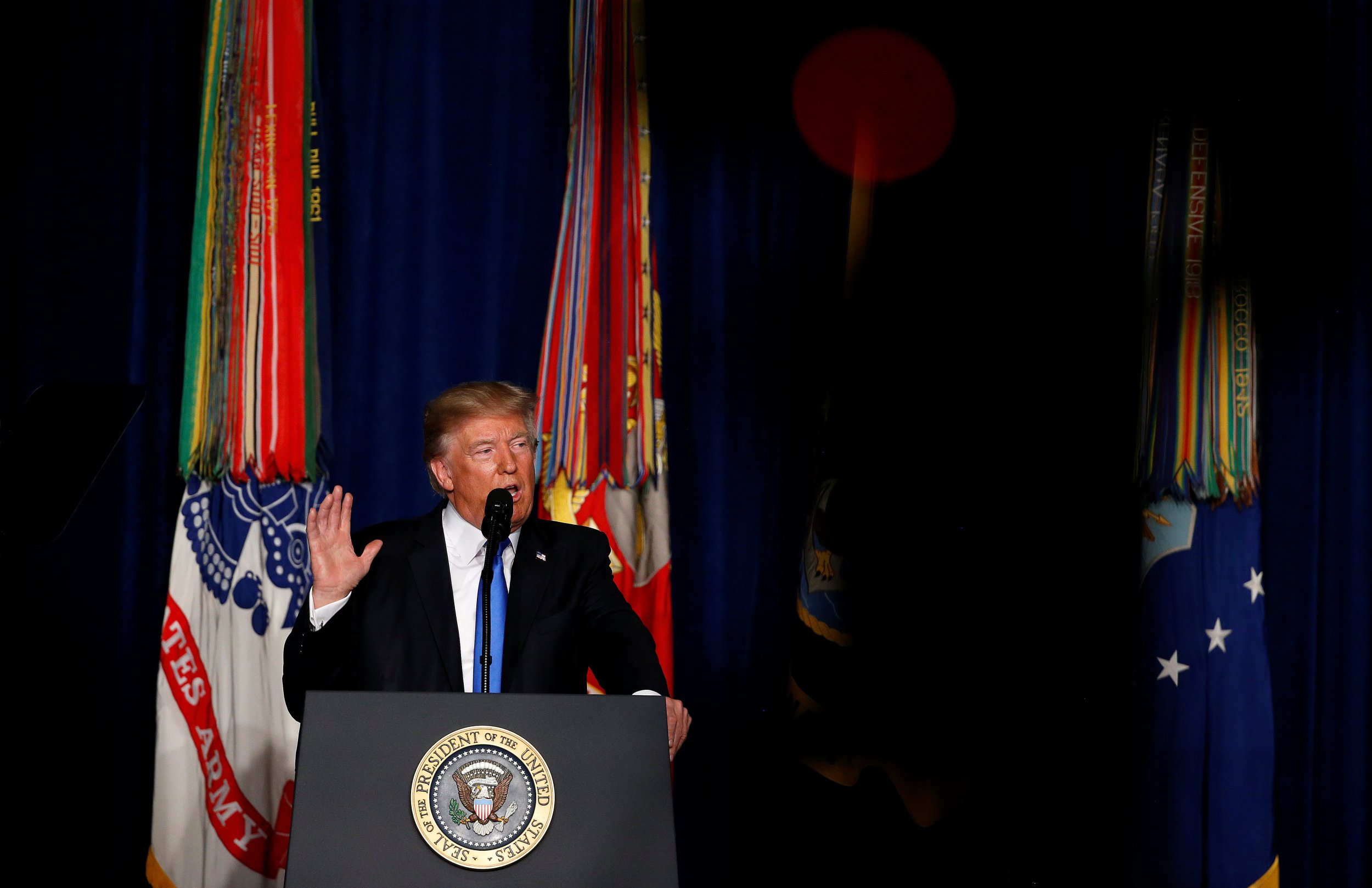 "You want me to produce your war?"
"Not a war. It's a pageant."
That exchange from 1997's Oscar-nominated film Wag the Dog, between Hollywood producer Stanley Motss (played by Dustin Hoffman) and high-powered political strategist Conrad Brean (Robert De Niro), was an attempt by Brean to get Motss on board for a complicated public relations campaign intended to rally the U.S. electorate around a fictional president who just two weeks before Election Day had been accused of accosting an underage girl.
The poignant and farcical film, directed by award-winner Barry Levinson and with a script based on author Larry Beinhart's book and penned by dialogue virtuoso David Mamet and fellow screenwriter Hilary Henkin, involves Motss indeed producing a fictional "war" with Albania based on the U.S. supposedly learning that the tiny southeastern European country had obtained a "suitcase bomb" and was attempting to smuggle it into the U.S. through Canada.
The title of the wildly prophetic book and movie—particularly De Niro's Brean explaining how the threat of "nuclear terrorism" was the future of war—drew from the phrase, "It's the tail that wags the dog," which Urban Dictionary defines as a way of persuading a large group of people.
The Hollywood production's wildly cynical take on political spin doctors and their tactics of distraction and diversion reflects the idea among many Americans that they should always doubt what they're being shown on television or told by politicians.
And there is no doubting that politicians, including presidents of the United States, have many a time relied on matters of national security as a means either to distract the public or to boost approval ratings.
This could be said not only about our current commander-in-chief, Donald Trump, but even about his four immediate predecessors.
With an approval rating that's ranged between a personal low of 34 percent and 38 percent for the last 10 days, and in the wake of his much maligned responses to the racially charged melee in Charlottesville, Virginia, on August 12, Trump seemingly has turned to diversionary tactics in order to regain control of his administration's public image and agenda.
The example that rings most true is his August 4 threat that North Korea would face "fire and fury" should its leader, Kim Jong Un, continue testing and talking about launching a nuclear-equipped intercontinental ballistic missile at the U.S. The comments by the president came a day after The Wall Street Journal reported that special counsel Robert Mueller had empaneled a grand jury for his investigation of the Trump campaign's alleged collusion with Russia to win the election.
Trump's threat was also one day removed from a dip to 36 percent in Gallup's national approval tracking poll.
Another possible attempt to wag the dog came Monday, when the 45th president flip-flopped on a campaign pledge to pull U.S. troops out of Afghanistan. Employing a rare softer tone, Trump explained why he was reneging and instead sending more troops to continue fighting the longest war in America's history.
Trump's perceived ploy—of using the military to distract Americans from problems within his administration—was picked apart fairly quickly, even by a commentator on Trump's favorite media outlet, Fox News.
Juan Williams said his colleagues on The Five had perhaps been blinded to what was going on by Monday's solar eclipse before going off on the president. Williams said Trump's decision on Afghanistan was an attempt to use the military to divert negative attention away from the president's "many sides" argument in response to Charlottesville, Virginia.
"When I see Donald Trump stand up there—the U.S. military has long been a model of success in terms of race relations," Williams said, according to Mediaite, "and Donald Trump finds this opportune moment to use them as a toy to say, 'You know that stuff I was saying about, when I didn't understand what Nazis and white supremacists and neo-Nazis was about, I forgot what World War II was about and when real American patriots shed blood to fight those Nazis, there was no equivalence.'"
Williams added: "This is brand new. This to me...is the absolute most cheap use of our military from a guy who was in a hole and has damaged his presidency in a way that he will not recover."
Perceptions that past presidents were playing parlor tricks have also quickly surfaced.
President Barack Obama was facing three problems simultaneously in May 2013. He dismissed the head of the IRS after it was discovered the agency had targeted nonprofit political advocacy groups that had "tea party" or "patriot" in their names. Just earlier, he ordered the release of 100 pages of sensitive emails exchanged by intelligence analysts and State Department officials after the U.S. embassy in Benghazi, Libya, was attacked in September 2012. And days prior to this, Obama dealt with the fallout from the disclosure the Department of Justice had obtained two months' worth of phone records from Associated Press offices and reporters in an effort to find an intelligence leak.
Though the military or a foreign enemy weren't explicitly mentioned, Obama's press secretary at the time, Jay Carney, invoked the term "national security" 20 times in explaining why leaks were dangerous to the country, as Slate pointed out, basically attempting to bury all three potential scandals under this idea.
The cases of Presidents George H. W. Bush and Bill Clinton fall more in line with the film's premise: wagging the American public.
For Bush, the last commander-in-chief to serve only one term, the savings-and-loan crisis and the American economy entering an eight-month-long recession—even with the U.S. riding high after winning the Cold War—were the backdrop to his decision to send troops to Kuwait to drive out Iraqi leader Saddam Hussein's forces.
Bush's handling of the situation was criticized roundly before 100 hours of battle ended the Gulf War, but his approval rating soared—reaching a then-record of 89 percent—as a result of the successful military campaign. That rating was later surpassed by his son George W. Bush, who hit 90 percent approval following the September 11, 2001 terrorist attacks—serving as another example of the country rallying around a leader when national security is the front-and-center issue.
Clinton's perceived distraction efforts came to light about a month after Wag the Dog's December 1997 release.
In late January 1998, Clinton's affair with intern Monica Lewinsky began to surface publicly, and it would eventually dominate perceptions of his presidency. Amid the fallout, Clinton on December 16 of that year ordered a four-day bombing campaign against Hussein and Iraq for failing to comply with United Nations weapons inspectors.
Three days after Clinton gave the order, the U.S. House of Representatives voted to impeach him on charges of perjury and obstruction of justice in regard to his affair with Lewinsky. In February 1999, he was acquitted by the Senate, and a month later Clinton received Senate approval for the U.S. to participate in NATO's bombing of Serbia during the Kosovo War.
Clinton didn't receive the kind of approval rating bumps the Bushes enjoyed, but he didn't really need them: Throughout 1998, he actually saw his ratings climb in spite of the sex scandal. Between the Iraq bombing and his impeachment, Clinton went to 73 percent approval, the highest of his presidency, from 64 percent.
Were Americans wagged?