Trump Wanted to Be Sworn in on 'The Art of the Deal' Instead of the Bible, Omarosa Book Claims
President Donald Trump's former adviser Omarosa Manigault Newman—who shot to fame on The Apprentice—has claimed in a new tell-all book that Trump wanted to be sworn in using a copy of his book The Art of the Deal, rather than the Bible.
The outlandish suggestion is one of a number of revelations promised by the latest tell-all book about time in Trump's White House, whose author the president blasted as a "lowlife" on Friday amid rumors about the content of the tome.
"He asked me, 'Omarosa, what do you think about me getting sworn in on The Art of the Deal?' " Manigault Newman wrote in "Unhinged: An Insider Account of the Trump White House," according to Slate, which obtained a copy of the book.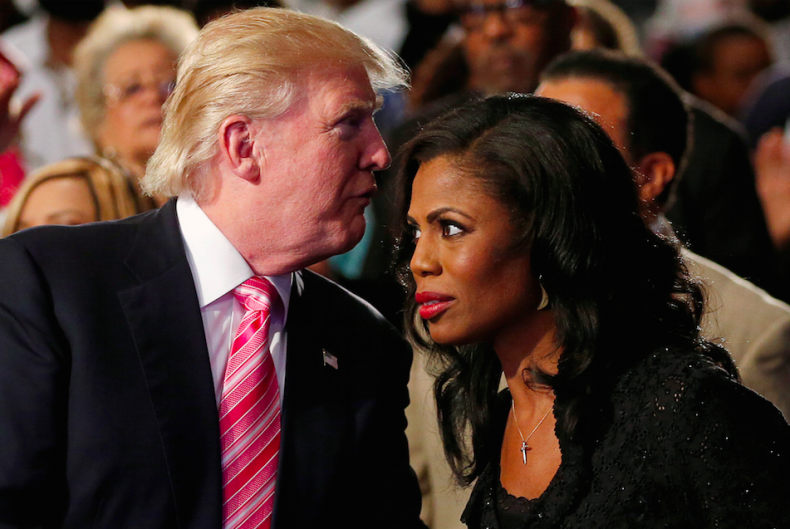 "Yeah. The Art of the Deal is a bestseller!" the president continued, according to Manigault Newman, who writes that she questioned the president about the topic.
"It's the greatest business book of all time," Trump said, according to the book. "It's how I'm going to make great deals for the country. Just think how many copies I'd sell—maybe a commemorative inauguration copy?"
Although the president reportedly treated the comments as tongue-in-cheek, Manigault Newman suggests she thought there was a serious suggestion hidden under the joke.
Her claims in the book—including that she was fired from her role as director of communications for the White House's Office of Public Liaison because she nearly recorded the president using the n-word—have been rubbished by White House Press Secretary Sarah Huckabee Sanders.
"Instead of telling the truth about all the good President Trump and his administration are doing to make America safe and prosperous, this book is riddled with lies and false accusations," Huckabee Sanders said.
Pollster Frank Luntz also refuted a claim that he had heard the resident using the n-word, writing in a tweet at the weekend: "I'm in ‪@Omarosa's book on page 149. She claims to have heard from someone who heard from me that I heard Trump use the N-word."
"Not only is this flat-out false (I've never heard such a thing), but Omarosa didn't even make an effort to call or email me to verify. Very shoddy work," he added in a statement that was disputed by Manigault Newman, who on Saturday said she stood by her claims.
Trump Wanted to Be Sworn in on 'The Art of the Deal' Instead of the Bible, Omarosa Book Claims | U.S.