Donald Trump Wanted to 'F***ing Kill' Syria's President Last Year, New Book Claims
President Donald Trump ordered the assassination of Syrian President Bashar al-Assad following an April 2017 chemical weapons attack, a forthcoming book about the current administration has claimed.
Written by Washington Post journalist Bob Woodward, Fear: Trump in the White House will be released on September 11. The book offers details about "the harrowing life inside Donald Trump's White House and how the president makes decisions on major foreign and domestic policies," a statement from publisher Simon & Schuster said.
Among many other claims, the book purports to reveal the president's response to a chemical weapons attack in Syria last year that was allegedly carried out by the Assad government. Syria has conversely blamed rebel groups.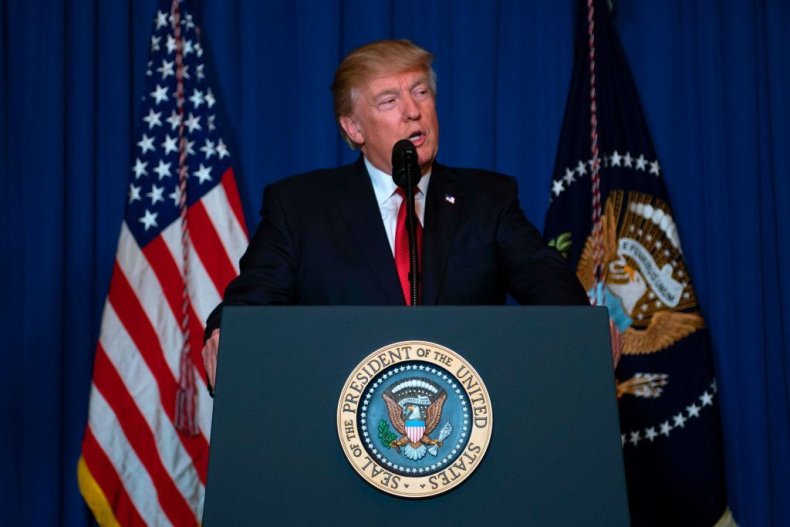 After receiving news of the attack, Trump reportedly called Secretary of Defense James Mattis and angrily urged Assad's assassination.
"Let's f***ing kill him! Let's go in. Let's kill the f***ing lot of them," the president said in a phone call, according to Woodward's account, The Washington Post reported Tuesday.
Mattis reportedly responded by telling the president he would get right on it. However, after the call was over, he told his staff: "We're not going to do any of that. We're going to be much more measured."
In the end, Trump ordered airstrikes on a Syrian air base and did not target Assad directly. In total, 59 Tomahawk missiles were lobbed, marking the first unilateral military action by Washington targeting the Syrian government.
"Even beautiful babies were cruelly murdered in this very barbaric attack," Trump said in a statement about the chemical weapons attack at the time. "No child of God should ever suffer such horror."
But just hours after the U.S. strikes, Syrian warplanes took off from the targeted air base. Reports at the time suggested that advance warning was given to Russia, which it then passed on to the Syrian government, according to The Telegraph. This allegedly allowed the Syrian military to remove many of its aircraft before the attack.
"The bombardment of Shayrat will not have a major effect on military operations of the regime," Colonel Hassan Hamade, a Syrian pilot who defected in 2012, told the Associated Press at the time.
Previously, analysts have suggested that the U.S. government has moved to tacitly accept that Assad will remain in control of Syria, as rebel groups have largely been defeated throughout the country. In December, U.S. and European officials told The New Yorker that the Trump administration was ready to allow Assad to continue as president until new elections occur in 2021.
But Trump tweeted a warning Monday to Assad and his allies not to attack the rebel-held area of Idlib.
"President Bashar al-Assad of Syria must not recklessly attack Idlib Province. The Russians and Iranians would be making a grave humanitarian mistake to take part in this potential human tragedy," he wrote. "Hundreds of thousands of people could be killed. Don't let that happen!"
A CNN report last week revealed that the U.S. has compiled a list of chemical weapons facilities in Syria. These could be targeted with airstrikes if the Syrian government is believed to launch another chemical weapons attack.