Trump Wanted to Raise Top Income Tax Rate to 44 Percent, Book Claims
President Donald Trump had to be talked out of raising the personal income tax rate by 4 percentage points, astonishing his chief economic adviser.
That revelation was one of many in Washington Post journalist Bob Woodward's new book, Fear: Trump in the White House, which was published Tuesday.
In the book, Woodward said that former National Economic Council Director Gary Cohn had discussed tax reform legislation with the president, and during the conversation, Trump suggested dropping the top corporate tax rate from 35 percent to 15 percent.
But Trump's suggestion to compensate for the difference appeared to shock Cohn.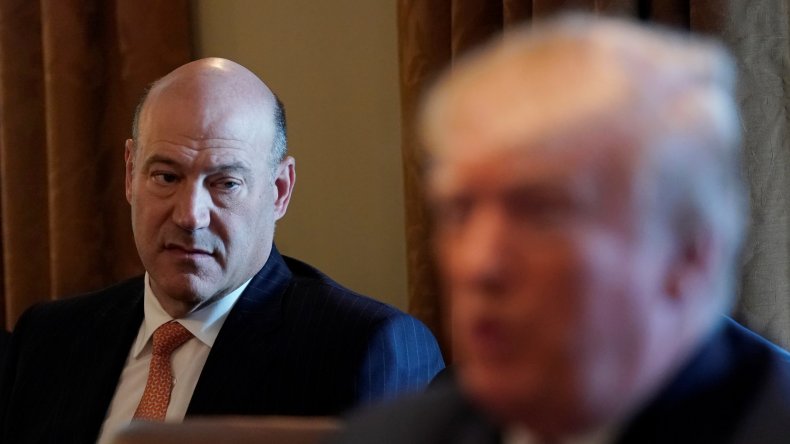 "I'll take the personal top rate to 44 percent if I can get the corporate rate to 15 percent," Trump said, according to Woodward.
"Sir, you can't take the top rate up," Cohn reportedly responded. "You just can't."
"What do you mean?" Trump replied, according to the book. "You're a Republican," Cohn, a registered Democrat, reminded the president, telling him he would "get absolutely destroyed" if this happened.
In July 2017, former White House chief strategist Steve Bannon had broached the idea of including a top tax rate of 44 percent for the 44,000 Americans earning more than $5 million a year as a way to pay for tax cuts, which would raise about $18 billion a year, The Intercept reported.
Woodward's book, as reported by Business Insider, also said Cohn was shocked that Trump did not seem to understand how U.S. federal debt worked. The book outlined a November 2016 conversation about how the Federal Reserve was likely to increase interest rates.
Trump said: "We should just go borrow a lot of money, hold it, and then sell it to make money."
Cohn explained that this would increase the deficit and actually add to the debt, and was "astounded at Trump's lack of basic understanding" about what government borrowing meant.
"It was clear that Trump did not understand the way the U.S. government debt cycle balance sheet worked," Woodward wrote.
Cohn was the latest figure to emerge from Woodward's book to cast aspersions on Trump's intelligence. Defense Secretary Jim Mattis, according to the book, told associates that Trump "had the understanding of a fifth or sixth grader."
Former administrator of the Environmental Protection Agency Scott Pruitt said the president lacked knowledge "when it comes to things like the Constitution and rule of law." Meanwhile, former White House Deputy Chief of Staff Katie Walsh reportedly said working with him was "like trying to figure out what a child wants."
The Trump administration has dismissed Woodward's book as "nothing more than fabricated stories."
"It's just another bad book. He's had a lot of credibility problems," Trump said.