Trump Wanted To Reinforce His Border Wall With a Water-Filled Trench Full of Snakes and Alligators: Report
President Donald Trump declared during his 2016 campaign a border wall between the United States and Mexico would solve many illegal immigration issues. He even said, multiple times, that Mexico would pay for it.
Just over the halfway point of his initial presidential term this year, Trump showed frustration that the wall had not been built while immigrants began flooding the southern border at a record clip.
During a meeting this spring, he offered a suggestion to stock the border with reptiles, sounding more like the Atchafalaya Basin in Louisiana than a border crossing in the southwest sector of the country.
"Privately, the president had often talked about fortifying a border wall with a water-filled trench, stocked with snakes or alligators, prompting aides to seek a cost estimate. He wanted the wall electrified, with spikes on top that could pierce human flesh," this New York Times report stated Tuesday night.
The report went on to say the president's aides claimed Trump suggested shooting immigrants in the legs if they threw rocks at U.S. soldiers. Trump was told by his advisers that shooting immigrants in the legs, or unleashing snakes and alligators upon them, was not legal.
"The president was frustrated and I think he took that moment to hit the reset button," Trump's former director of Immigration and Customs Enforcement (ICE) Thomas D. Homan said in March. "The president wanted it to be fixed quickly."
Trump had been in a meeting that was only meant for 30 minutes, but extended to a couple of hours before he got hot under the collar over a key issue that helped him get elected in 2016.
"You are making me look like an idiot!" Trump yelled at others in the meeting. "I ran on this. It's my issue."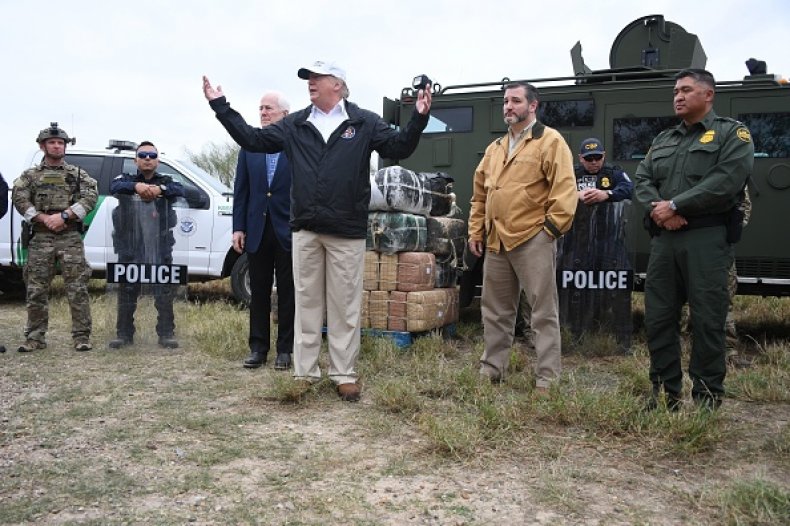 In that March meeting in his office, Trump told his staff he wanted 2,000 miles of border between the U.S. and Mexico shut down immediately—by the middle of the next day.
Now, the president has fewer staffers who stand up straight and look him in the eye to say whether his off-the-wall ideas are legal or not.
"I have absolute power to shut down the border," Trump told The Times last summer.
Ever since the moment President Trump made the offer to fill the border with water, gators and snakes, he has faced an increasing number of illegal border crossings, and an equivocal number of arrests and deportations.
When the U.S. faced a stalemate in trade with Mexico, Trump threatened to significantly raise tariffs on the United States' southern neighbor if they did not help curb the flow of immigrants roaming through Mexico to reach the States. In September, the number of illegal entries across the southern border dipped for a third-consecutive month.