Trump Wanted White House Staff to Sign Nondisclosure Agreements in His War on Leaks
President Donald Trump reportedly made senior White House staff sign punitive nondisclosure agreements (NDAs) early in his presidency to stem the flow of leaks to the media, a move his critics argue is both unconstitutional and unethical.
It mirrors Trump's use of confidentiality agreements as a businessman, when those who worked closely with him at the Trump Organization were made to sign NDAs. During his presidential campaign, Trump expressed a desire to extend these NDAs to his White House if elected, to keep insiders quiet once they leave government. He cited book deals as a particular cause for concern.
According to The Washington Post, which reported that it had obtained a draft copy of an NDA prepared for White House staffers, the contracts bind signatories into silence beyond the end of a Trump presidency—"at all times thereafter"—and expose those who break them to damages.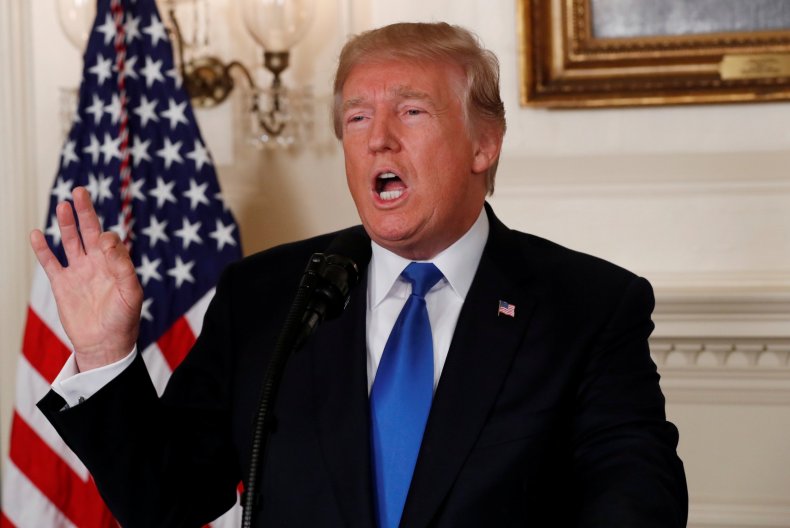 This particular draft copy put a $10 million penalty on every violation of confidentiality, though it's not clear if this sum made it into the final version of the NDA.
The net for catching violations is wide, spanning "all nonpublic information I learn of or gain access to in the course of my official duties in the service of the United States Government on White House staff," including "communications...with members of the press" and "with employees of federal, state, and local governments," the Post story said.
The White House has not yet issued a statement about the NDAs.
Norman Eisen, a former ethics czar in the Obama administration, called the NDAs illegal and said the lawyers making staffers sign them should face consequences.
"White House lawyers who knowingly participated in a scheme to illegally coerce unrepresented non lawyer employees & deprive them of First Amendment and other rights could be subject to bar discipline for violating ethics rules—and maybe even lose their licenses," Eisen tweeted.
Trump's White House has suffered persistent leaks at virtually every government level. In a series of tweets in July 2017, the president attacked what he called "illegal leaks" and "fake news." He tasked Attorney General Jeff Sessions with leading a crackdown on leaks. In September 2017, Trump's strategy for dealing with leaks was itself leaked to the media.
The White House NDAs aren't the only confidentiality deals getting Trump into more controversy. He's being sued by porn star Stormy Daniels over what her lawyer says is a null and void $130,000 hush agreement to keep her quiet about her alleged affair with the president.
She says Trump never actually signed the deal. He denies the affair.