Trump Wants $700 Billion for Defense and Has No Idea Where Money Will Come From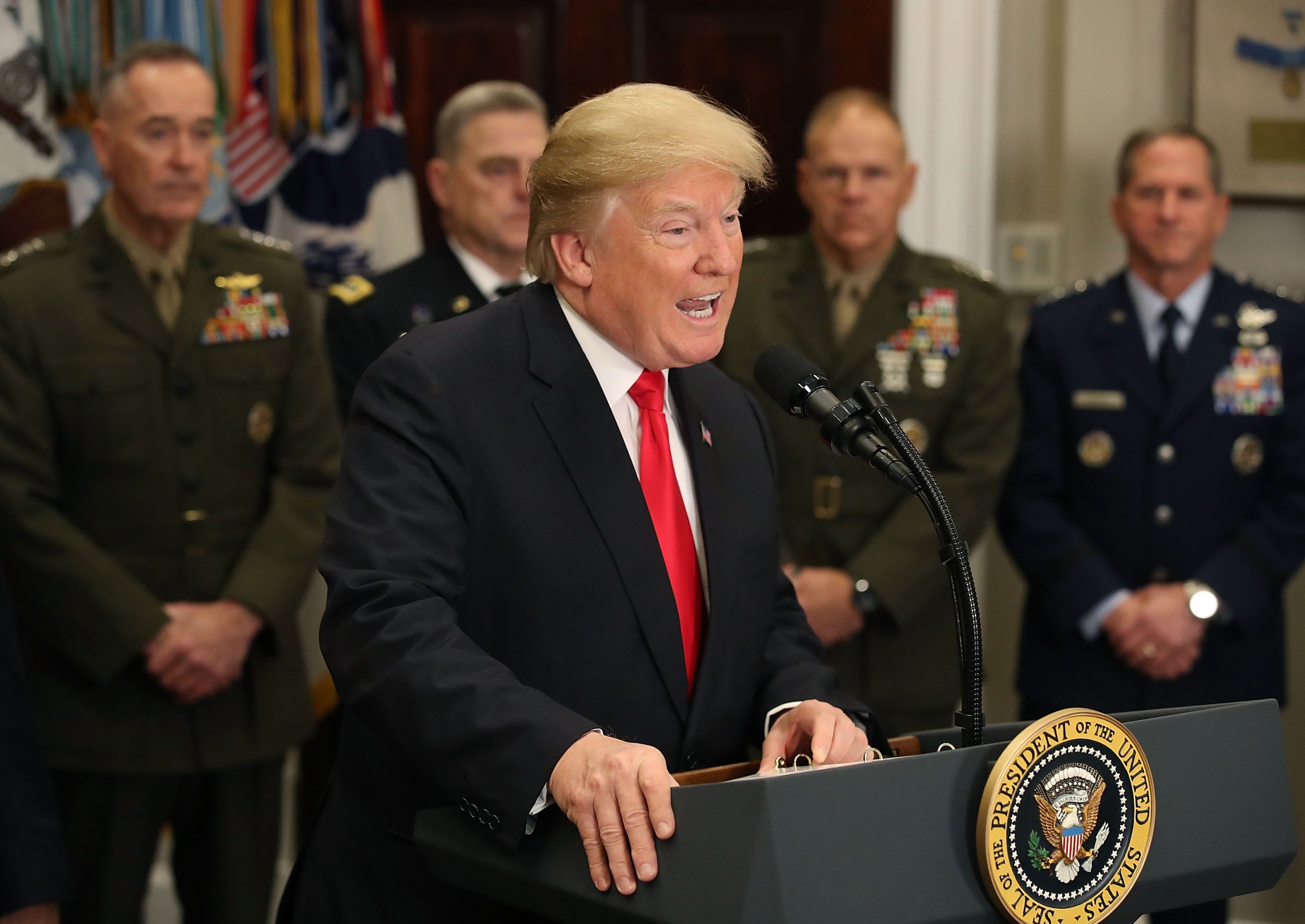 President Donald Trump signed a $700 billion defense expansion on Tuesday—but it's unclear how he'll pay for it or how the huge boost to defense spending will not also add to the national deficit.
A 2011 law capped 2018 defense spending at $549 billion—far below the number Trump approved with the stroke of his pen. The president is calling on Congress to roll back these budget caps.
"Congress must finish the job by eliminating the defense sequester and passing a clean appropriations bill," the president said Tuesday at the White House. "I think it's going to happen. We need our military. It's got to be perfecto." Trump asked Democrats, who have called for an increase in domestic spending in exchange for loosening the budget caps, to "drop their [government] shutdown threats and descend clean funding and a clean funding bill to my desk that fully funds our great military."
"We must work across party lines to give our heroic troops the equipment, resources and support that they have earned a thousand times over," Trump added.
The government is funded only until December 22, when it would shut down if lawmakers don't pass a more comprehensive bill.
Meanwhile, Trump is pushing for a tax reform bill that would add anywhere between $1 to $1.4 trillion to the national deficit—currently at $20 trillion—over the next 10 years, according to the nonpartisan Congressional Budget Office. The president's alma mater, the University of Pennsylvania's Wharton School, also released an analysis of the Republican tax plan that concluded it would increase the deficit by at least $1 trillion and possibly more than $1.5 trillion over the next decade under even the most ideal economic conditions.
If the tax cut goes through and the defense cap is lifted, those additional defense billions would be added to the deficit on top of the potential $1.4 trillion. Such a massive blow to the country's fiscal stability could have a detrimental impact on America's national security, experts have warned.
Both the House and Senate have passed versions of the tax reform bill, but it's currently being discussed by a conference committee searching for a way to overcome the major differences between the two versions. Critics of the tax reform plan contend it represents a massive tax cut for the wealthy that would cut funding for important programs for the poor while drastically increasing the deficit.
On Monday, the Trump administration claimed the president's economic policies would increase tax revenue by roughly $1.8 billion over the next 10 years, which would be enough to pay for the impact of the tax cut legislation.
"The Administration has been focused on tax reform and broader economic policies to stimulate growth, which will generate significant long-term revenue for the government," Treasury Secretary Steven Mnuchin said in a statement.
But many economic experts disagree. Former Obama economic advisers tweeted that Mnuchin's assertions were a "joke" and "embarrassing."
The defense bill Trump approved Tuesday would dedicate $634 billion for Pentagon operations and around $66 billion for wartime missions in Afghanistan, Iraq, Syria and beyond. The bill would also dedicate $12.3 billion for the Pentagon's Missile Defense Agency, which would bolster America's missile defenses as North Korea continues its pursuit of a nuclear weapon capable of reaching the mainland U.S.
"This legislation will enhance our readiness, expand our modernized—and modernize our forces, and help provide our service members with the tools that they need to fight and to win," Trump said as he signed the legislation. "We will fight and win. But hopefully, with this, we won't have to fight because people will not be wanting to fight with us."
The U.S. has long had the highest defense budget in the world by far, but it seems Trump is determined to see it reach new heights.