Trump Wants Grand Jury to Focus on Voter Fraud, Not His 'Perfect' Call With Raffensperger
Former President Donald Trump said Thursday that a grand jury in an investigation of his efforts to overturn Georgia's election results in 2020 should focus on "large scale voter fraud," instead of his phone call with Georgia's Secretary of State Brad Raffensberger.
The Atlanta Journal-Constitution reported Thursday that Fulton County District Attorney Fani Willis had requested a special grand jury in her investigation of 2020 election interference in Georgia.
In a letter posted online by the newspaper, Willis told the chief judge of Fulton County's Superior Court that she sought the grand jury because some witnesses have "refused to cooperate with the investigation absent a subpoena requiring their testimony." Among witnesses who have refused to cooperate without a subpoena is Raffensberger, Willis noted.
Willis told the Associated Press this month that the investigation includes, but is not limited to, a January 2, 2021, phone call between Trump and Raffensperger. During that call, Trump was recorded asking Raffensperger to "find" more than 11,000 votes. In a recently published book, Raffensberger said he believed the phone call was a "threat."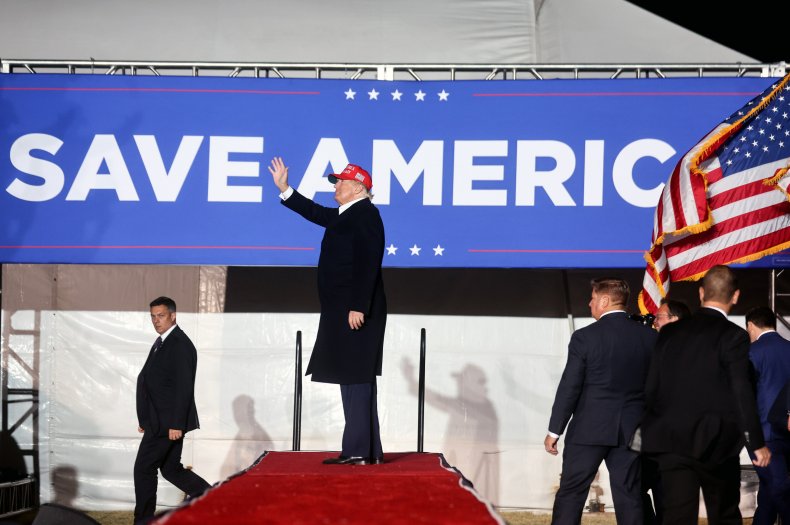 In a statement on Thursday, Trump said that his phone call with Raffensberger was "perfect," and said he "knew there were large numbers of people on the line, including numerous lawyers for both sides." He said that while he "assumed" the call may have been "inappropriately, and perhaps illegally recorded," he wasn't informed of that.
"I didn't say anything wrong in the call, made while I was President on behalf of the United States of America, to look into the massive voter fraud which took place in Georgia," Trump stated.
Trump has continued to baselessly claim that there was widespread fraud during the 2020 election.
In his statement, he said that last week, "it was further determined that they are looking into ballot harvesting in Fulton County, after supposedly watching tapes of it actually taking place."
"What this Civil Special Grand Jury should be looking into is not my perfect phone call, but the large scale voter fraud that took place in Georgia," Trump said.
"Then they would be doing a great job for the people. No more political witchunts!" he added.
Newsweek reached out to the Fulton County District Attorney's office for comment.
Willis told the AP that she believes she'll make a decision on whether to charge the former president in the first half of 2022.