Trump Wants 'Son of a Bitch' NFL Players Fired But Colin Kaepernick—And His Mom—Are Fighting Back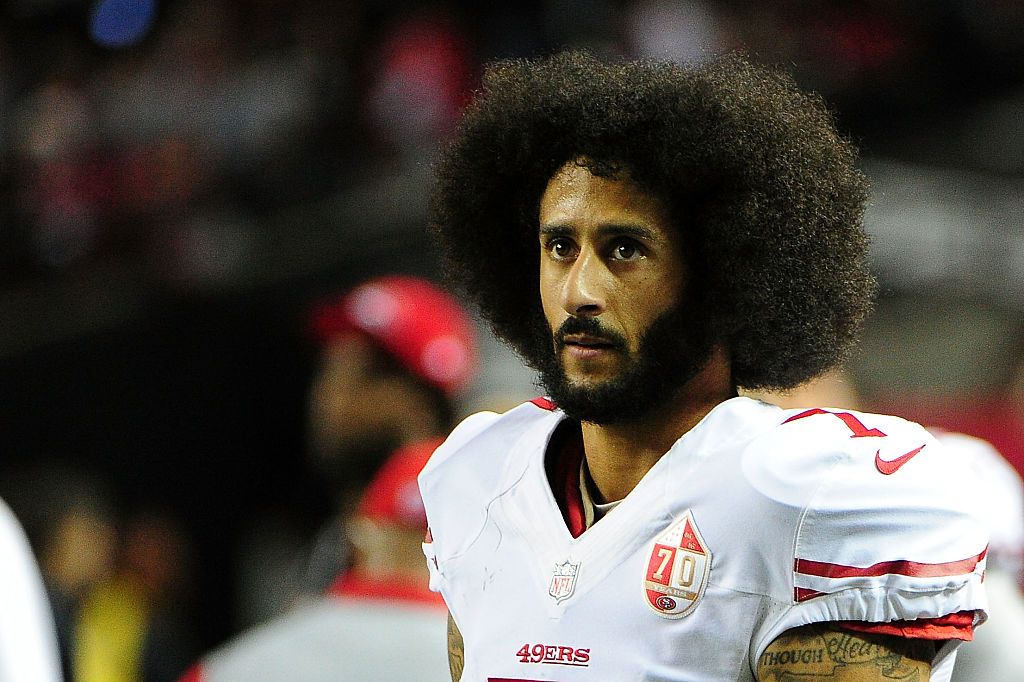 At an Alabama rally Friday night President Trump lashed out at familiar targets, including Hilary Clinton and the media but also singled out a new opponent: NFL players who have held protests during the national anthem.
Trump told the Republican rally that such actions "disrespect our heritage."
"Wouldn't you love to see one of these NFL owners, when somebody disrespects our flag, to say, 'Get that son of a bitch off the field right now, out, he's fired. He's fired,'" Trump said.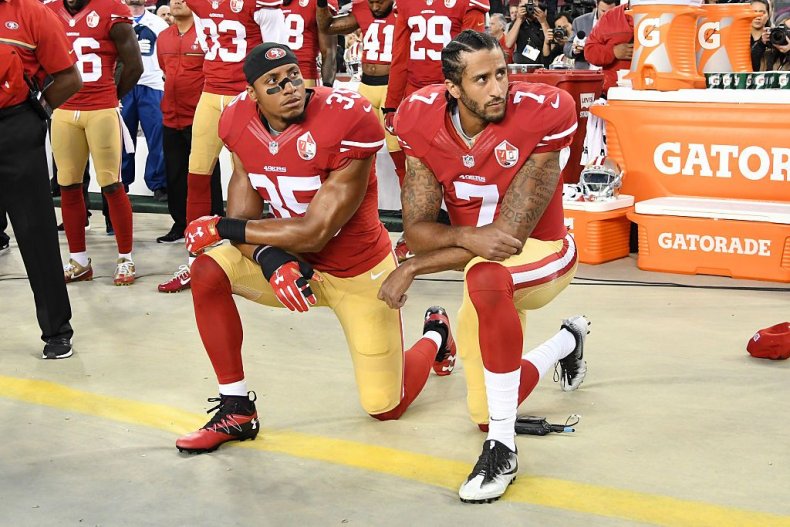 "You know, some owner is going to do that. He's going to say, 'That guy that disrespects our flag, he's fired.' And that owner, they don't know it [but] they'll be the most popular person in this country."
He went on to encourage spectators to boycott games where national anthem protests take place.
"But do you know what's hurting the game more than that?" he said. "When people like yourselves turn on television and you see those people taking the knee when they're playing our great national anthem. The only thing you could do better is if you see it, even if it's one player, leave the stadium.
"I guarantee things will stop. Things will stop. Just pick up and leave. Pick up and leave. Not the same game anymore, anyway."
Trump's rant did not go unnoticed—by the mother of Colin Kaepernick. Responding to the president's rant, Teresa Kaepernick tweeted, "Guess that makes me a proud bitch!" a comment that received more than 40,000 likes at the time of publishing.
Protests sweep the NFL
Last year, former San Francisco 49ers quarterback Colin Kaepernick started a wave of protests when he refused to stand up during the anthem in a pre-season game against Green Bay.
He explained that he took the action to protest against racist discrimination by police.
I am not going to stand up to show pride in a flag for a country that oppresses black people and people of color," Kaepernick told NFL Media. "To me, this is bigger than football and it would be selfish on my part to look the other way. There are bodies in the street and people getting paid leave and getting away with murder."
Initially performing the protests alone, Kaepernick was in subsequent games joined by team mates, players in other teams soon took part in the protest, with Jeremy Lane becoming the first non-teammate to join Kaepernick in September.
Since then, players including Marshawn Lynch, Marcus Peters and Michael Bennett have performed protests, which have spread to other sports, with soccer players, WNBA basketball players, and Howard University cheerleaders kneeling during the anthem before games.
Cleveland Browns players staged the largest national anthem protest to date last month, and were joined by white players for what was believed to be the first time. The protest prompted a boycott of the team's pre-game flag ceremony by members of unions representing Cleveland police officers and paramedics.
Kaepernick, who is currently out of contract, has said he will not carry the protest over into this season, as he believes he has achieved his aim of achieving national exposure for the issue.
Aaron Rodgers, arguably the best player in the NFL, claims that Kaepernick is being deliberately excluded from the NFL because of his political beliefs, and director Spike Lee was among those who protested against Kaepernick's alleged blacklisting outside NFL headquarters in New York in August.
And as Trump criticized NFL stars for straying into politics, sports stars said the president should stick to what he knows best. "Does anyone tell Trump to stick to politics, like they tell us to stick to sports?" tweeted Detroit Lions' tight end Eric Ebron.