Trump Really Wants to Meet Putin for Summit and 'There's No Stopping Him,' Senior Official Says
President Donald Trump is reportedly insistent on setting up a summit between himself and Russian President Vladimir Putin, amid a continuing investigation of Russian meddling in the 2016 election and despite internal protests from White House aides about the political optics of such a potential summit.
Trump, who earlier this week became the first sitting U.S. president to meet with a North Korean leader, has pushed for such a sit-down since Putin won re-election in March, The New Yorker reported Friday, citing a senior administration official.
Furthermore, no one in the White House has been able to deter Trump's insistence on the summit.
"There's no stopping him," the unnamed senior administration official familiar with the internal talks told The New Yorker. "He's going to do it. He wants to have a meeting with Putin, so he's going to have a meeting with Putin."
The report, citing experts in Russia and outside of U.S. government, states an announcement for a summit might be imminent and could happen in July. NATO announced in October that a summit will take place July 11 and 12 in Brussels, perhaps an opportune time for Trump to meet with Putin for the third time since the billionaire took office 18 months ago.
Some of Trump's top advisers and recent appointees are also resigned to a sit-down occurring, even as the special counsel investigates Russia's meddling in the 2016 election in favor of Trump.
The senior administration official said U.S. Ambassador to Russia John Huntsman, national security adviser John Bolton and Secretary of State Mike Pompeo understand Trump will not budge on his demand to meet with Putin, according to The New Yorker.
Such insistence by Trump appears to mirror his comments a week ago over Russia's dismissal from the G-7.
"Russia should be in this meeting," Trump told reporters before flying to the G-7 in Canada. "They should let Russia come back in because we should have Russia at the negotiating table."
Trump added, "It may not be politically correct, but we have a world to run."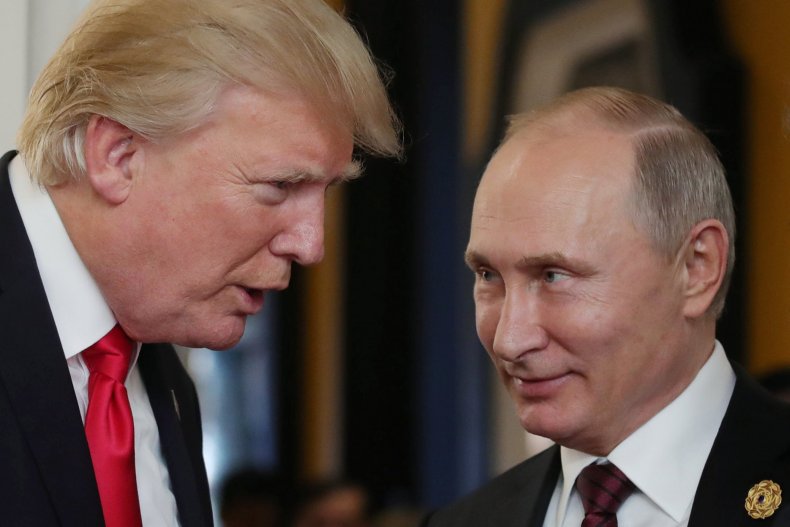 The move bucks not only Trump's critics but even members of his own party. Republicans have historically held hawkish stances on Russia, while Trump's predecessor, Democrat Barack Obama, led the charge for Russia's dismissal from the then G-8 in 2014 over its annexation of Crimea from Ukraine.
Trump doubled down on his comments with Fox News while returning Stateside following the summit with Kim Jong Un.
"You know, we spend probably 25 percent of our time talking about Russia, and I said wouldn't it be better if they were here," Trump said. "I'm not for Russia. I'm for the United States."