Trump Wants to Run in 2020 Election Against The Woman He Already Beat: Hillary Clinton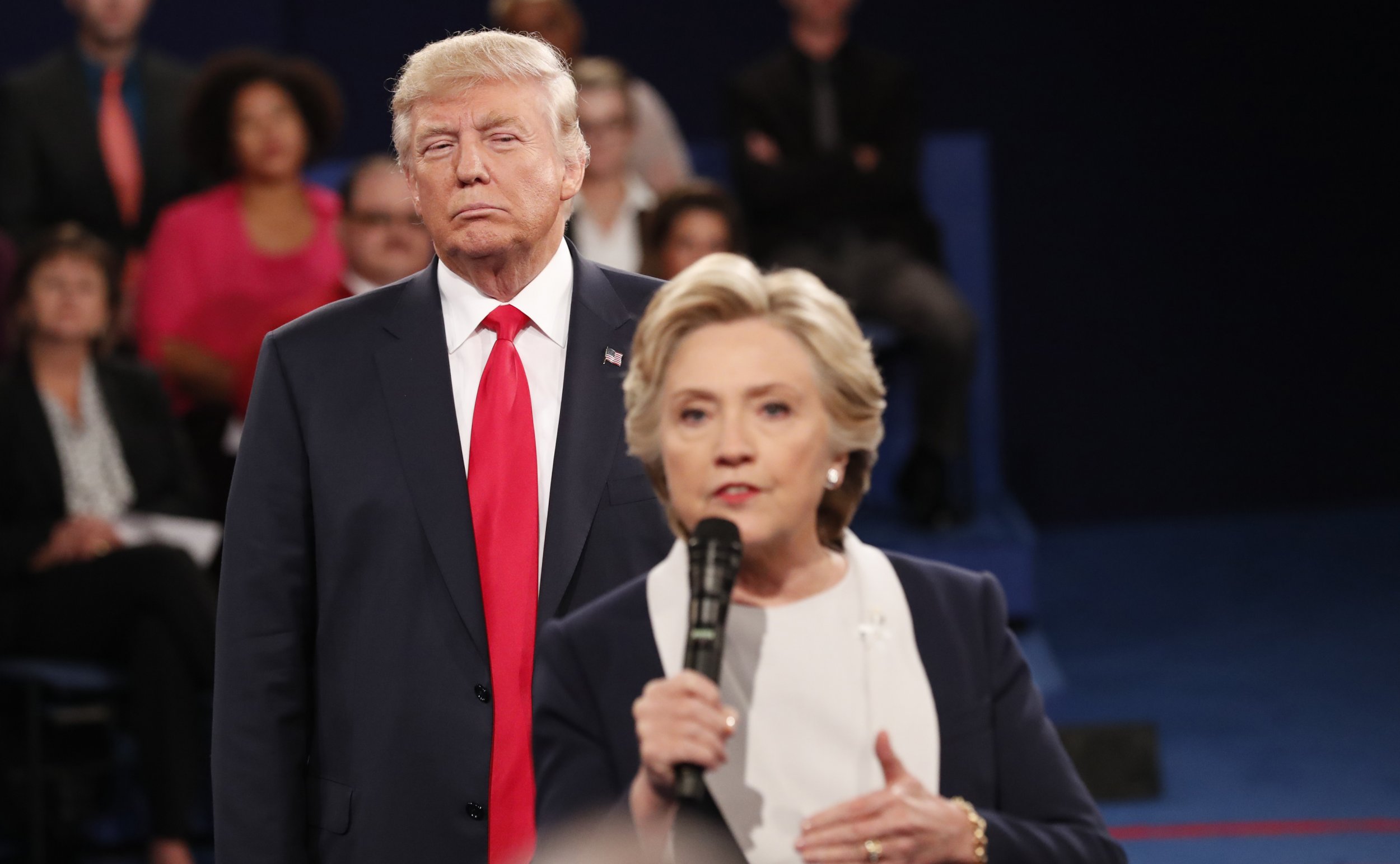 In office less than 10 months, President Donald Trump already has his eyes on the 2020 general election—and he wants to run against the woman he already defeated.
"I was recently asked if Crooked Hillary Clinton is going to run in 2020? My answer was, 'I hope so!'" the president tweeted early Monday, amid many other pressing matters.
It is not clear what prompted the tweet. Clinton has told reporters numerous times she has no intention of running again, telling CBS News, "I am done with being a candidate." However, she has said she isn't done with politics even if she doesn't plan to seek any office again.
Other politicians are also eyeing the 2020 general election. Vermont Senator Bernie Sanders told SiriusXM in July that a second presidential campaign was not out of the question.
"No, I am not taking it off the table," Sanders said when asked if a 2020 run was on or off the table. "I just have not made any decisions."
Who's running for president in 2020? Joe Biden, Bernie Sanders release books, visit swing states
Former Vice President Joe Biden is publishing a book November 14, titled Promise Me, Dad, and some think the book tour could be the starting point for a presidential bid. Biden did not run in 2016 after the death of his son Beau.
A former aide told The Hill it was "a great soft launch for a potential campaign" and "a chance to step out on his own terms with a character-reinforcing narrative that reintroduces himself to America."
Other big-name politicians have been touring with their new books, putting them in the spotlight for potential campaign bids.
Massachusetts Senator Elizabeth Warren went on a media tour this spring in support of her latest book. Minnesota Senator Al Franken appeared on The Late Show With Stephen Colbert recently to discuss North Korea and—you guessed it—to talk about his new book.
It's not surprising that Trump is tweeting about re-election. The president raised more than $10 million in the past quarter, giving his campaign war chest more than $35 million, according to new figures analyzed by the Center for Public Integrity (CPR).
One-quarter of his campaign donations have gone toward legal fees, partly stemming from the ongoing Russia investigations. The Trump campaign has also spent nearly $170,000 on Trump-branded merchandise.
Meanwhile, at least eight presidential candidates from 2016 remain in debt, the CPR found: Sanders, an independent; Republicans Marco Rubio, Scott Walker, Chris Christie, Rick Santorum, Jim Gilmore and George Pataki; and Libertarian Gary Johnson.