Trump Wants U.S. out of Syria. Is It Finally Time to Leave or Is This One Big Mistake?
President Donald Trump has reportedly told top military officials to prepare to withdraw from Syria, a decision that would conclude a four-year battle against the Islamic State militant group (ISIS) in a country already beset by a seven-year civil war.
Experts consulted by Newsweek are split, however, as to whether Trump's eagerness to leave Syria represents a premature decision or a step toward fulfilling a key campaign promise to end his country's lengthy and costly intervention in the Middle East.
National Intelligence Director Dan Coats told reporters Wednesday that the country's leading national security officials held on Tuesday an "all-hands-on-deck" meeting in which "some decisions were made," according to the Associated Press. But Trump's advisers reportedly pushed back, citing a need to finish off ISIS and check Iranian influence.
Trump said he would decide "very quickly" whether to remove an estimated 2,000 U.S. troops tasked with helping local allies defeat the jihadis, a job "we've almost completed."
Related: U.S. plans to leave Syria complicated by soldiers' deaths and Turkey's threats
"The military mission to eradicate ISIS in Syria is coming to a rapid end, with ISIS being almost completely destroyed. The United States and our partners remain committed to eliminating the small ISIS presence in Syria that our forces have not already eradicated," the White House said Wednesday in a statement.
"We will continue to consult with our allies and friends regarding future plans. We expect countries in the region and beyond, plus the United Nations, to work toward peace and ensure that ISIS never re-emerges," it added.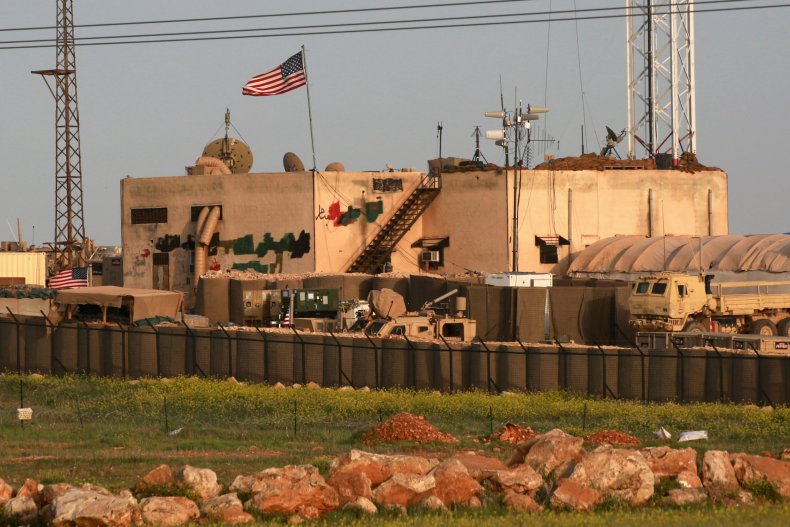 An unnamed senior administration official told The Washington Post on Wednesday that Trump has ordered his top military brass to make plans for the withdrawal, but did not offer any specific timetable. Reuters quoted an unnamed senior administration official the same day as saying the U.S. was "not going to immediately withdraw but neither is the president willing to back a long-term commitment."
ISIS grew out of a merger of jihadi groups in the wake of the 2003 invasion of Iraq and took advantage of unrest in neighboring Syria to spread there in 2013. After covertly sponsoring armed supporters of the 2011 uprising against Syrian President Bashar al-Assad, former President Barack Obama began bombing ISIS in Iraq and Syria in 2014, the year the group's self-proclaimed caliphate claimed nearly half of both countries.
Russia entered the conflict on behalf of Assad in 2015, the same year the Pentagon established the Syrian Democratic Forces, a mostly Kurdish group set to replace an increasingly jihadi opposition as U.S. partners in the fight against ISIS. Both the Russia-backed Syrian military and U.S.-backed Syrian Democratic Forces have largely defeated ISIS in separate campaigns that have sometimes resulted in tense confrontations and tentative alliances between the two forces.
Iran has also played a large role in the battle against ISIS, supporting mostly Shiite Muslim militias in both Iraq and Syria via the elite Revolutionary Guards. Despite both the U.S. and Iran contributing to the battle, Trump and his administration have identified Tehran's growing influence in the Middle East as a threat akin to that of ISIS.
With Iran stronger than ever, some experts said the U.S. was essentially handing an easy win to the revolutionary Shiite Muslim power, even as Trump appeared to take a hard-line stance by appointing hawks Mike Pompeo and John Bolton as secretary of state and national security advisor, respectively.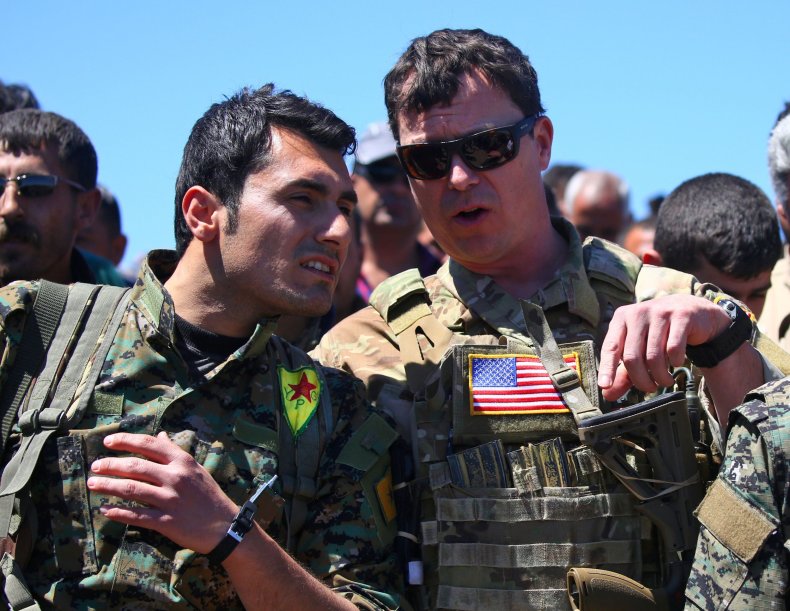 "To withdraw now where no U.S. strategic objective has been achieved as such points to the Trump administration's Middle East policy being one of slogans only. 'We have destroyed ISIS'—but have we really? 'We will stop Iran and Russian expansion in the Middle East'—pulling out of Syria does the opposite and scares allies even more. The list of contradictions does not stop there," Alex Vatanka, a senior fellow at the Middle East Institute and the Jamestown Foundation in Washington, D.C., told Newsweek.
"There is nothing in this new so-called 'war cabinet' of Pompeo or Bolton that would have suggested this would be the path for the U.S. in the months to come. It might change but for now, it's just all dauntingly confusing and centered on short-term political aims of a White House that is already in a re-election mode," he added.
Paul Salem, senior vice president for policy research and programs at the Middle East Institute, agreed that a U.S. exit would produce "a major strategic victory for Iran" and present troubling mixed messages for allies both in Syria and internationally. He argued that ISIS still presented a threat to the region and compared Trump's statements to both former President George W. Bush's infamous 2008 "Mission Accomplished" announcement in Iraq and Obama's decision to withdraw troops from there in 2011, both of which ultimately led to new U.S. operations in the country.
"One could make a very valid argument to withdraw, but the biggest impact is the reversal of American policy," Salem told Newsweek. "The administration is not in agreement with itself."
Outgoing Secretary of State Rex Tillerson included containing Iran as a U.S. goal of Syria during a January speech, in which he said that Trump planned to keep troops there as to "not make the same mistakes that were made in 2011 when a premature departure from Iraq allowed Al-Qaeda in Iraq to survive and eventually morph into ISIS," which ultimately filled a power "vacuum" to claim wide stretches of territory.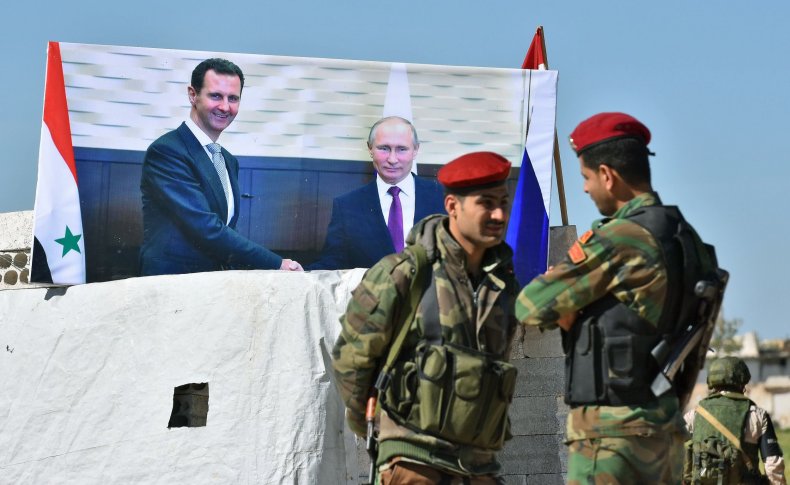 Defense expert and retired Army Lieutenant Colonel Daniel Davis said Wednesday he was "sick and tired" of hearing the "vacuum" argument and expressed concern over conflicting reports over whether the president had, in fact, ordered his military officials to leave or not. Dispelling concerns over Iran's potential windfall, Davis said he would like to see Trump enforce his civilian control over the government to give a clear and distinct command to remove all U.S. military presence from Syria.
"Whether it's Afghanistan, Iraq, Yemen or Syria, every time anyone hints of possibly ending something, you get this voice saying we can't leave because of 'fill in the blank,'" Davis told Newsweek. "We don't need to be in any of these countries."
"It's really pretty clear-cut in the case of Syria," he continued. "ISIS is effectively done.... They don't pose a strategic threat to the U.S. just because they control a few pieces of dirt and villages in Syria," he added, noting that Russia, Syria, Iran and their numerous allied militias were still actively fighting ISIS on the ground.
Davis said a couple thousand U.S. troops would have little impact on the outcome of the rest of the conflict. These soldiers have also come under threat in the northern Kurd-controlled town of Manbij by a fellow member of the NATO Western military alliance.
Turkey considers Kurdish elements of the U.S.-backed Syrian Democratic Forces, including the People's Protection Units (YPG), to be an extension of the militant Kurdistan Workers' Party and launched a new operation to battle them in January. The offensive has caused a flight of Kurdish fighters from the U.S.-backed battle against ISIS toward the front lines against Turkey, bringing Kurds closer to Assad and effectively halting the U.S.-led coalition's ground offensive in eastern Syria.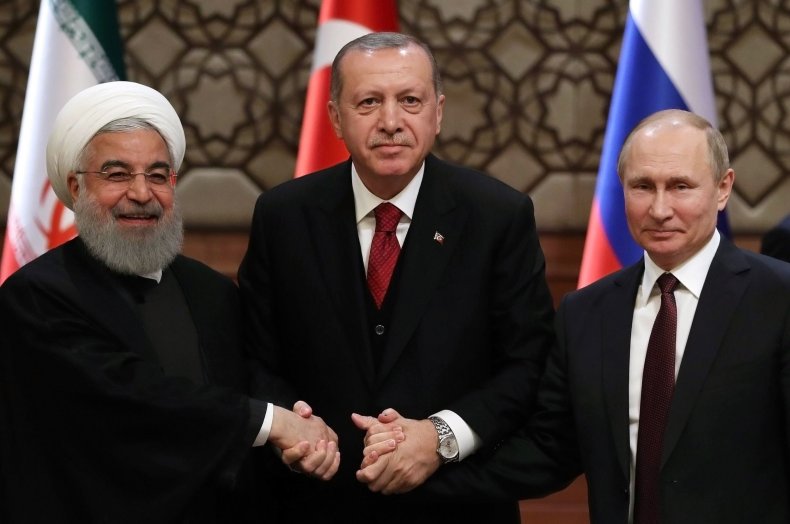 The Syrian government and autonomous Syrian Kurds have emerged the foremost powers in the country. While they have fought against and alongside one another throughout the prolonged conflict, Salem said a U.S. departure could push the Pentagon's Kurdish allies even closer to the Syrian government in a bid to protect them from Turkey and its insurgent allies.
Assad, the original target of U.S. involvement in Syria, has managed to reverse his fortunes, especially thanks to Russia and Iran, whose military he considered the only legitimate foreign forces in the country. His government, along with Russia, Iran and neighboring Iraq, have all declared victory against ISIS.
Davis said staying any longer would be more trouble than it's worth for the U.S. "There is no enduring U.S. interest in Syria that in any way justifies the continued expense in American blood and treasure," he noted.
"We endure enormous strategic risk with our continued presence there in the potential to—accidentally or otherwise—clash with Russian, Iranian or Syrian troops—not to mention our own NATO ally Turkey—potentially drawing us into a wholly unnecessary war or rupturing NATO," Davis added. "For this strategic risk, we don't even gain the potential for tactical gain."