Trump Wants to Use $300 Billion for Stimulus Checks, Here's Who Wouldn't Qualify
President Donald Trump is ready to send out stimulus checks to millions of people, but on Friday he rejected the possibility of undocumented immigrants receiving a payment.
Undocumented immigrants were largely ineligible for the first round of economic impact payments, a provision Democrats sought to correct with a relief package of their own. Under the HEROES Act, which passed the House in May, certain undocumented immigrants would be eligible for the second round, as well as a retroactive payment from the CARES Act that passed in March.
Trump told reporters during Friday's briefing that the government has $300 billion that he's willing to use for another round of stimulus checks. But payments won't be given to "illegal aliens."
"They came into the country illegally, and now we give them a check?" Trump said. "We want to give the checks to the American people."
He's willing to spend the money and Trump said there's a "theory" that he could use the funds for stimulus checks without asking anyone for permission. However, the president doesn't have plans to tackle it on his own, as he did with unemployment, and said he'd ask Congress to approve it.
Talks about a second round of stimulus checks began shortly after Congress unanimously approved $1,200 payments for individuals earning $75,000 or less in March. Trump, Democrats and Republicans are on board with another round but differences on other provisions and the total cost of another relief package left negotiations at a standstill.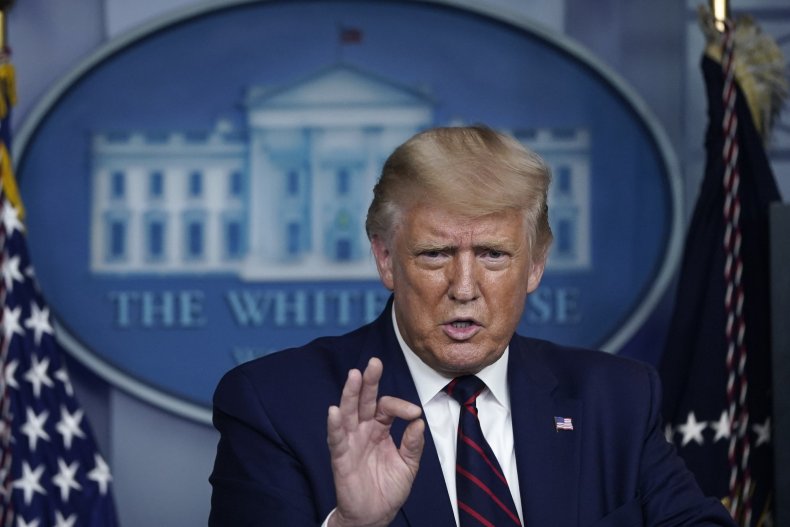 Trump didn't share details about what another round of payments would take during Friday's briefing, however, it's possible it could largely resemble those afforded under the CARES Act. Treasury Secretary Steve Mnuchin told reporters on August 2 stimulus checks were one of the few items the White House and top Democrats agreed on and that Trump was prepared to sign off on the provision.
The president supported payments of the "exact same amount," Mnuchin said, and minor changes would allow "additional people to get it." The "additional people" Mnuchin referenced could be dependents of all ages, an expansion from the CARES Act, when $500 payments were given only to people with children under the age of 17.
Senators are set to return from the August recess on Tuesday, making the passage of a relief package possible. While legislators will be in Washington, D.C., to vote if necessary, Senate Majority Leader Mitch McConnell isn't confident they'll have anything to vote on.
"Regretfully as we've gotten closer and closer to the election, the degree of bipartisan cooperation has descended," McConnell said at a press event in Kentucky on September 2. "And I can't tell you for sure whether we'll get another rescue package or not."
However, if a package is agreed upon and signed by Trump, Mnuchin said the delays that plagued the first round won't be an issue this time. The treasury secretary told reporters Americans could start receiving direct deposits a week after the package passes.