President Donald Trump had his sights set on at least having answers about a new coronavirus vaccine's efficacy by the time people went to the polls, but it's a timeline that may not play out how the president wants.
Comments from Albert Bourla, the CEO of Pfizer, one of the companies with a candidate in Phase III trials, fueled Trump's aspirations, but the head of Operation Warp Speed, the administration's plan to produce 300 million vaccine doses by the end of the year, is skeptical that results will be had in October. Moderna, a company working on another top vaccine contender, dismissed the possibility a vaccine could be ready before the election.
On Wednesday, Stéphane Bancel, the CEO of Moderna, told the Financial Times that November 23 is the earliest they could request vaccine authorization from the Food and Drug Administration (FDA). Bancel didn't expect to have approval for distributing the vaccine to all Americans until spring.
"The [emergency use authorization], we think, will be an important medical tool to start addressing people at very high risk, like health care workers, like the elderly," he said.
Candidates for a new coronavirus vaccine are moving forward at an unprecedented rate, but even with the Trump administration's investment in proactively manufacturing a vaccine, health officials weren't ready to sign onto Trump's timeline.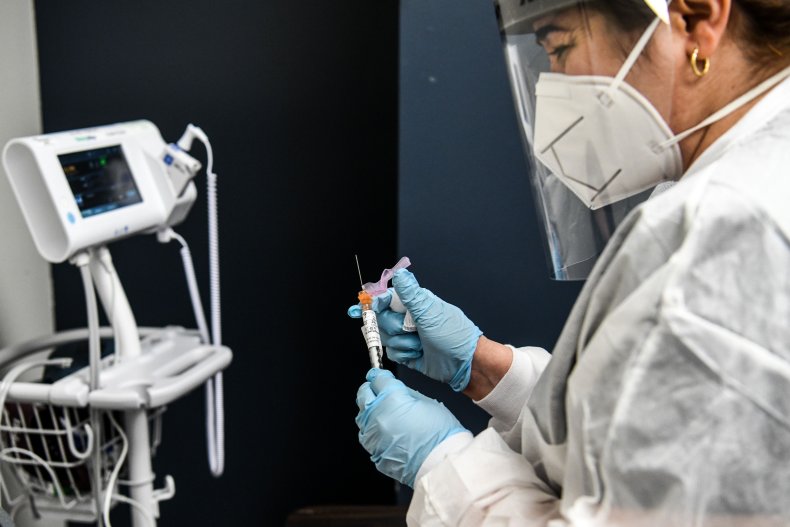 Dr. Robert Redfield, director of the Centers for Disease Control and Prevention, told a Senate committee that 700 million doses could be available by late March or early April. However, it would likely be as late as July before the entire American public could be vaccinated.
Given that clinical trials weren't at full enrollment in mid-September, Dr. Anthony Fauci, director of the National Institute for Allergy and Infectious Diseases, called it "unlikely" that there would be a definitive answer as to a vaccine's efficacy before Election Day on November 3. Not an "impossible" situation, though, Fauci explained that if there are "so many infections" in clinical trials, researchers could determine efficacy sooner than expected.
For a review panel to consider early data from the studies, there must be a certain number of cases, as outlined in the trial's blueprints. For Moderna's trial, that number was put at 53 cases, whereas Pfizer only needs 32 volunteers to become ill. To "preserve the integrity of the trial,"Jerica Pitts, director of global media relations for Pfizer, declined to share with Newsweek how many people in the study had already become ill.
It's "impossible to predict" when a study will have enough cases to conclude, Moncef Slaoui, head of Operation Warp Speed, told The New York Times on Monday. Trials for the vaccines, he said, are larger than normal studies and by recruiting more volunteers, it could conclude earlier than expected because cases may accrue faster.
Since it's unpredictable, he said it would be wrong to say it will "never happen in October," but despite all measures to speed up the process, he called having results in October "very unlikely." The more realistic scenario is that there will be enough cases in November and even more realistic than that is a December time frame.
Bourla told CBS' Face the Nation in September that there were 60 percent odds that they'd have the answer before the election. When referencing having a "conclusive readout" in October, a Pfizer spokesperson told The New York Times it meant it was possible an outside board of experts would have found "promising signs" the vaccine works.
Pfizer's clinical trial was designed to evaluate the safety and efficacy of the candidate "as fast as possible" and will continue even after an emergency use authorization is granted to study its long-term performance. It's unlikely an EUA is issued before November, as The New York Times reported the FDA told vaccine makers they must track patients' safety data for two months before granting the authorization.
Although there are high hopes for a vaccine, people are skeptical about the inoculation that's become heavily politicized. In an attempt to assuage fears about the vaccine, Fauci pointed to technology as one of the reasons it was able to move forward at a rapid rate and denied that speed meant safety had to be sacrificed.
Slaoui related the approach to a pandemic with that of a race car driver. He told The New York Times that race car drivers look at races and challenge themselves to be "very fast while being very safe." To do that during a pandemic, he said it requires "significant financial risk," a criteria the Trump administration has already met by investing hundreds of millions of dollars in producing a vaccine before it proves efficient.
The second necessity is to have "incredibly disciplined project management" and the third was to bring the Departments of Defense and Health and Human Services together to tackle the "logistical dimension."
There are financial advantages to being first, but Bourla denied that the vaccine's development is motivated by politics. In a letter to his colleagues on Thursday, he said the company is moving "at the speed of science" and "would never succumb to political pressure."