Trump's War Authorization Powers Will Be Reviewed by Senate Panel Hearing With Mattis, Tillerson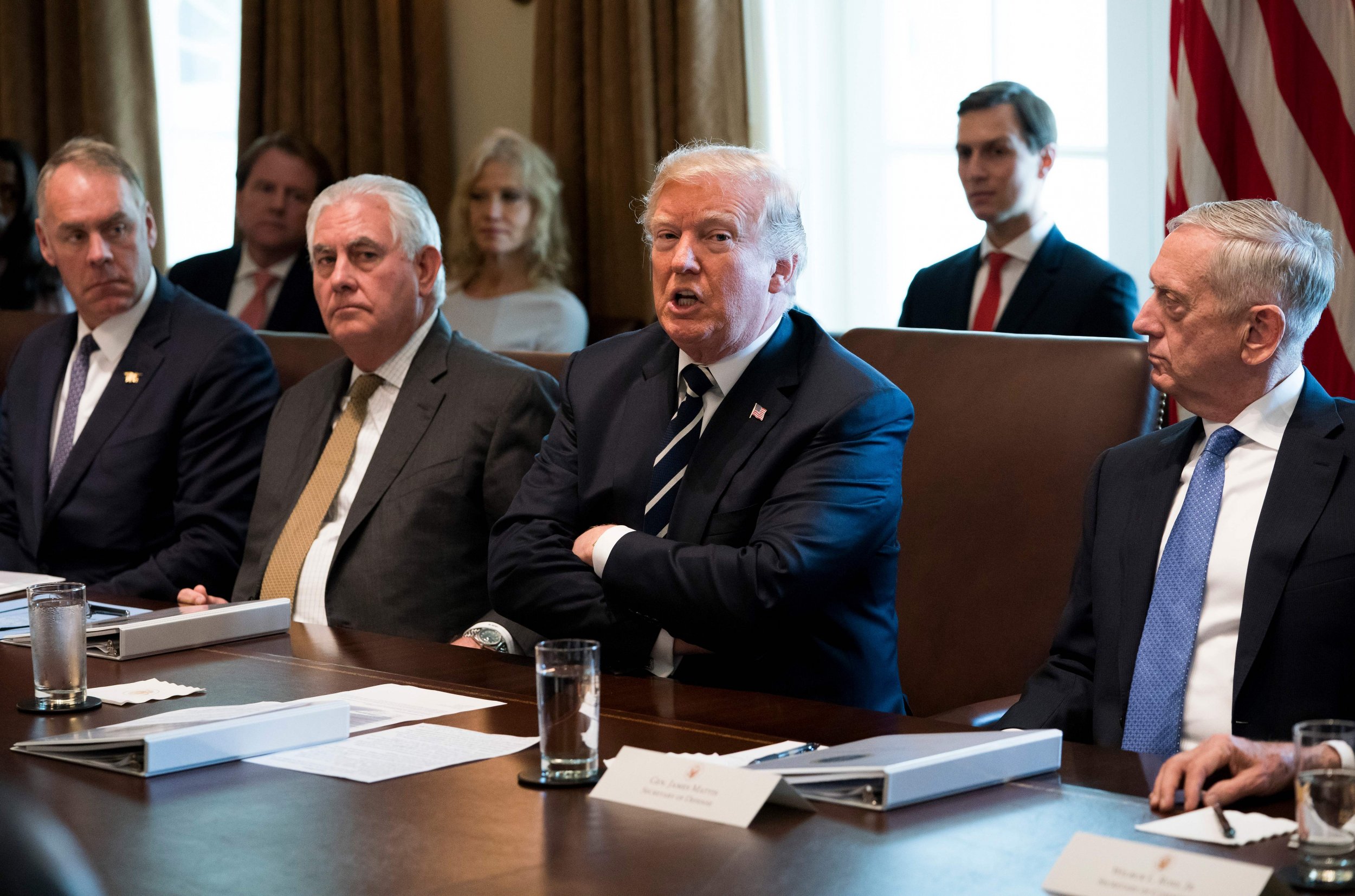 Following the recent deaths of four U.S. Army sergeants in Niger, Defense Secretary Jim Mattis and Secretary of State Rex Tillerson will later this month appear before the Senate Foreign Relations Committee during a public hearing on war authorization powers.
Controversy has arisen related to their deaths earlier this month, not just surrounding President Donald Trump's response but as to why the U.S. service members were in the West African country at all.
Related: Trump's war with North Korea is putting America's existence 'at risk' and must be stopped, Democrats say
The military's presence in Niger falls under the 2001 authorization for the use of military force (AUMF), which gave the president broad powers to take military action against the perpetrators of the September 11 attacks—chiefly Al-Qaeda and the Taliban. The AUMF has also been cited more recently for battles against the Islamic State militant group (ISIS), under the argument that it grew out of Al-Qaeda.
But many in Congress, including Democratic Senator Tim Kaine of Virginia, argue that presidents are allowed to apply the authorization far too broadly and that it is long past due for an update.
"The many questions surrounding the death of American service members in Niger show the urgent need to have a public discussion about the current extent of our military operations around the world," Kaine, a member of the Foreign Relations Committee, said in a statement Friday.
Kaine and one of his Republican colleagues on the committee, Senator Jeff Flake, introduced a new AUMF that would give Congress a larger oversight role when it comes to battling against ISIS, Al-Qaeda and the Taliban. Among other checks, it would require the president to tell Congress why military operations are being carried out if they stretch beyond Afghanistan, Iraq, Libya, Somalia, Syria and Yemen.
"An open hearing in the Foreign Relations Committee is the right venue for this long-overdue debate. I look forward to discussing the Flake-Kaine AUMF and hearing from the administration about how Congress can replace the 2001 AUMF with one that better fits the threat we face today from nonstate actors," Kaine said about the hearing that will take place on October 30.
He added, "For 16 years, Congress has remained largely silent on this issue, allowing administrations to go to war anywhere, anytime. A new AUMF is not only legally necessary, it would also send an important message of resolve to the American public and our troops that we stand behind them in their mission."
The new AUMF legislation has thus far made no progress, however, as was the case with a similar effort in 2015.
But, in the wake of Trump's threats of action against North Korea and the deaths in Niger, there appears fresh impetus to rein in the powers of the president. Last week, another committee member, Republican Chris Murphy, told Newsweek, "It's time for Congress to make very clear that he does not have the power to engage in a preemptive strike [on North Korea] without [congressional] authorization."
The deaths of the four military personnel during an ambush in Niger are being investigated, and support is now being provided by the FBI. But members of Congress are also calling for their own probe.
"We are coequal branches of government—we should be informed at all times," Senate Armed Services Committee Chairman John McCain said Thursday.