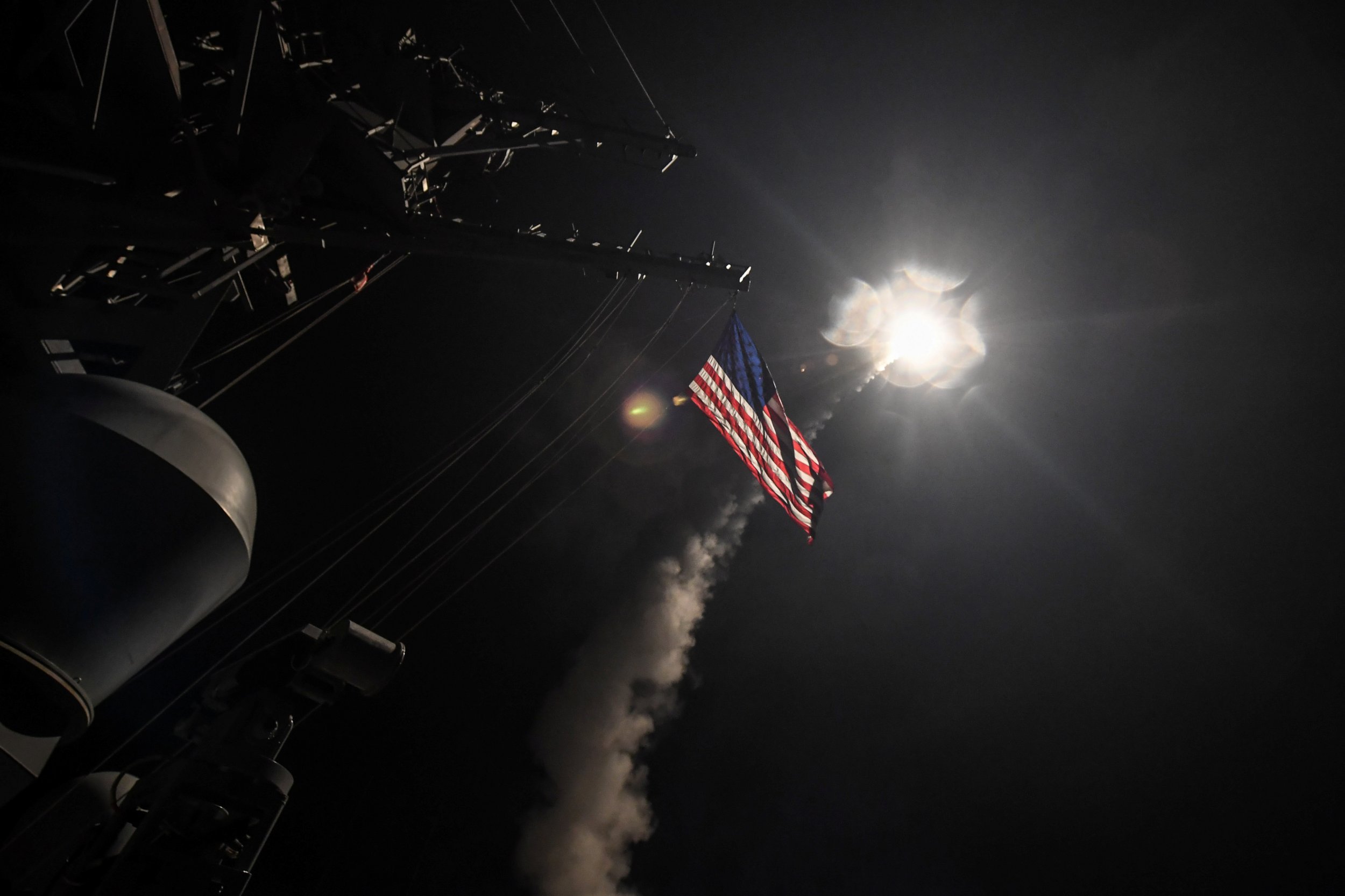 President Donald Trump's administration has once again threatened to strike the forces of Syrian President Bashar al-Assad, despite threats of consequences by Russia, which has kept its defenses on high alert since a previous attack earlier this month.
Since taking office in January, Trump has drastically changed his course on Syria. The Republican real estate mogul-turned-president was deeply critical of the way his predecessor, former President Barack Obama, handled the more than six-year conflict and initially pledged to cooperate with his Russian counterpart and then political ally, Vladimir Putin, in defeating the Islamic State militant group (ISIS). Trump even offered tacit support for Assad as recently as late March. While both the U.S. and Russia remain actively fighting ISIS, Trump has since placed his policies on a collision course with those of Russia in hopes of retaining as big a stake as possible in the war-torn country and of countering the growing influence of Iran, another ally of Assad.
Amid ever-shifting alliances and seemingly unending bloodshed, Trump's major shift can be traced back to military action in April.
Related: U.S. Will Lose Syria to Iran and Abandon Kurdish Allies, Former Ambassador Say
"My attitude toward Syria and Assad has changed very much," Trump said on April 4, after hearing reports of an alleged chemical weapons strike on Khan Sheikhoun, a district of Syria's rebel-held northwestern Idlib governorate.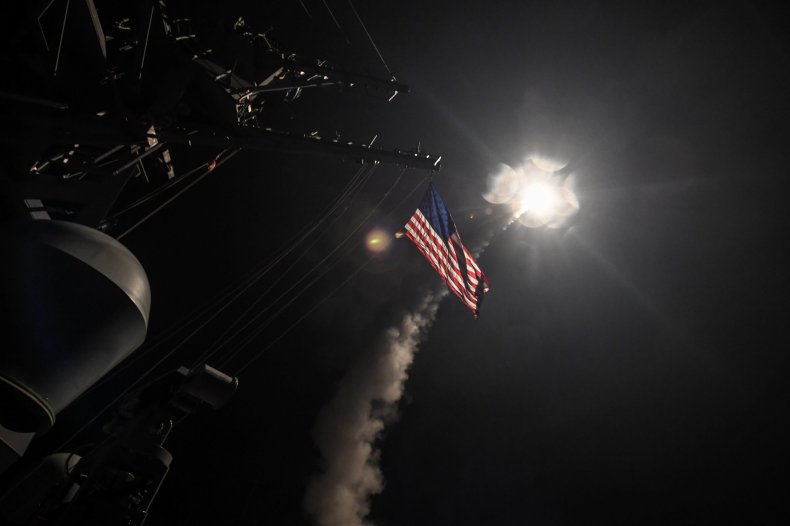 U.S. intelligence immediately blamed the Syrian military for the attack, dismissing calls for an investigation and, ultimately, denials by the Russian and Syrian governments. Less than 72 hours after Trump spoke on air, the Navy launched a barrage of 59 cruise missiles against Syria's Shayrat airbase, the suspected source of the chemical attack. Though the Pentagon claimed it warned Russia ahead of time, the sudden use of military action tore a bitter divide in the fragile fabrics of a potential U.S.-Russia bond in Syria—and they have yet to heal. Lately, they seem to have only gotten worse.
Following a brief period of rapprochement that included talks between Secretary of State Rex Tillerson and Russian Foreign Minister Sergei Lavrov, the U.S. once again brought its forces in conflict with Russia and Iran's camp by expanding its military presence, considered illegal by the Syrian government, in southern Syria last month. The U.S.'s main partner in tackling ISIS in Syria has recently been the Syrian Democratic Forces, a majority-Kurd alliance battling toward, and now inside, the jihadists' de facto capital of Raqqa in northern Syria. As these forces surrounded Raqqa in the north, however, U.S. Special Forces unilaterally established a "deconfliction zone" near the Syrian town of al-Tanf, located near the country's borders with Jordan and Iraq.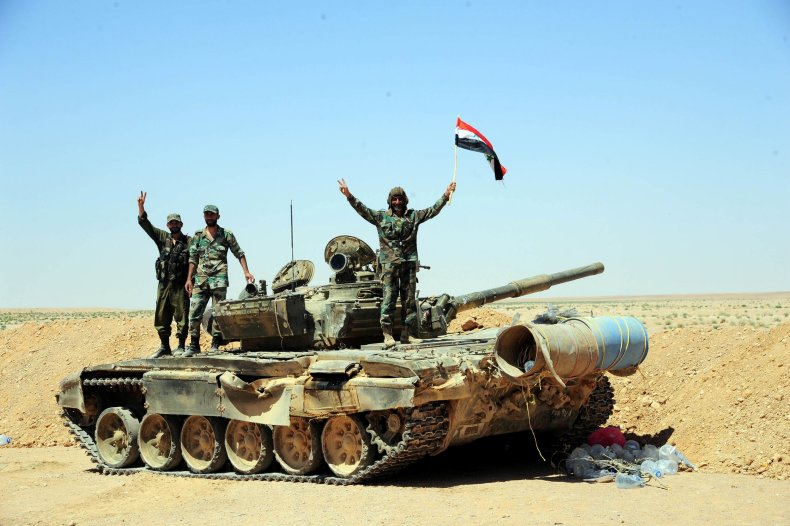 U.S. Central Command said the zone was off-limits to pro-government forces after already striking them once, and then proceeded to strike them twice more in recent weeks. The attacks brought more stern warnings from Russia, but were ultimately unable to stop the Syrian army and allied, Iran-backed militias from stretching across the country to the Iraqi border and advancing north toward the eastern city of Deir Al-Zour, which has been under ISIS siege since 2014. The Syrian military's success in securing the southeastern border from ISIS essentially establishes a link of Iranian support through four regional capitals—Beirut, Damascus, Baghdad and Tehran. It seriously frustrates Trump's anti-Iranian efforts, which have already won over seemingly odd bedfellows Israel, which continues to bomb positions held by the Syrian army and its Iran-backed allies, and Saudi Arabia, which has imposed a total blockade of neighboring Gulf Arab state Qatar—partially over its refusal to break ties with Iran.
Earlier this month, however, the U.S. once again targeted Syria's air force elsewhere in the country, this time shooting down a fighter jet that the Syrian Democratic Forces accused of bombing too close to their own campaign against ISIS in Raqqa. The Syrian army and Syrian Democratic Forces have worked together in the past, especially against Turkish-backed rebels. Prior to Trump's turnaround on Assad, the U.S.-backed Syrian Democratic Forces and the Russia-backed Syrian army entered into an uncomfortable, yet steady truce to block any advances by insurgents near the northern city of Manbij.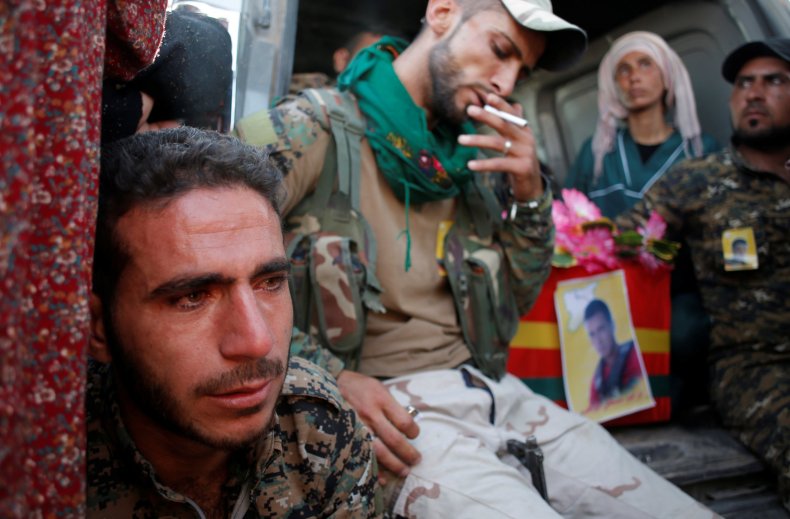 The Syrian Democratic Forces were once mostly neutral in the battle between the Syrian government and various rebel groups, which the U.S. partially abandoned after they became dominated by ultraconservative and jihadist Sunni Muslim organizations. As the U.S. grew more heavily involved in the fight against ISIS in Raqqa, however, and began directly arming Kurdish militant groups affiliated with the Syrian Democratic Forces, clashes have erupted as the Syrian military conducts its own offensive in Raqqa's western countryside. The shooting down of the Syrian fighter jet further alienated the Syrian Democratic Forces from pro-government fighters and has incurred the anger of Russia, which has said it will treat U.S. and allied aircraft as "targets" for its surface-to-air missile systems stationed in Syria.
The White House's latest threats to strike again amid reports that the Syrian government was gearing up for a chemical weapons attack has been rebuffed by Russia. which denied any knowledge of the claims. Trump, who on more than once occasion told Obama "do not attack Syria" via Twitter and accused him of being the "founder of ISIS" over the previous administration's covert support for rebel groups, has gotten the U.S. deeply involved in the complex international war zone of Syria and, as both U.S. and Russia-sponsored factions compete to grab land from ISIS, observers are increasingly concerned that the conflict is far from over.