Donald Trump Says He Has 'No Plans' to Take U.S. Military Out of Iraq During First War Zone Visit
President Donald Trump has made an unannounced visit to Iraq, his first trip to a war zone since assuming the presidency in 2017.
The commander-in-chief had faced criticism earlier Wednesday after it appeared he would become the first U.S. president not to visit troops overseas during the Christmas holiday since 2002. Photos published by Reuters then emerged showing him, along with national security adviser John Bolton, at the Al Asad Air Base in Iraq, where a U.S.-led coalition is actively battling the Islamic State militant group (ISIS).
The trip came exactly one week after Trump suddenly announced an order for the Pentagon to begin withdrawing the roughly 2,000 troops deployed to Syria as part of the anti-ISIS mission. The decision was followed by the resignation of Defense Secretary James Mattis, who said Trump had "the right to a Secretary of Defense whose views are better aligned" with his own.
Trump told reporters that he had "no plans at all" to withdraw troops from Iraq, according to the Associated Press. He said the country could still be used to launch attacks on ISIS in Syria, arguing that the U.S. can attack ISIS "so fast and so hard" that they "won't know what the hell happened."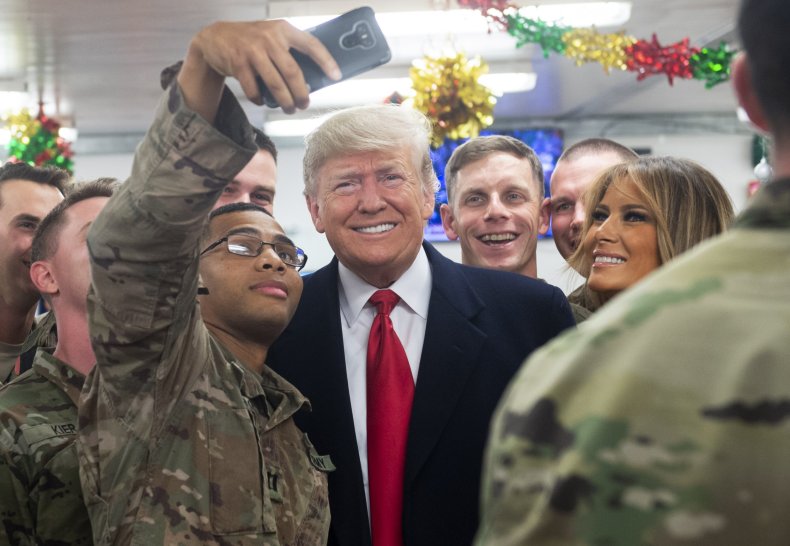 The U.S. has been active in Iraq since invading in 2003 to topple former leader Saddam Hussein based on his alleged possession of weapons of mass destruction and support for terrorism, two allegations that later turned out to be false. The resulting instability gave rise to an ultraconservative Sunni Muslim insurgency led by Al-Qaeda, which later evolved into ISIS after spreading to neighboring Syria, where Syrian President Bashar al-Assad faced a West-backed rebel and jihadi uprising. The U.S.-led coalition has fought ISIS in Iraq as an ally of the Iraqi government but has operated against the will of the Syrian government and its Russian and Iranian allies, who helped Assad battle ISIS in a separate campaign.
Both Iraq and Syria have since declared the defeat of ISIS, but have continued to combat the group on a lesser scale, partially with the help of Shiite Muslim militias backed by Iran. Though Baghdad has coordinated closely with the U.S.-led coalition, it also operates in a joint war room alongside Damascus, Moscow and Tehran. Iraq and Syria have particularly sought to coordinate closely on border security as the final remaining ISIS pockets lie off the banks of the Euphrates river in eastern Syria, near the border with Iraq.
Iraqi Prime Minister Adil Abd Al-Mahdi told a press conference Monday that his government would "consider all options," including deploying Iraqi troops to Syria following the U.S. exit. Trump himself has previously suggested sending regional Arab nations, such as Egypt and Saudi Arabia, to replace U.S. presence in Syria.
The Iraqi government, already facing bouts of social and political unrest due to risings costs of living, has also faced domestic pressure to end U.S. military presence there. Officials from two Iraqi militia groups supported by Iran spoke out against Trump's visit and compelled Baghdad to take action against the Pentagon's ongoing operations in Iraq.
"Trump must be aware that Iraq's sovereignty came with blood and not the building of bases in this country of resistance and martyrs. The government has a duty to expel U.S. troops as a violation of the country's sovereignty," Hezbollah Al-Nujaba Movement in Iraq spokesperson Hashim al-Musawi told Al Mayadeen, a Beirut-based outlet often critical of U.S. foreign policy in the region.
"The decision to withdraw U.S. troops belongs to the will of the people and its parliament, the resistance will force the United States to withdraw its troops from Iraq," Hezbollah Brigades spokesperson Jafar al-Husseini told Al Mayadeen. "Leaders in the Iraqi resistance vowed to cut the hand that extends to neighboring countries including Syria. Trump's surprise visit to Al Asad base means he does not feel safe announcing his visit to Iraq."
Following his stay in Iraq, Trump was set to next travel to Ramstein Air Base in Germany before heading home to Washington, NBC News reported.