Trump's War on the Press Reaches Dangerous Levels as Republican Candidate Charged with Assaulting Reporter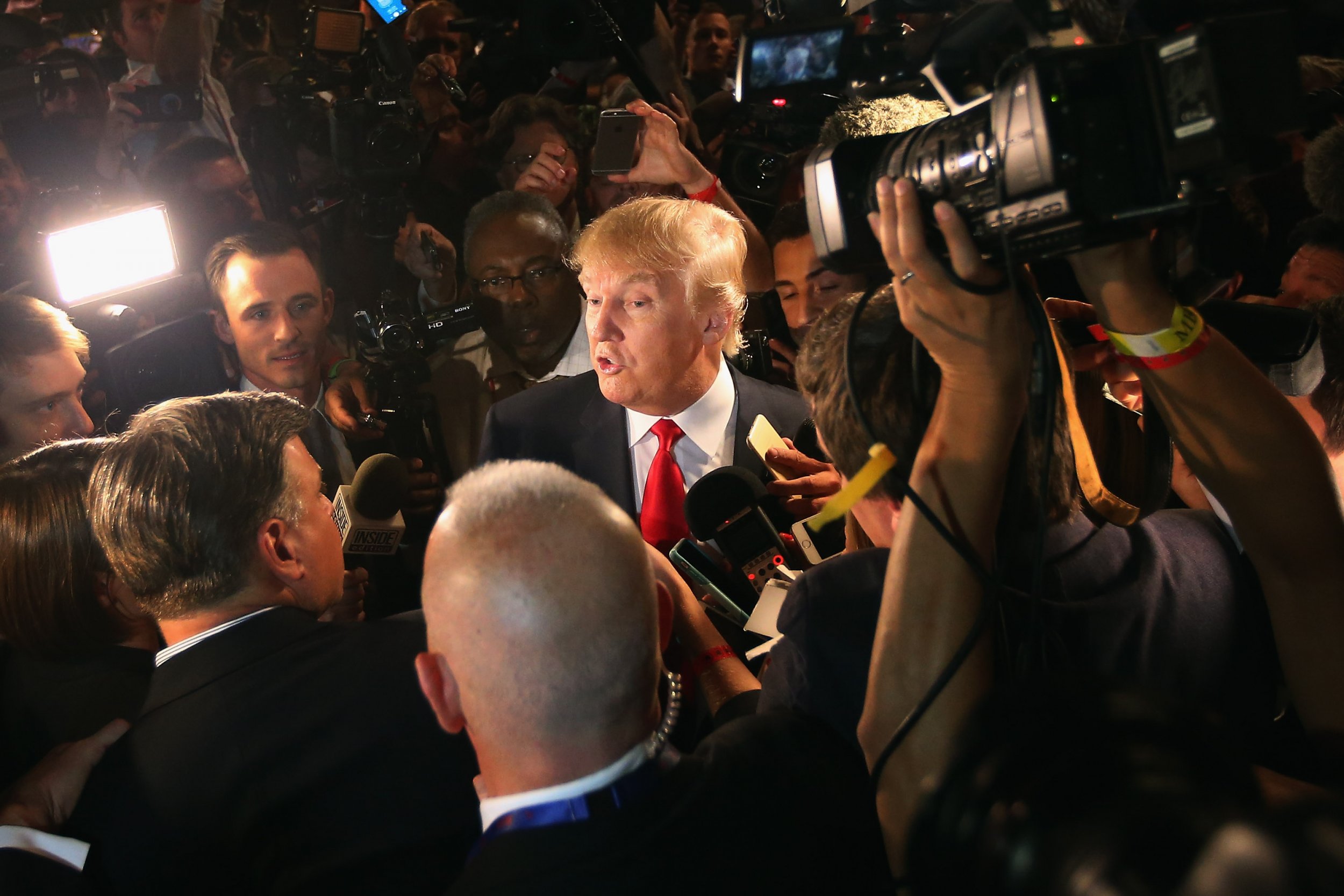 The demonization of the free press by the right did not begin with Donald Trump. Richard Nixon once called the press "the enemy," after all, in seeming awareness of who would bring about his eventual, inevitable downfall. For that matter, The Boston Globe complained in 1997 that Bill Clinton's "relationship with the news media... has deteriorated to a level not seen in the White House in more than 20 years," i.e. since Nixon. In that case, too, there was good reason to fear and disdain those for whom truth-telling is a professional obligation.
Trump, however, has taken hatred of the free press to dangerous new levels. He has incited his supporters and openly threatened journalists, both as candidate and president. The loathing is visceral and unceasing, even if it only barely conceals his desire for good coverage, in newspapers and on cable television in particular. Those who remember Trump as a mainstay of Page Six (the gossip section of the New York Post ) may know that his diatribes have a performative quality. Yet many of his political supporters may not know, or care, that at least some of this animosity is for show.
The results of this anti-press animus came into full, ugly view on Wednesday night when Greg Gianforte, a Republican candidate for Congress in Montana, assaulted Ben Jacobs, a reporter for The Guardian trying to ask Gianforte a question about healthcare at a rally in Bozeman. Jacobs captured audio of the encounter, in which he was apparently "body-slammed" by Gianforte, who faces a special election today. He also faces a misdemeanor assault charge in Gallatin County, as well as widespread condemnation for his violent behavior.
Yet such violent behavior cannot be a surprise to anyone who has ever witnessed a Trump campaign rally, with its unrelenting invocations of the media as a menace to America.
"Partisan Crowds at Trump Rallies Menace and Frighten News Media," read an October headline from The New York Times from the presidential campaign trail. Speaking in West Palm Beach, Florida, he cast the press as his primary tormenter. "They will attack you. They will slander you. They will seek to destroy your career and your family," he said. "They will seek to destroy everything about you, including your reputation. They will lie, lie, lie, and then again, they will do worse than that. They will do whatever's necessary."
His followers appeared to take his kind of talk literally. The most ardent among them began to call the journalists covering his campaign "lügenpresse," a German word used by the Nazis. It means "the lying press."
Some on the campaign itself also felt emboldened, and not just in their imprecations. The previous spring, then Trump campaign manager Corey Lewandowski roughly grabbed Breitbart News reporter Michelle Fields as she tried to ask Trump a question. Trump defended Lewandowski, ignoring damning video of the ugly incident. "I think it's a very, very sad day in this country when a man could be destroyed over something like that," Trump lamented (Florida eventually dropped misdemeanor battery charges against Lewandowski). Astonishingly, Breitbart News came out to defend Trump against Fields, leading her to resign from the far-right media organization.
Trump's election has done nothing to temper his anti-press convictions. His press secretary, Sean Spicer, treats the White House press corps with open contempt at his daily briefings; his portrayal on Saturday Night Live by Melissa McCarthy is that of a snarling pit bull.
Spicer isn't alone. Trump's chief strategist, the ultra-nationalist Steve Bannon, told The New York Times in January that "the media should keep its mouth shut," an incredible suggestion for a democratic society. "The media here is the opposition party," Bannon said, continuing with the demonization of the free press that has been a staple of Trumpism.
Earlier this month, Dan Heyman, a reporter for a West Virginia outlet, was arrested after trying to ask Tom Price, the Health and Human Services secretary, a question about the Republican effort to repeal and replace the Affordable Care Act. Price said the arrest was "appropriate."
Just days later, The Times reported that Trump had tried to preassure FBI director James Comey, since deposed, to "consider putting reporters in prison for publishing classified information," according to a memorandum drafted by Comey after the Oval Office encounter, contents of which were subsequently described to a Times reporter.
Later in May, Trump gave a self-pitying commencement speech at the Coast Guard Academy in Connecticut. After the speech, John Kelly, the secretary of the Department of Homeland Security, presented Trump with a ceremonial sword.
"Use that on the press, sir," he said, unaware that he was being recorded.
Low-level party apparatchiks like Gianforte, the Republican in Montana, take their cues from the top. The head of his party has vilified the free press as if it were hell-bent on the destruction of the United States. He has thus emboldened attacks such as the one we saw on Wednesday night. Decency and civility dictate that Trump condemn Gianforte and, putting aside party loyalty or his own political fortunes, reassert the importance of a free press and the sanctity of the First Amendment.
I, however, wouldn't hold my breath.