Trump Warns 2020 Election Could Be 'Rigged,' but His Administration's Investigation Found No Widespread Voter Fraud in 2018
President Donald Trump is warning that the upcoming general election will be "the greatest rigged election in history."
The president has attacked states that have tried to expand voter access to mail-in ballots, claiming absentee ballots will result in overwhelming voter fraud. "People grab them from mailboxes, print thousands of forgeries and 'force' people to sign. Also, forge names. Some absentee OK, when necessary. Trying to use Covid for this scam!" he tweeted Sunday.
However, the Trump administration's Presidential Advisory Commission on Election Integrity found no widespread voter fraud, according to an analysis by Maine Secretary of State Matthew Dunlap.
In a 2018 letter addressed to Vice President Mike Pence and former Kansas Secretary of State Kris Kobach, who both led the commission, Dunlap said, "The sections on evidence of voter fraud are glaringly empty." Dunlap also noted that these assertions had a "pre-ordained objective"—to validate Trump's unsubstantiated claims that "millions of illegal votes were cast during the 2016 elections."
Dunlap told Newsweek the commission had only two official meetings before tensions grew high within the group. Two weeks after the U.S. Court of Appeals for the District of Columbia Circuit granted a preliminary injunction on administration documents, Trump dissolved the commission.
Among those documents was a draft framework of a report, which Dunlap called "chilling" because of the minimal amount of time the committee spent together. Dunlap said that he is unsure if all internal communications were provided and that litigation is ongoing.
Kobach said the commission was shut down due to the volume of lawsuits brought forward, the most of any presidential commission in history.
He argued that the report was based on the 800,000 instances of double voting, one particular category of voting fraud, found in 21 states during the 2016 election. "Had the commission been allowed to continue its work without the lawsuits interfering, then we would have taken that double voting analysis and looked at all 50 states," Kobach told Newsweek, "The number goes up exponentially."
Pence did not respond to Newsweek's request for comment before publication. Trump's re-election campaign also did not respond immediately when asked for comment.
During the coronavirus pandemic, there has been a growing push to allow states' residents to cast votes by mail, a move that Trump has criticized and called a "scam." However, he has used absentee ballots himself, twice during his presidency.
Trump has recently threatened to withhold federal funding from Michigan and Nevada after those states took steps to expand access to voting by mail. When California Governor Gavin Newsom encouraged mail-in voting as part of the state's response to the virus outbreak, the Republican National Committee filed a lawsuit against the state.
Trump accused Newsom of sending mail-in ballots to "anyone living in the state, no matter who they are or how they got there," in a tweet on Tuesday, saying, "There is no way (zero!) that mail-in ballot will be anything less than substantially fraudulent."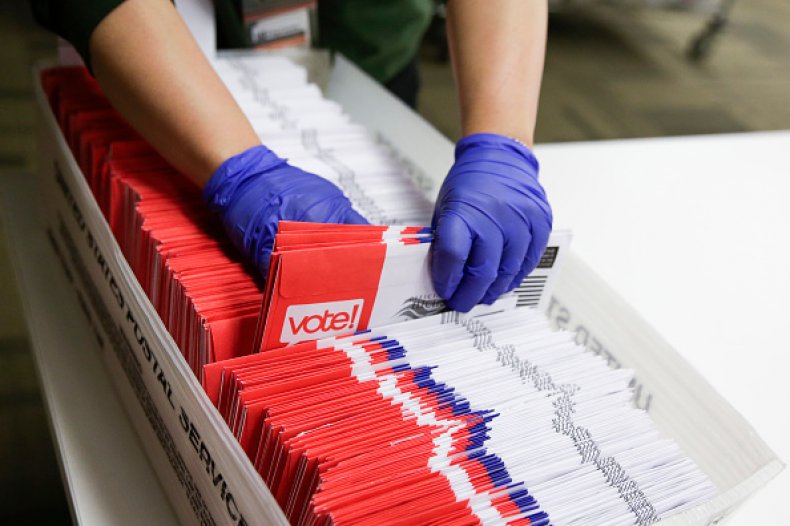 "Numerous studies over periods of decades have examined and concluded that voter fraud is rare," Myrna Pérez, director of the Voting Rights and Elections Program at New York University's Brennan Center for Justice, told Newsweek.
"Right now, when we're in the middle of a global pandemic, it's really, really out of step," Pérez said. "Americans are having a hard time putting food on the table. They're stressed out and worried about their kids' schools and their health. The idea that voters are going to go and inflict all this damage on our democracy is insulting."
Pérez also said the rhetoric about voter fraud suggests voters are doing something wrong by not wanting to choose between their right to vote and their health. She noted that it's much more common for fraud to be perpetuated upon voters than the other way around. It is often insiders, political operatives, "people who know the system and how to take advantage of it" who commit fraud, not individual voters, she said.
"I think people are seeing through it," Perez said. "I think voters know that the last thing they want to do is to harm our democracy and our country, especially right now when things are so hard."
In a Fox News poll published Monday, nearly two-thirds of Americans said they support voting by mail.
"Most people want to do the right thing, and they work hard to do the right thing," Dunlap said.
05/21/20, 4:42 p.m. ET: This story has been updated with a statement from Kris Kobach.