Trump Warns Russia 'Nice, New, Smart' Missiles Are Coming for 'Gas Killing Animal' Assad
President Donald Trump signaled that a U.S. missile strike on Syria is imminent after a suspected chemical attack killed dozens of civilians in Douma, Syria, northeast of the country's capital, Damascus, over the weekend.
"Russia vows to shoot down any and all missiles fired at Syria," Trump tweeted on Wednesday morning.
"Get ready Russia, because they will be coming, nice and new and 'smart!' You shouldn't be partners with a Gas Killing Animal who kills his people and enjoys it!"
The Russians cautioned the U.S. against striking Syria as it had done after the Assad regime's deadly Khan Sheikhoun chemical attack in 2017.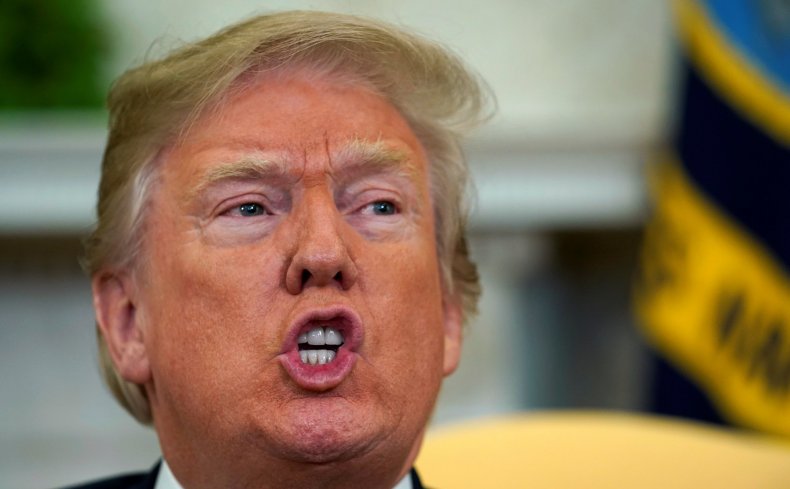 Syria's regime is backed militarily by Russia in the country's civil war, which has been waged since 2011.
Russian Ambassador to Lebanon Alexander Zasypkin said Moscow will shoot down any U.S. missiles fired at Syria and retaliate against American launch sites.
"If there is a strike by the Americans, then…the missiles will be downed and even the sources from which the missiles were fired," Zasypkin told the Hezbollah-affiliated Al-Manar TV channel.
He added that both sides should avoid a military confrontation, and said, "We are ready to hold negotiations."
"Smart missiles must fly towards terrorists, not a legitimate government that has been fighting international terrorism in its territory for several years," said Russian Foreign Ministry spokeswoman Maria Zakharova in a Facebook post.
Syrian President Bashar al-Assad denies being behind the latest chemical attack, which the World Health Organization (WHO) said has killed at least 43 people.
The WHO said reports from its health colleagues in the area suggest around 500 people presented themselves to local medical facilities showing signs of exposure to toxic chemicals.
Distressing images and video footage from the aftermath of the chemical attack on Saturday, April 7, show bodies foaming at the mouth, including those of children and babies.
Russia claimed its own investigators found no dead bodies or any injured people in the area.
Vladimir Chizhov, Russia's ambassador to the European Union, told Euronews that Russia is "shocked by yet another provocation with the so-called chemical attack in Douma. We've seen another staged event," Chizhov claimed.
Western leaders, including the U.S., France and the U.K., are coordinating on how to respond to the attack.