Trump Warns Veterans in Kansas: Don't Believe 'Crap' Fake News Media Tells You
After an attack on the media by President Donald Trump during his speech at a veterans convention in Kansas City, Missouri, the crowd booed and jeered the journalists sitting in the room.
"Don't believe the crap you see from these people, the fake news," Trump said on Tuesday, gesturing at the journalists watching his speech to the Veterans of Foreign Wars (VFW) National Convention.
Trump claimed "lobbyists" were behind a piece on NBC News that he did not approve of and called CNN "the worst."
"I saw a piece on NBC. It was heart-throbbing," Trump said. "They were interviewing people. They probably go through 20 and then they pick the one that sounds like the worst. But they went through a group of people.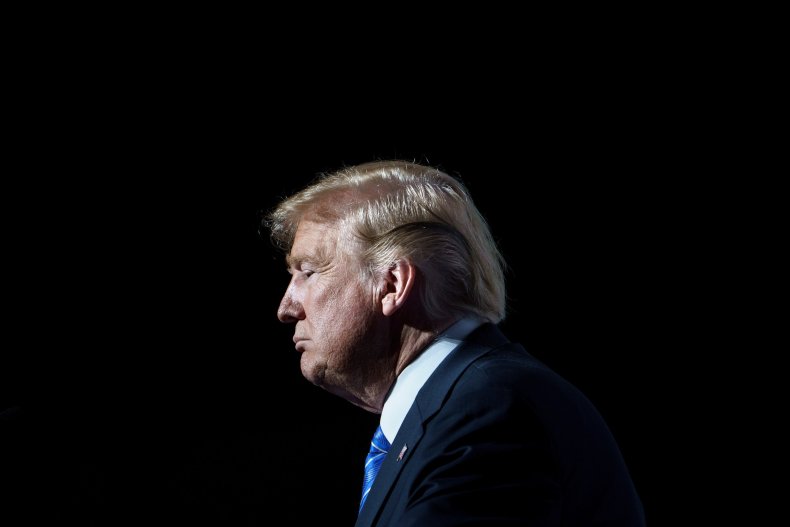 "In fact, I wanted to say, I've got to do something about this Trump. And that piece was done by the lobbyists and by the people that they hire. It was a total setup."
He later added: "Just remember, what you're seeing and what you're reading is not what's happening."
In a statement to Twitter after the president's speech, the VFW distanced itself from Trump's remarks and criticized its own members for their reaction.
"Today, we were disappointed to hear some of our members boo the press during President Trump's remarks," the tweet said. "We rely on the media to spread the VFW message, and @CNN, @NBCNews, @ABC, @FoxNews, @CBSNews, & others on site today, were our invited guests. We were happy to have them there."
The president was tirading against critics of his trade war on the European Union, China, Canada, Mexico, and Japan.
His speech came a day before his administration meets with Jean Claude-Juncker, president of the European Commission, the E.U. bureaucratic arm, for talks on trade. The president called the E.U. a "big abuser" on trade.
Trump also implied his tariffs left the E.U. pleading for a meeting in Washington to discuss opening up the European market further to American firms.
But the European Commission has said Juncker does not have any offer for Trump on trade.
"You have to see these trade deals I'm working on, they're a disaster," Trump said. "We're losing hundreds of billions of dollars with individual countries a year. And you gotta stick it out. You gotta fight it. Nobody else fought it.
"I went to some of the countries, I said, 'How did it get so imbalanced?' They said nobody ever called. They said nobody ever called. They'd do whatever they wanted and we just put up with it. Not any longer, folks. Not any longer."