Trump Enraged by Russia Interference Probe Before Firing Comey, Aides Say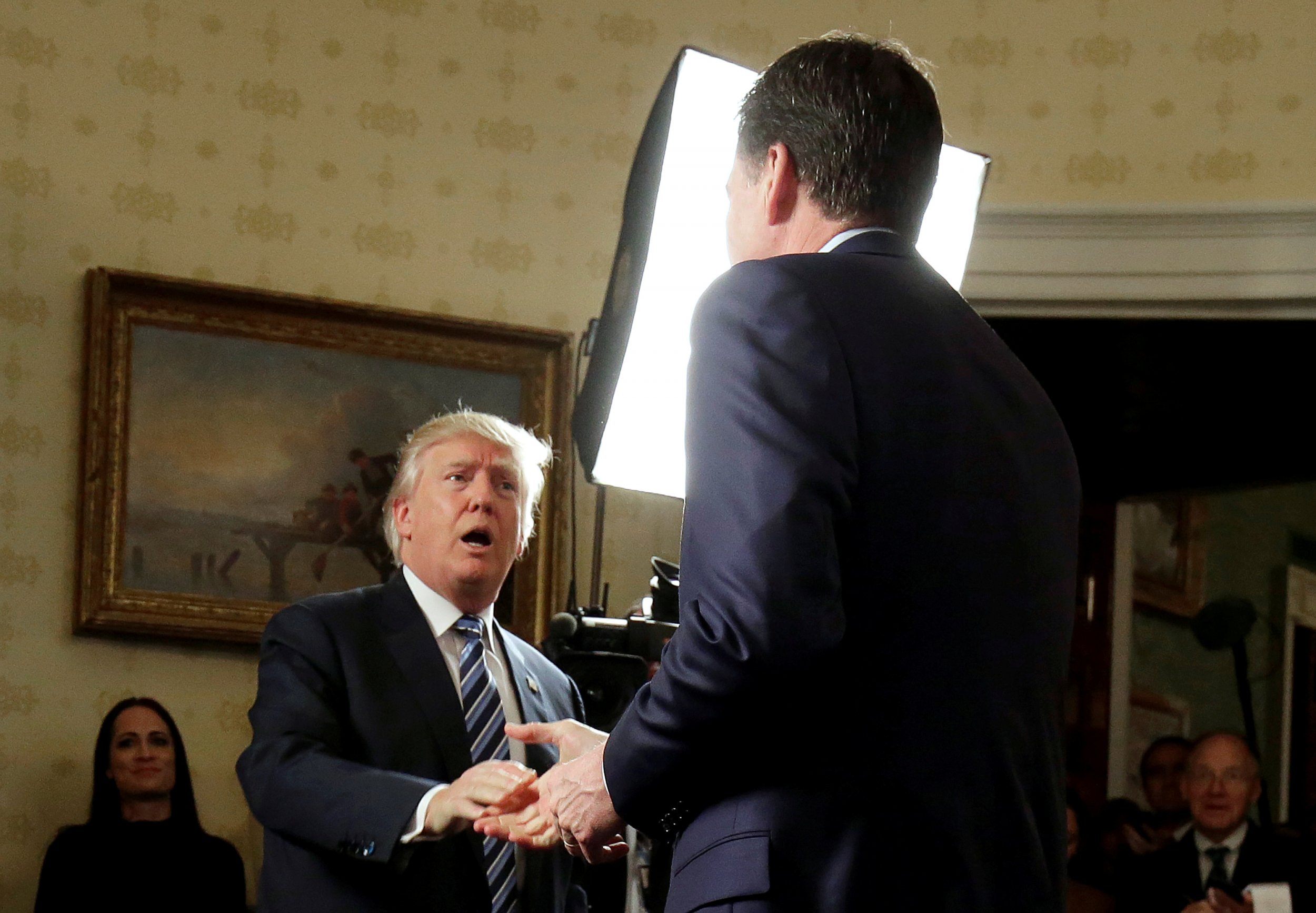 In the week before his firing of former FBI director James Comey, President Donald Trump has reportedly been enraged by the investigation into Russia's alleged interference in the U.S. election.
When clips about multiple probes in the FBI, Senate, and House appeared on TV, the president would sometimes scream at the broadcast, an anonymous adviser told Politico Tuesday. The investigations are looking at the Trump campaign and transition team's contacts with Russian officials along with a misinformation campaign to influence the 2016 election.
"The Russia-Trump collusion story is a total hoax, when will this taxpayer funded charade end?" the president tweeted on Monday, May 8. The same day, former acting Attorney General Sally Yates gave testimony that she warned the White House that former National Security Adviser Michael Flynn was vulnerable to blackmail by Russia. Weeks later he was fired for misleading Vice President Mike Pence about his contacts with Russian officials.
In Trump's letter firing Comey he said that on "three separate occasions" the former FBI director told him he is "not under investigation." But during testimony before the House Intelligence Committee on Monday, March 20, Comey said that ongoing FBI probes into Russian interference in the election include "investigating the nature of any links between those associated with the Trump campaign."
Read more: Could James Comey's firing sandbag the Russia probe?
Multiple intelligence leaks and news reports have confirmed Trump's former campaign manager Paul Manafort, foreign policy adviser Carter Page, and former National Security Adviser Michael Flynn, all had contacts with Russian government officials.
It has also been revealed that Trump's son-in-law and adviser Jared Kushner met last year with a Russian state bank under US sanctions and that Attorney General Jeff Sessions met with Russia's ambassador to the U.S. during the campaign. Trump has repeatedly denied there were any contacts with Russia.
Two advisers told Politico that the president has become frustrated that he cannot control the narrative about the Russia investigations.
A Newsweek analysis of Trump's tweets during the first 100 days of his presidency show the president has tweeted more about the investigation and the "fake news" media's coverage of it than any other topic.
In late December 2016 the FBI released a report concluding that Russian intelligence-linked hackers infiltrated email accounts of the Democratic Party and a top Hillary Clinton aide. A second report compiled by the U.S. Intelligence Community in early January concluded the Russian government used Wikileaks to distribute those documents in an effort to sway the U.S. election with "a clear preference" for Trump.
In a recent interview with CBS's "Face the Nation" on Sunday April 30 President Trump denied that Russia did the hacking. It "could have been China, could have been a lot of different groups," he said. "If you don't catch a hacker, okay, in the act, it's very hard to say who did the hacking."
Late Tuesday Trump was confused as he watched television coverage of his decision to fire Comey that no one was defending it, a White House official told Politico.
The rationale for Comey's firing given by deputy attorney general Rod J. Rosenstein in a letter to Trump was "the director's handling of the conclusion of the investigation of Secretary Clinton's emails."
Many Republicans were critical of the move to fire Comey, however, including Arizona Senator Jeff Flake and Michigan Republican Representative Justin Amash, who said on Twitter that his staff "are reviewing legislation to establish an independent commission on Russia." Amash called it "bizarre" that Trump claimed Comey told him repeatedly that he is not under investigation.
"I am troubled by the timing and reasoning of Director Comey's termination," said Republican Richard Burr, who, as Chairman of the Senate Intelligence Committee, is leading one of the Russia investigations.
Comey's dismissal "further confuses an already difficult investigation by the Committee," Burr said in a statement, calling it "a loss for the Bureau and the nation."