Trump Was Mad at Nikki Haley for Saying Women 'Should Be Heard'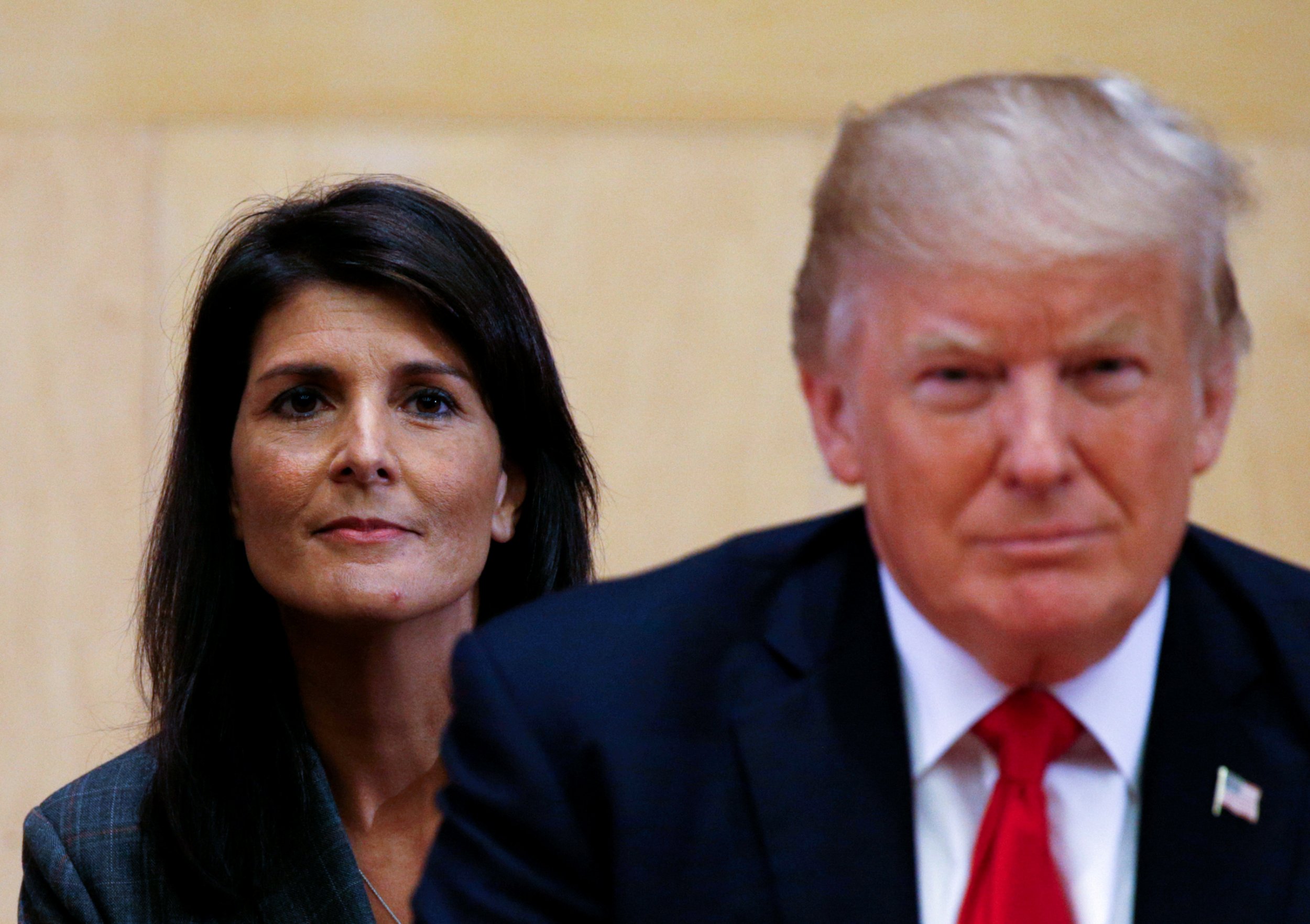 Updated | President Donald Trump reportedly wasn't happy with Nikki Haley, the U.S. ambassador to the United Nations, after she said over the weekend that women who accuse men of sexual assault should be heard. The president's reaction was reported Monday by the Associated Press, which cited two unnamed sources familiar with his views.
Trump was elected in November after he was accused by multiple women of sexual misconduct and after a video of him bragging about grabbing women by the "pussy" went viral. Since then, the growing #MeToo women's rights movement has increasingly seen women speak out in recent months against powerful men and widespread harassment.
Trump is no stranger to allegations of improper behavior toward women. At least 16 women have accused him of sexual misconduct, including Summer Zervos, a contestant on Trump's former reality show The Apprentice. Some of Trump's accusers held a press conference Monday, where alleged victims Jessica Leeds, Samantha Holvey and Rachel Crooks detailed their concerns about Trump and called for Congress to launch an investigation into the issue.
"I ask that Congress put aside their party affiliations and investigate Mr. Trump's history of sexual misconduct," said Crooks, a former receptionist at Trump Tower, at the joint news conference. She claims the president tried to kiss her once without her consent.
While the president has said there is no truth to the accusations, some lawmakers in recent days have called for him to be investigated over the reports. New York Senator Kirsten Gillibrand, a potential candidate in the 2020 presidential race, told CNN on Monday it was time for Trump to resign. "These allegations are credible; they are numerous. I've heard these women's testimony, and many of them are heartbreaking," she said.
But Senator Lindsey Graham (R-S.C.) warned this week that a new investigation into Trump, who is already linked to several probes into whether his campaign colluded with Russia during the 2016 election, wouldn't end well for the nation. "I don't think there's any forum for us to do that," Graham told the Associated Press. "Just think about how that could be abused."
Haley is one of the highest-ranking women in Trump's government. She said in a CBS interview over the weekend the #MeToo movement shouldn't be dismissed.
"They should be heard, and they should be dealt with," Haley said of women coming forward. "And I think we heard from them before the election. And I think any woman who has felt violated or felt mistreated in any way, they have every right to speak up."
Correction: An earlier version of this story misspelled Summer Zervos's last name.