President Donald Trump's ownership of his Washington, D.C., hotel could be in jeopardy, according to Maryland's attorney general after a federal judge ruled Wednesday a lawsuit alleging violations of the Constitution's "Emoluments Clause" could proceed.
Maryland's Brian Frosh, who brought the case last year with D.C. Attorney General Karl A. Racine, said the ruling "bodes ill" for one of the president's signature properties.
"I think the decision bodes ill for his ownership of the Old Post Office hotel," Frosh told The Washington Post.
Frosh was referring to the federal building and lease the Trump Organization received from the General Services Administration, which ruled in March of last year was in "full compliance." But critics have challenged the GSA's ruling since the lease in part reads no "elected official of the Government of the United States...shall be admitted to any share or part of this Lease, or to any benefit that may arise therefrom[.]"
The hotel itself and the Trump Organization's lease of the Old Post Office Building, granted by the GSA, is also a type of "emolument," the state also argued.
The Trump Organization did not immediately respond to Newsweek's request for comment after the ruling was filed.
"We sued because this corruption is taking place in our backyard, and because 325 million Americans shouldn't have to wonder if the president is putting his personal financial interests ahead of the national interest," Racine said in a statement.
Though it's presently unclear how the states will proceed, the president's global company could be forced to hand over financial records and other documents pertaining to its business.
U.S. District Judge Peter J. Messitte of Maryland sided with the states Wednesday, declaring they had made reasonable claims of benefits Trump may have received while in office.
Much of the 52-page filing dealt with the very definition of emoluments and how the Constitution's founders defined it. Trump's attorneys argued that emoluments meant "profits arising from an office or employ," while the states claimed the definition was a bit broader and included "profit," "gain" or "advantage."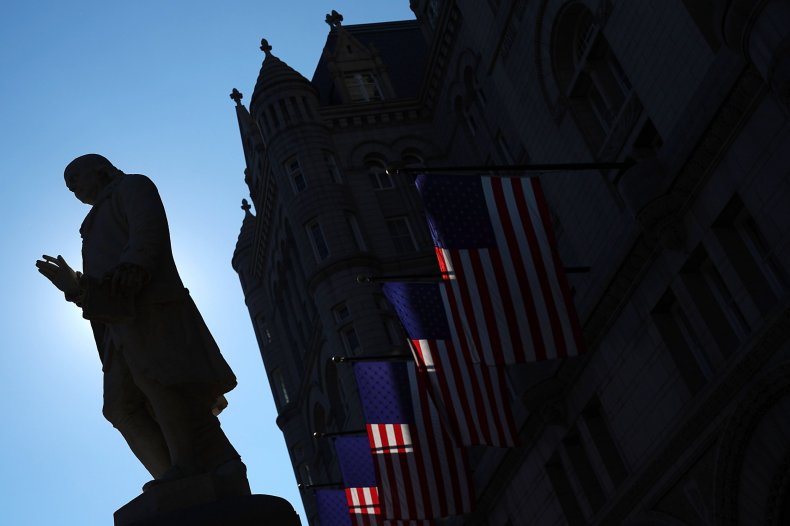 D.C. and Maryland first brought the case against Trump last year claiming the president was in violation of the Emoluments Clause. They claimed the Trump Organization, and specifically, the Trump International Hotel in D.C., was receiving payments or benefits from foreign governments who stayed at the upscale hotel with the hopes of influencing the president.
The states claimed the government of Saudi Arabia had "spent thousands of dollars at the Hotel between October 1, 2016, and March 31, 2017, and that the Embassy of Kuwait, moving from another private hotel in the District, held its National Day celebration at the Hotel on February 22, 2017," according to the judge's opinion.
The five-star hotel has also served as event space for the Republican National Committee, including fundraisers for the GOP.